Cotahuasi Canyon, Peru
The Cotahuasi Canyon is the world's fourth deepest canyon. The landscape here is extraordinary and varied, with everything from riparian areas along the base of the canyon to snow-covered peaks that border the rim.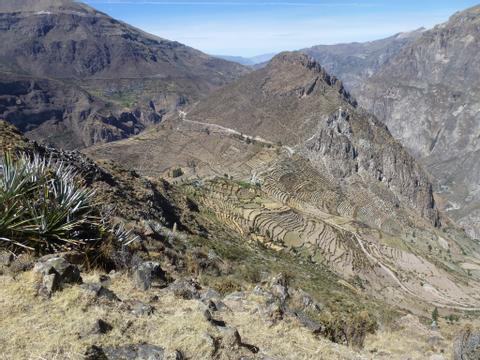 The Cotahuasi Canyon was first navigated by a Polish expedition in 1981. By 1988, the area was declared a Zona de Reserva Turística Nacional. The canyon is about 11,000 feet (3,400 m) deep and over 60 miles (100 km) long—this is almost twice as deep as the Grand Canyon. The Cotahuasi Canyon was formed by the Cotahuasi River, a tributary of the Ocoña River, which carved its way between two large mountains.
The river here runs through some beautiful areas and hosts a consistent supply of Classy IV rapids. Although there are some Class V rapids, these can be avoided by simply carrying the boat around the dangerous area. First-time rafters can enjoy Cotahuasi, but they'll still need to have their wits about them.
It's somewhat difficult to reach the Cotahuasi Canyon, which only adds to the sense of adventure when visiting this place. The reserve is about 235 miles (378 km) north of Arequipa, and the ride here involves some bumpy rural roads. There are several settlements scattered along the bottom of the canyon, including the small and attractive town of Cotahuasi. Cotahuasi – with its narrow streets and 17th century church – is fairly simple but is beginning to develop into an adventure travel destination. Along the road north from Cotahuasi, there are hot springs, waterfalls, and Inca ruins.
The landscapes here are varied and impressive. The 12 ecological zones within the Cotahuasi Reserve host a huge amount of biodiversity, including many endemic plants and beautiful animals.
On either side of the Cotahuasi River, you'll have the opportunity to stumble across some evidence of indigenous people, in long-abandoned sites. You may even come to a spot still untouched by archaeologists. This is a remote area, and remained out of reach of the Spanish for longer than the more easily accessible city centers, and the indigenous way of life was more easily preserved.
If you're not confident in your white water rafting skills, Cotahuasi Canyon has plenty to offer travelers exploring on their own two feet. You can hike to the Catarata de Sipia, the tallest waterfall in the canyon, nearly 462 feet (150 meters) of rushing water. On your way, you'll cross over the Cuyao hanging bridge. From the stunning Lauripampa Plateau, you can admire the imposing Puya Raymondii cacti before climbing down into the canyon. As you hike to your destination, keep an eye out for rare native birds, including the endangered Andean condor.
Because of its tough terrain, only in recent years has the Cotahuasi Canyon become a destination for hikers. Keep in mind the challenging landscape, and make sure you're ready for a vigorous hike.