Tortugas Beach, Peru
Tortugas Beach is located along the north coast of Peru outside the town of Casma. This beach is part of a bay where fishermen dock their boats. The red-brown hills surrounding the beach make for fairly monochromatic scenery, but the beach has a certain small town charm.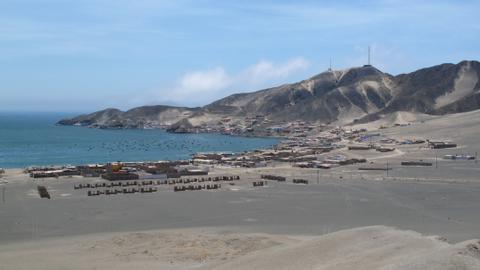 Tortugas Beach (Playa Tortugas) is a rocky stretchy of the coast set 14 miles (22 km) north of Casma. You won't be able to dig your toes into the sand, but the water is calm and pleasant, and you can spend a sunny afternoon swimming and snorkeling. You'll also observe marine birds doing their own fishing among the boats.
Travelers come to Casma looking to explore some of the ancient sites that make northern Peru a fascinating destination, and a trip to the beach offers some welcome relaxation after a dusty archeological tour. In town, you can find lots of inviting cafés and restaurants. This is a place that doesn't get swarmed with visitors, and it offers the chance to experience the culture of Peru's northern Coast.