With Peru being such a mountainous region, it's little surprise that the nation is home to over 30 volcanoes — some of which are classified as 'extinct,' meaning you can climb them! Although Peru's volcanoes may not be the primary reason to visit the country, they are beautiful, and the fact that they are numerous means you can explore a unique aspect of the Andean Mountain Range, and perhaps a less crowded one too.
Choose a Peru volcano destination to enjoy the same spectacular views and sights you can expect to see in more popular tourist destinations. Hike amongst nature, where you can listen to and observe wildlife. Take a horseback riding tour and observe Peru's volcanoes from a distance. When your physical adventures catch up to you, you can relax your muscles in a geothermal hot spring — that's right...a nice warm soak courtesy of Peru's volcanoes.
Plan a unique and rugged adventure that promises breathtaking scenery and extraordinary photo ops — add a Peru volcano to your travel itinerary. May we suggest starting with Arequipa?...
#1:

 Arequipa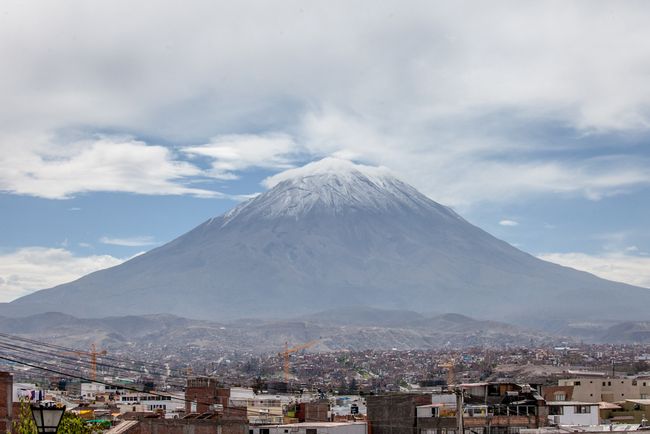 Arequipa, Peru →
El Misti is one of Peru's most active volcanoes, yet it sits just 9.3 miles (16 km) from the pretty streets of Arequipa city. Rising far above the cathedral spires that dot the city skyline, the perfect slopes of the volcano can be seen from miles around. And, if one dominating volcano wasn't enough, El Misti is joined by two somewhat less volatile volcanoes, Chachani and Pichu Pichu.
Arequipa owes its nickname, La Ciudad Blanca, to the white volcanic rock created by these three volcanoes. Wander the city center and marvel at the striking white buildings, interspersed with colorful facades.
If viewing the volcanoes from afar isn't enough for you, strap on some sturdy boots and take to the crumbling trails! All three of Arequipa's volcanoes can be climbed; an amazing thrill for outstanding views of the area.