Cuesta Serena Boutique Hotel offers its guests a sublime retreat at the foot of Cordillera Blanca, the tallest and most striking stretch of the Peruvian Andes. Set 25 minutes north of downtown Huaraz, Cuesta Serena sits on 7.5 acres (3 ha) of pristine valley overlooking the Santa River.
Featured in:
Honeymoon, Boutique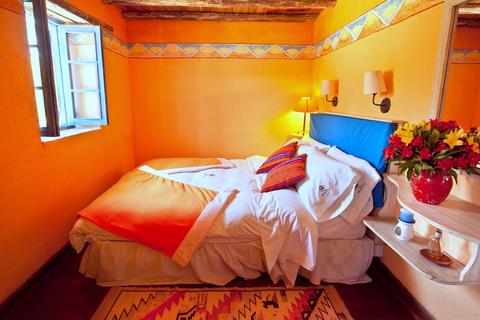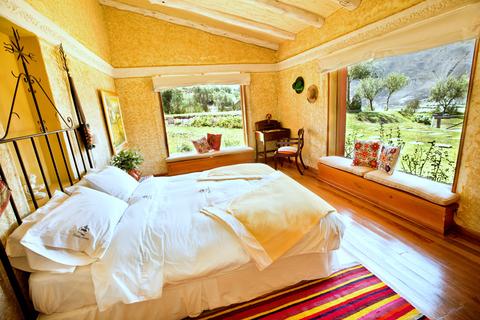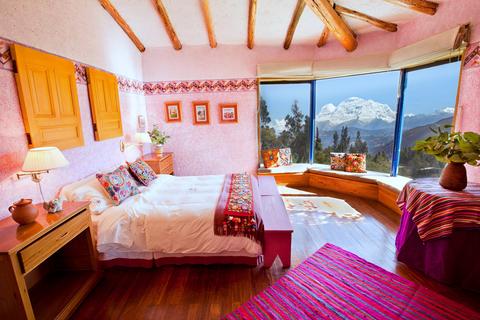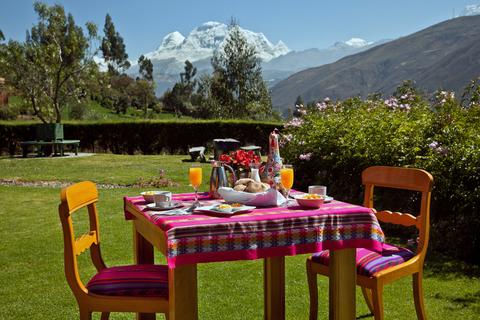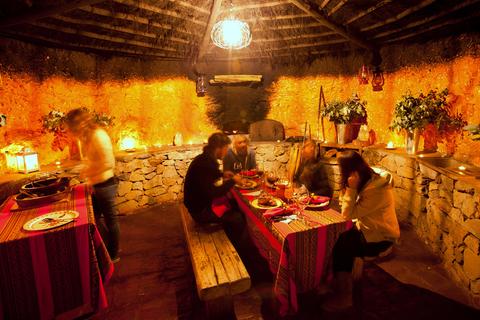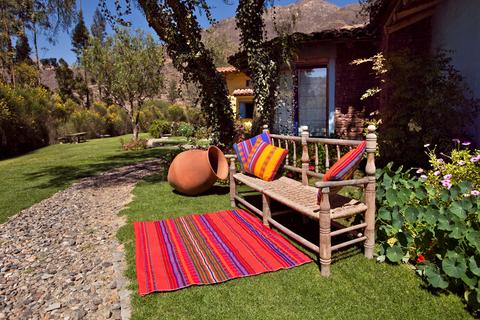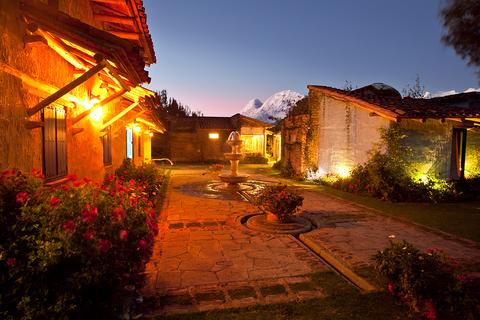 1:00 p.m. check in
10:00 a.m. check out
Restaurant in Hotel
Swimming Pool
Wireless Internet
Free Breakfast
In any direction you look, you'll see the enticing slopes of the snow-capped mountains, popular destinations for hikers and adventure sports enthusiasts. There are several excellent treks less than an hour's drive from Cuesta Serena. Drive 25 minutes to a trailhead just north of downtown Huaraz, to take a trek to the ruins of Wilcahuaín. There you'll see stone buildings left behind by the ancient Wari people, constructed between the 7th and 10th century. These buildings are almost completely intact, and the surrounding mountains provide ample hiking through crisp Andean air. To experience some of the local art scene, visit a gallery in the small town of Jangas, a 5-minute drive from the hotel. Cordillera Blanca's wildlife provides plenty of inspiration to native artists.
The rooms and communal areas at Cuesta Serena take their inspiration from the picturesque, romantic scenery of the valley. Textiles and colorful walls give the rooms a playful feel, carefully decorated to make guests feel cozy without distracting from the views. Every room comes with its own private bathroom, complete with heated floors. Bungalows and suites have kitchenettes and shared living rooms, kept toasty in the evening with a fireplace. Cuesta Serena provides a daily maid service, so your room remains picture-perfect throughout your stay. There is Internet hook up available to guests, and a TV in the bar area.
You can have meals in your own kitchenette or in the main dining area, outfitted with a clay oven for a rustic dining experience. Daily breakfast is included in your stay. Soft lighting and stonework along the walls contributes to the dining room's atmosphere, the perfect backdrop for the chef's freshly prepared offerings. Continue your evening at the hotel bar, well-supplied with a wide selection of different varieties of pisco (a Peruvian brandy) and other craft cocktail ingredients.
You'll spend time each day admiring the view from the patio and planning trips to nearby lagoons and mountaintop vistas. For your downtime at the hotel, the Cuesta Serena has a pool and a room stocked with board games.
Staff members at Cuesta Serena place a great deal of emphasis on their guests' relaxation. Arrange for a massage in the hotel gardens, and take a walk through the meditation labyrinth in the garden. Cuesta Serena also offers Reiki – Japanese stress-reduction sessions – as well as yoga.
More Property Amenities
Air Conditioning
Alarm Clock
Balcony
Bar
Breakfast Available
Cable TV
Coffee Service
Gardens
Heaters
Hot Water
Internet Access
Laundry Service
Mini Bar
Room Service
Safe Deposit Box
Telephone