Pisac, Peru
Pisac is a charming mountain town set near the top of the Sacred Valley. The town is well known for its daily artisan market and Inca ruins.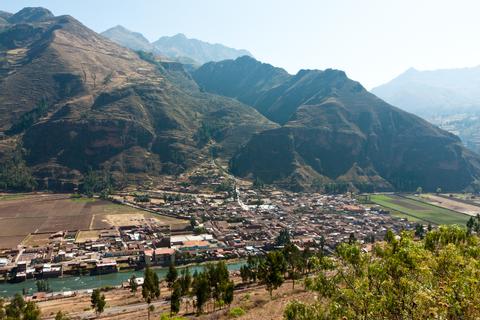 As you take the highway down from Cusco into the Sacred Valley, you'll see Pisac spread out alongside the Río Urubamba. The town is quaint and fairly small, with a permanent population that hovers around 4,000. Pisac is growing, however, with all sorts of new restaurants and hotels opening up around the town.
Colonial and modern buildings, made from adobe or stucco, populate the center of Pisac. The streets here are narrow and laid out in a grid. Things can become quite busy on Tuesdays, Thursdays, and Sundays, the biggest of the market days.
The colorful market has become one of Peru's largest tourist draws. It spreads out in the town's main square, with stalls that sell a huge range of handicrafts—including alpaca sweaters, musical instruments, ceramics, paintings, jewelry, weavings, and more. The market is open every day and is a great place to stroll and explore.
The ruins above Pisac are spectacular, and aside from Ollantaytambo, these are the most important ruins in the Sacred Valley. The ruins offer travelers unique insights into the life of the Inca, as they are a unique mixture of military, religious, and residential structures.