Hostal El Centurión is located in northern Peru – the cradle of Peruvian civilization. Staying here, you'll have comfortable accommodations close to some of Trujillo's most important archaeological sites and museums.
Featured in:
Budget, Great for Families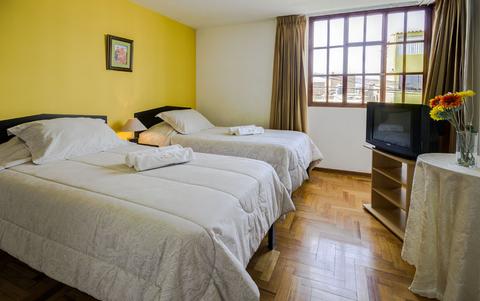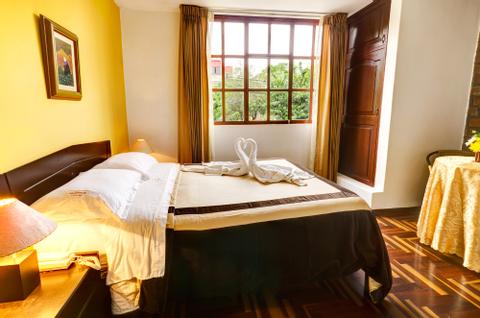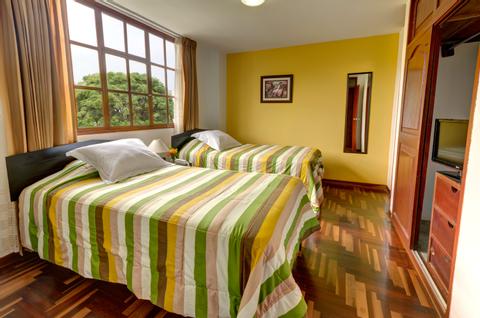 3:00 p.m. check in
12:00 p.m. check out
Free Breakfast
Restaurant in Hotel
Wireless Internet
Hostal El Centurión is conveniently located for visiting El Brujo, Huanchaco, and many more important ruins. Your hotel is only a 20-minute drive from Chan Chan, the 600-year-old capital of Peru's powerful Chimú civilization. At Chan Chan, visitors can walk through a maze of sand-colored adobe walls and admire the elaborate friezes. Drive 20 minutes in the opposite direction to find Huaca del Sol y la Luna (called the Temple of the Sun and Moon in English). These temples are both around 1,500 years old, and were built by the ancient Moche. Back in downtown Trujillo, take a 15-minute to Trujillo's loveliest sights, including Plaza de Armas and Catedral de Trujillo. Also within walking distance, you'll find plenty of restaurants that serve Peruvian and international food.
This hotel offers a good selection of rooms, including rooms for couples, large rooms for families, and luxurious suites. Many of the rooms have a view overlooking the greenbelt, or the nearby park. The decorations are homey and understated, and everything is kept quite clean. Every room here comes with a private bathroom, outfitted with a tub.
In your room you'll get to watch cable TV, and surf the free Wi-Fi. Guests can use the provided wardrobe to keep clothes organized and out of the way. If you have clothes that need to be washed, Hostal El Centurión also has a laundry service.
Wi-Fi is available throughout the hotel. Guests can reserve the comfortable business center for meetings. When you're ready for some you-time, check out the hotel's sauna and spa, where you can book a professional massage. If you need medical assistance, the hotel is equipped to help you.
The dining room and the lobby are well-lit and cheerful, with brightly colored accent walls. Partake in the hotel's continental breakfast in the morning– the price is included in your stay. The hotel restaurant also serves lunch and dinner, and features a menu that offers classic Peruvian dishes. There is also a small, friendly bar near the lobby, and a designated smoking area.
More Property Amenities
Bar
Breakfast Available
Cable TV
Currency Exchange
Hot Water
Internet Access
Laundry Service
Mini Refrigerator
Room Service
Telephone
Accommodations
Cable TV
Hot Water
Telephone
Wireless Internet
Cable TV
Hot Water
Telephone
Wireless Internet
Cable TV
Hot Water
Telephone
Wireless Internet
Cable TV
Hot Water
Telephone
Wireless Internet
Cable TV
Hair Dryer
Hot Water
Jacuzzi
Mini Bar
Mini Refrigerator
Telephone
Wireless Internet
Executive Single Room
Sleeps 1
Cable TV
Hot Water
Telephone
Wireless Internet