Sol Y Luna Resort and Lodge sits in the Sacred Valley of the Incas, in the valley's largest town of Urubamba. Although it's in a valley, it's still at an extremely high altitude - 8850 feet. After watching a sunrise or sunset in the clear mountain air, you'll have a good idea of why the Incans considered this place sacred. Urubamba is a popular place to stop for tourists on their way to the most world-renowned Incan site of Machu Picchu.
Featured in:
Luxury, Honeymoon, Cabins and Villas, Boutique, Isolated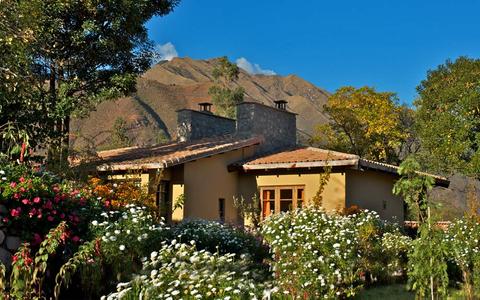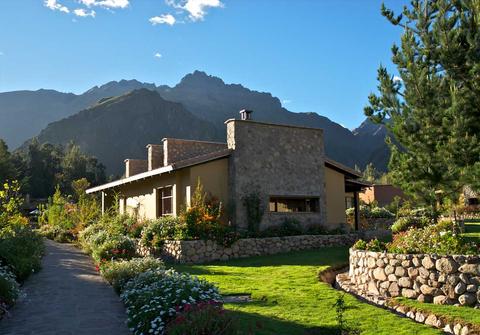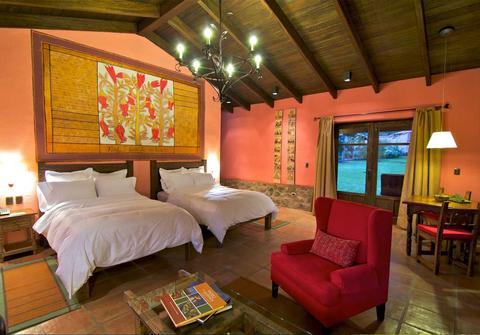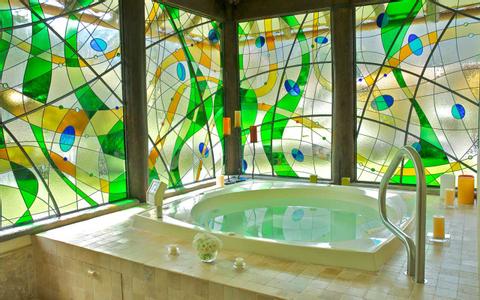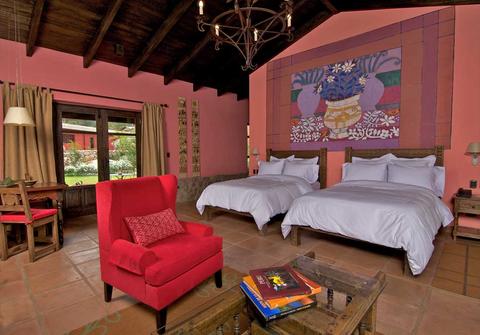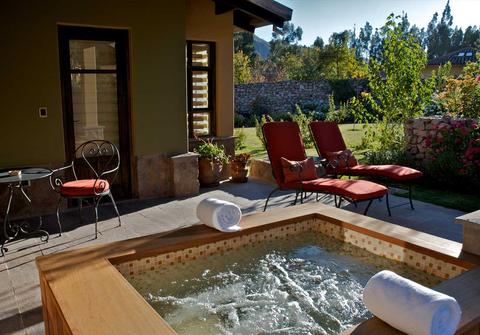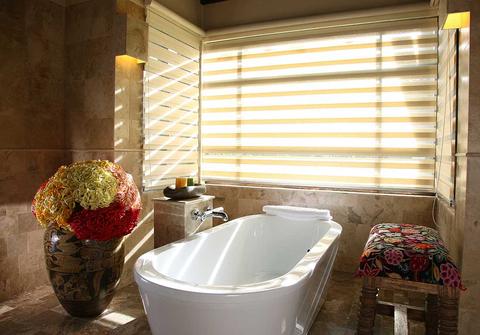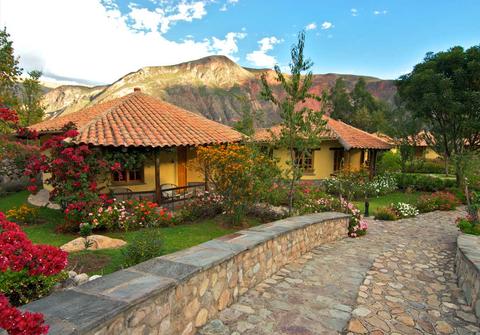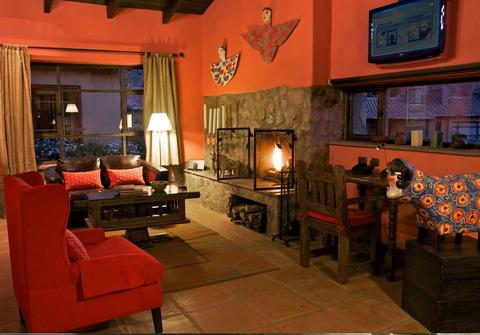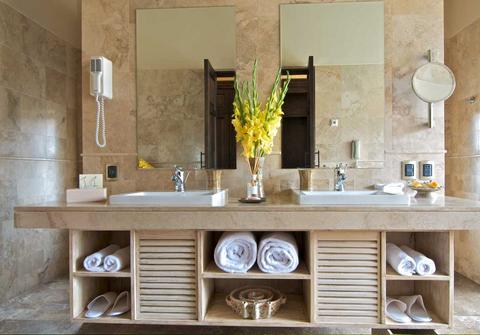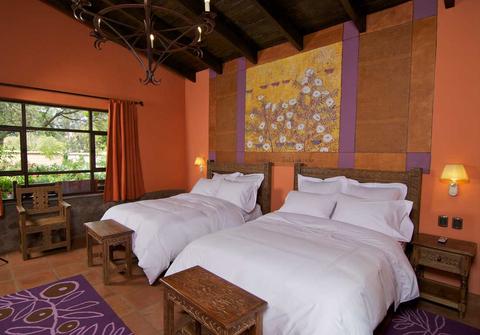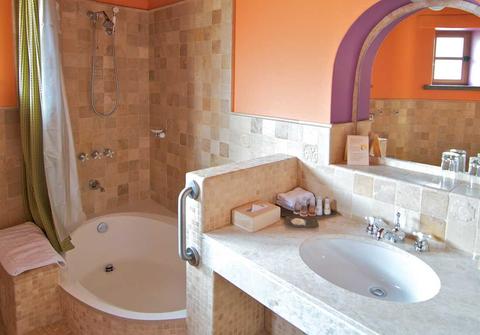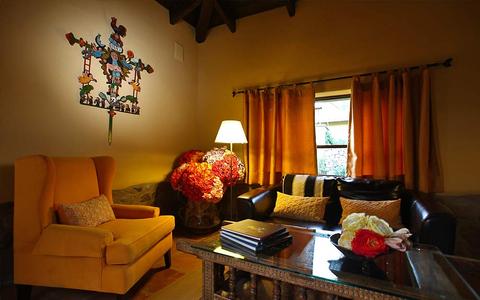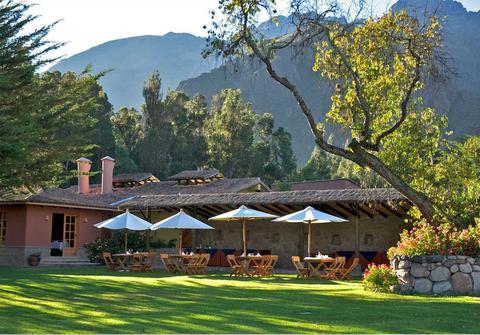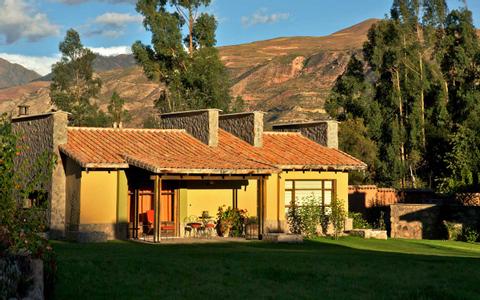 1:00 p.m. check in
10:00 a.m. check out
Restaurant in Hotel
Spa Services
Swimming Pool
Wireless Internet
Free Breakfast
Attractions & Sites
48 km
30 km
At Sol Y Luna, you'll be surrounded by the Andean mountains of southern Peru, in bungalows situated in the midst of beautifully landscaped gardens, home to approximately 35 species of bird. Sol Y Luna has demonstrated a commitment to a sustainable hospitality, with buildings constructed from locally sourced materials. Sol Y Luna also has a positive involvement with the local community, through programs that help children who would not otherwise have access to education attend school.
Staying at Sol Y Luna, you'll have your very own casita, a small house with your choice of bed sizes. You can choose from 43 casitas. They come in 3 different classes of luxury – superior, deluxe, and premium. With a premium option, your casita comes with your own reception area and a private Jacuzzi, among other perks.
Casitas can accommodate one to four beds. Bathrooms come well-equipped, with large bathtubs and lots of luxurious products. Rooms are decorated to complement the surrounding landscape – bright, colorful, and full of folk art. Casitas come with high-speed internet, and laundry services are available.
Your stay in a casita comes with a sumptuous breakfast buffet. You have excellent dining options the rest of the day at Sol Y Luna - Chefs at the Killa Wasi resort restaurant use local ingredients to their best advantage, with a focus on seasonal availability. These renowned chefs interpret regional recipes with gourmet techniques.
Make an appointment at the resort's Yacu Wasi spa for facial treatments, massages, and steam baths. Some of the treatments are tailored specifically to acclimation to the high altitude. As part of your stay, you are welcome to use the sauna and gym, by appointment. Tai Chi and yoga classes are available to groups of two or more. Also at the resort, spend some time browsing for souvenirs at the Kunata Wasi Boutique. You'll find a selection of Peruvian art, some of it local crafts, and some inspired by indigenous culture.
Welcoming staff will help acquaint you to life in the valley. Ask the friendly employees to help you make arrangements to visit the Peruvian Paso Horse Ranch. The sculpture gallery at Seminario Ceramicas, workshop of local ceramic superstar Pablo Seminario, is an Urubamba must-see. Feel inspired by what you've seen? Sign up to take classes from resident pottery masters.
Sol Y Luna is an ideal base camp for day trips to the Incan site of Machu Picchu, and famous archaeological sites like Pisac, Ollantaytambo, Moray, and Chinchero. Because there are so many sites nearby, you'll have a wide selection of transportation options to get you to any of these sites. These are some of the most popular destinations in Peru for hiking and guided tours. Besides the many possible opportunities for sightseeing and day trips, talk to a Sol Y Luna staff member about horseback riding, mountain biking, ATVs, and tandem paragliding.
More Property Amenities
Air Conditioning
Alarm Clock
Balcony
Bar
Breakfast Available
Cable TV
Coffee Service
Currency Exchange
Full Size Gym
Gardens
Hair Dryer
Heaters
Hot Water
Internet Access
Iron & Ironing board
Jacuzzi
Laundry Service
Massage
Mini Gym
Private Parking
Room Service
Safe Deposit Box
Telephone
Accommodations
Cable TV
Hair Dryer
Hot Water
Mini Bar
Mini Refrigerator
Safe Deposit Box
Telephone
Wireless Internet
Cable TV
Hair Dryer
Hot Water
Mini Bar
Mini Refrigerator
Safe Deposit Box
Telephone
Wireless Internet
Family Superior House
Sleeps 4
Hair Dryer
Hot Water
Safe Deposit Box
Telephone
Wireless Internet
Hair Dryer
Hot Water
Safe Deposit Box
Telephone
Wireless Internet