Hotel La Joya is situated in Huaraz, Peru. This hotel has renovated rooms and a restaurant/bar.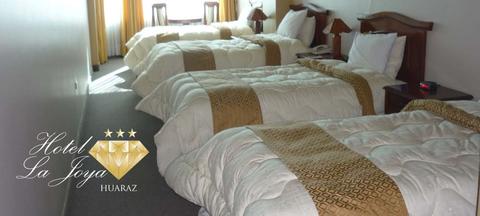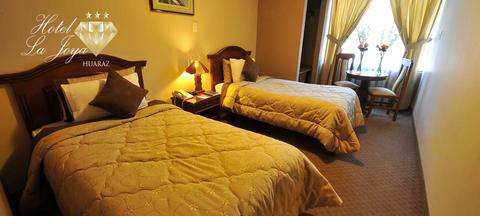 3:00 p.m. check in
12:00 p.m. check out
Restaurant in Hotel
Free Breakfast
Huaraz acts as a gateway to some of Peru's most wild outdoor areas, including the massive Cordillera Blanca. All sorts of adventure sports can be launched from here, including rock climbing, trekking, and mountain biking. The town itself has some good places to eat and drink, as well as an impressive museum on local Chavín and Recuay cultures. Travelers can head up the Mirador Rataquena for a view of the city.
Hotel La Joya is an 8-story hotel in Huaraz. The hotel is fairly close to both the Plaza de Armas and the Museo Regional de Áncash.
The hotel offers 68 renovated rooms. Each room has free Wi-Fi and an LED cable TV—these two amenities make it easy to peruse Facebook or watch a TV show. Private bathrooms have both a bathtub and hot water shower. Some rooms have a table and chairs, a minibar, and Jacuzzi bathtub. The rooms can sleep 1–4 people.
A complimentary breakfast is offered each morning to guests. If you're heading off to hike or bike for the day, make sure to eat your fill—you'll need the energy later! The restaurant also serves up a variety of food the rest of the day. Try their club sandwich and mixed salad for lunch or fresh trout and vegetable soup for dinner. After dining, you can sip fine wines and cold beers in the lobby bar.
Travelers on business will appreciate the photocopier, printer, and office supplies. There are also six multipurpose rooms equipped with audiovisual equipment—these rooms can serve as a venue for conferences, weddings, and conventions.
More Property Amenities
Bar
Cable TV
Conference Rooms
Hot Water
Internet Access
Telephone
Accommodations
Hot Water
Jacuzzi
Mini Bar
Mini Refrigerator
Telephone
Cable TV
Hot Water
Telephone
Cable TV
Hot Water
Mini Bar
Mini Refrigerator
Telephone
Living Room
Cable TV
Hot Water
Telephone
Cable TV
Hot Water
Telephone
Cable TV
Hot Water
Telephone
Similar Hotels