On the Delfin I, you'll take a riverboat cruise of the Amazon River Basin in the Pacaya-Samiria National Reserve, including the Marañon and the Ucayali River. Delfin I offers two itineraries — one lasts three nights and the other lasts four.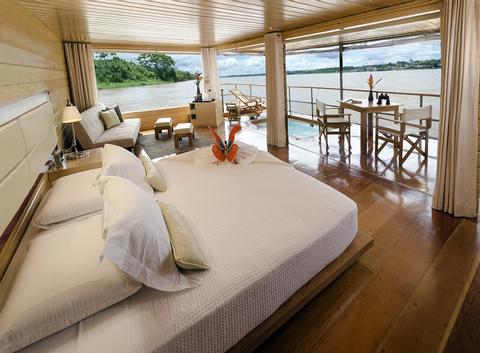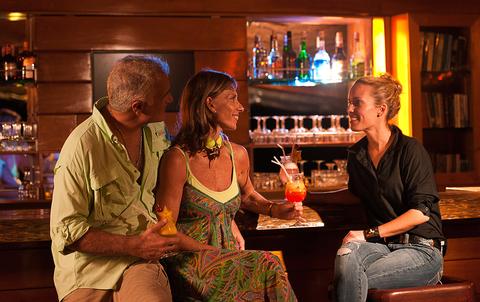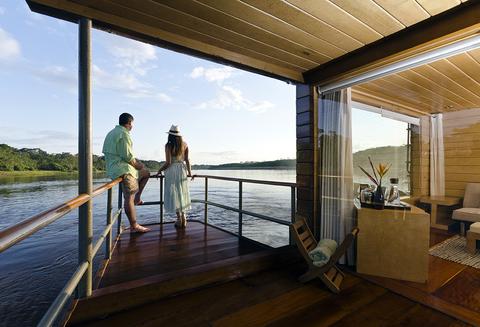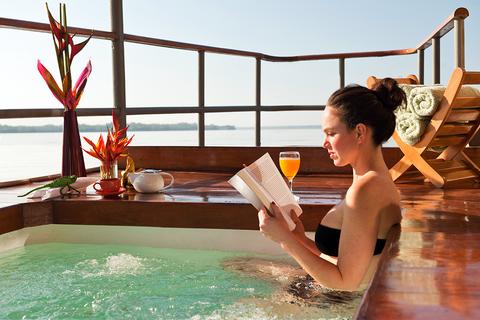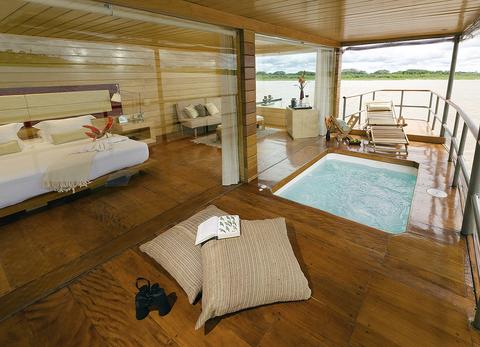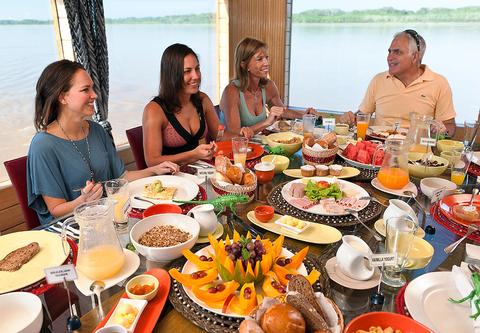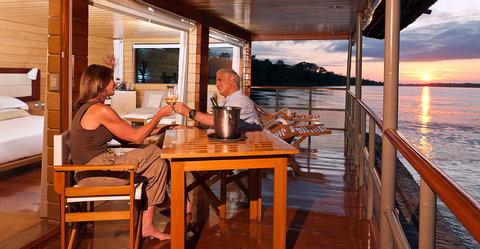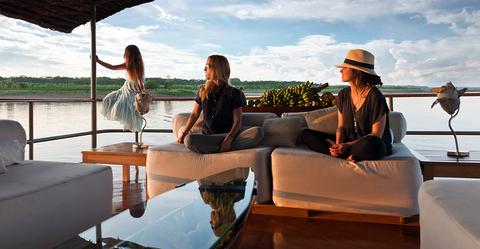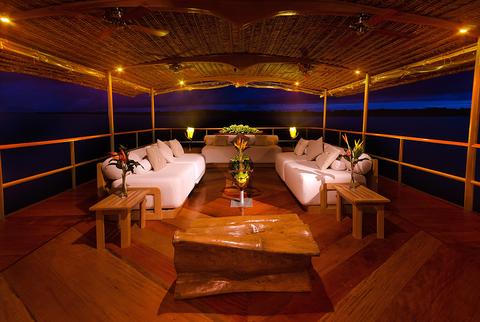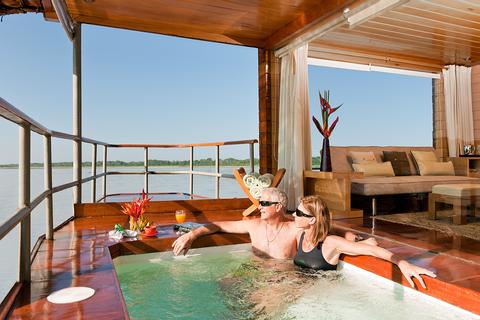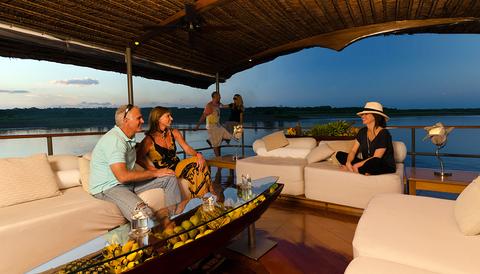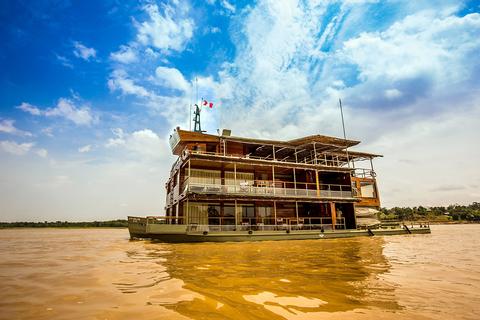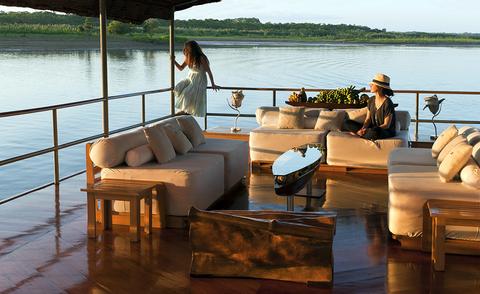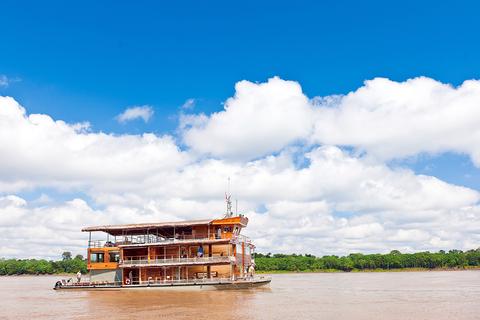 12:00 p.m. check in
12:00 p.m. check out
You have your choice of 2 to 3 activities during the afternoon, in addition to the excursions listed on the itinerary. Some of the options include kayaking, disembarking and walking along trails through the jungle, or getting up early for bird watching. Swim with the Amazon dolphins, and try to catch piranha as the sun sets. One of the most interesting activities on the itineraries is a visit to Ribereño community. These indigenous people will show you some of their handicrafts, and give you an idea of how their traditional way of life has survived over the generations.
Delfin I is the smallest of the Delfin fleet and carries 8 to 12 passengers. There's an outdoor lounge on the top deck with a stocked bar. Visit the sun deck for sightseeing, and cool off in the air-conditioned lounge and dining room.
As you look around the boat you'll see interesting details — the Delfin I is made from sustainably harvested local materials, including lamps made from fish scales and roofs made from irapay leaves. The dining room has a single table for a communal meal, although you can choose to have a private meal in your room. Meals are included during your voyage, including dinner on the evening you arrive and breakfast and lunch on the last day. You can order cocktails, beer, and wine, although these are not included in your meal plan.
Your guest accommodations are bright, fresh, and clean. Floor-to-ceiling windows let in plenty of natural light and spectacular views of the river. All of the suites have air conditioning, and the bathrooms come equipped with hair dryers and organic products. Store anything you don't want to carry in the room's safety deposit box.
Suites in Delfin I are ready for adventure and relaxation — you'll find them already equipped with bird watching binoculars and yoga mats. Each suite also has its own small sitting room, and you can store cold drinks in the mini fridge. There's a master suite with a private terrace and a deluxe master suite with its own cold water pool.
All activities, tours, park entrance fees, and meals are included in the price. Drinks, souvenirs, transportation to and from Iquitos, and travel insurance are not included in the rate.
*3-Day Itinerary
*
Day 1
PM - Arrive in Iquitos, embarkation, happy hour and orientation
Day 2
AM - Amazon Park: jungle trail and canopy walk
PM - Yanayacu Pucate: Skiff exploration and swimming with dolphins
Day 3
AM - Fundo Casual: Skiff exploration and jungle trail walk
PM - Amazonas Village: Visit Ribereños community, union of the rivers
Day 4
Disembarkation, Rescue and Rehabilitation Center of River Mammals
(ACOBIA)
4-Day Itinerary
Day 1
Arrive to Iquitos, embarkation, happy hour orientation, Marayali excursion
Day 2
AM - Amazon Park: jungle trail and canopy walk
PM - Yanayacu Pucate: Skiff exploration, paddle boarding and swimming with dolphins
Day 3
AM - Fundo Casual: Skiff exploration and jungle trail walk
PM - Nauta Caño Creek: Skiff exploration, piranha fishing and night safari
Day 4
AM - Village: Visit Ribereño community, union of the rivers
PM - Yarapa River: Kayaking and skiff exploration
Day 5
Disembarkation, Rescue and Rehabilitation Center of River Mammals (ACOBIA)
More Property Amenities
Air Conditioning
Bar
Hair Dryer
Hot Water
Mini Refrigerator
River View
Safe Deposit Box
Accommodations
Deluxe Master Suite
Sleeps 3
Air Conditioning
Hair Dryer
Hot Water
Mini Refrigerator
Safe Deposit Box
Air Conditioning
Hair Dryer
Hot Water
Mini Refrigerator
Safe Deposit Box
Similar Hotels