Take to the water to see some of the most intense wildlife anywhere in the world. On the Delfin II, you'll cruise along rivers in the Pacaya-Samiria National Reserve. Choose from either 3-day or 4-day itineraries, and fill your days with fishing, bird watching, kayaking, and hiking.
Featured in:
Boat Hotel, Luxury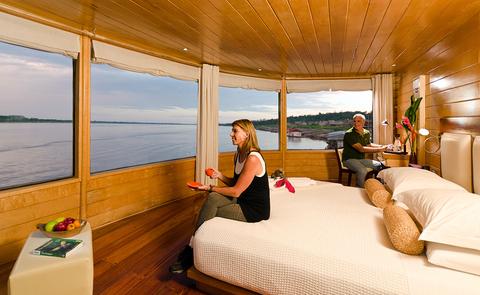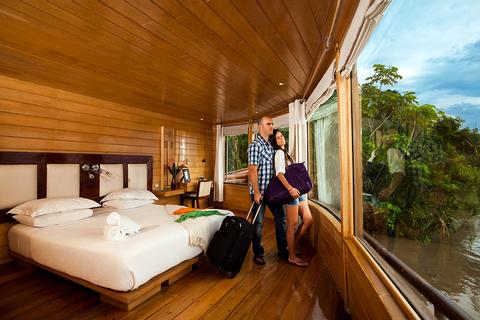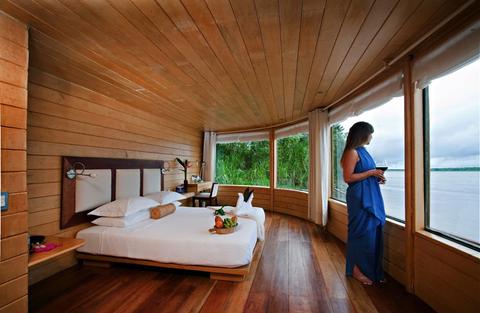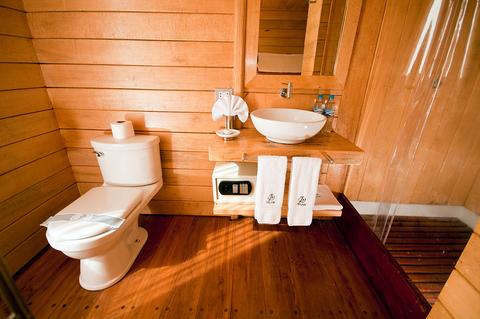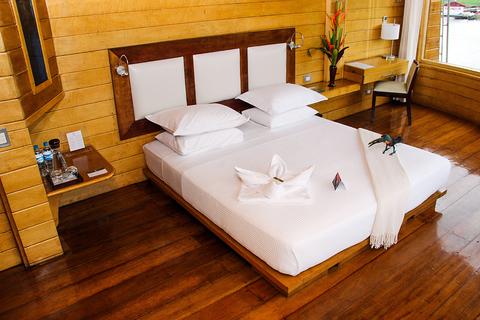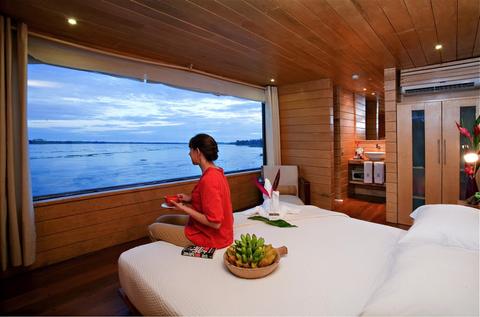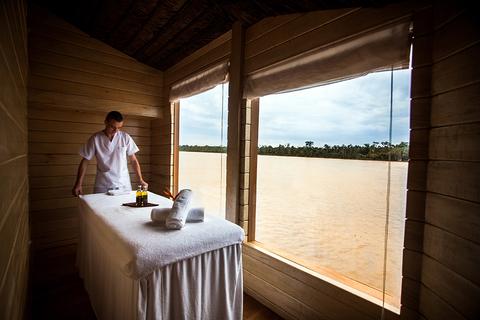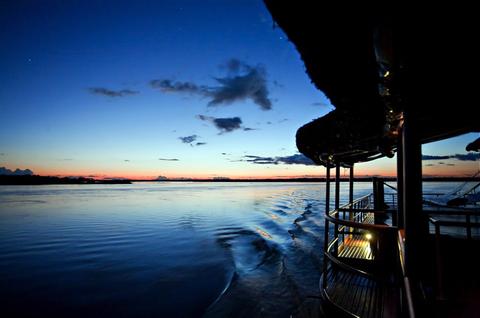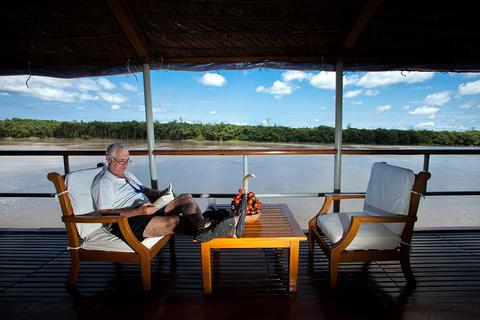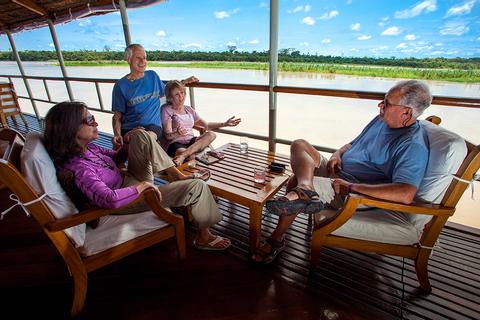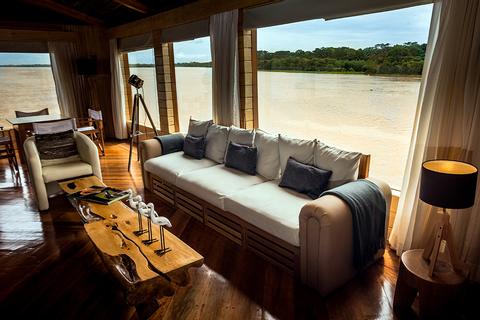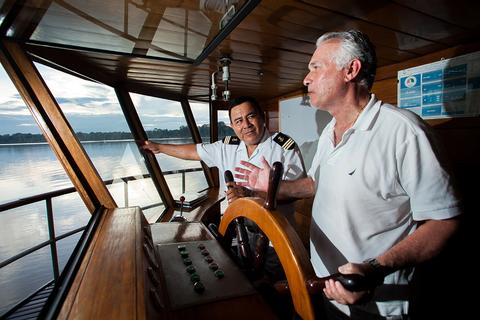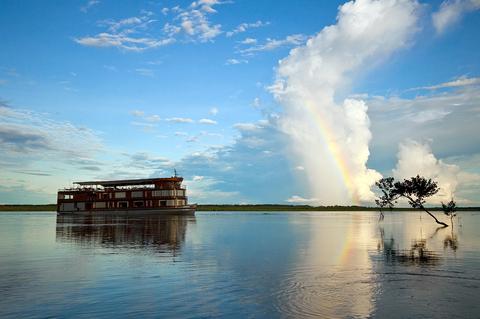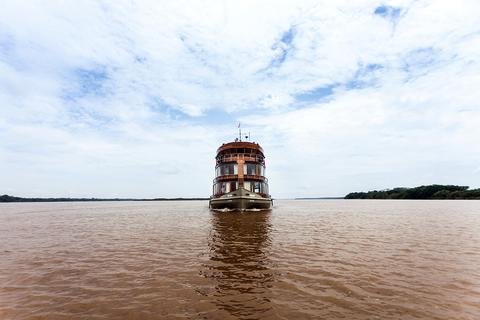 12:00 p.m. check in
12:00 p.m. check out
Spa Services
During your adventure through the Pacaya-Samiria National Reserve, Delfin II will cruise along the Marañon River and the Ucayali River. Within the reserve, there are hundreds of rare species. This is one of the few places in the world you can see the pink Amazon dolphin. There are naturalist guides along for the trip who can accompany you on trails near the river. Each day has both a morning and an evening activity. During your down time, there are kayaks and fishing equipment that you can use on your own. The boat has spacious, comfortable areas for you to get in some leisure time. For the tours, the Delfin II staff provides the boats, boots, and ponchos that you'll need.
You can also order drinks at the bar, including wine, spirits, and beer. In the dining room, wine is served along with lunch and dinner. There is a breakfast buffet, and lunch and dinner are served in multiple courses.
This boat has a boutique interior, with decorations inspired by the surrounding jungle. Both the lounge and the dining room have air conditioning. On board, there's also a spa and a fitness center to visit.
Suites come with huge windows so you'll always have a good view of the landscape, and you can stay cool thanks to the air conditioning. Each suite has a private bathroom with a hairdryer. The bathrooms also have eco-friendly products. Keep your belongings in the safety deposit box in your room. There is ironing equipment in each room, and let your staff know if you need some clothes washed.
The master suites have a few extra amenities. Help yourself to the water and soft drinks in the room's mini-fridge. Guests in master suites have the added luxury of a complimentary, 30-minute spa treatment.
All activities, tours, park entrance fees, and meals are included in the price. Drinks, souvenirs, transportation to and from Iquitos, and travel insurance are not included in the rate.
3-Day Itinerary
Day 1
PM Embarkation: Arrive in Iquitos, transfer to Nauta, VIP reception at our private port, embarkation.
Day 2
AM Belluda Cano Creek Skiff exploration and encounter with pink dolphins
PM Dorado River Skiff exploration, piranha fishing, and night safari
Day 3
AM Clavero Lake Skiff exploration
PM Yarapa River Skiff exploration and kayaking. Visit Puerto Miguel.
Disembarkation, Rescue and Rehabilitation Center of River Mammals (ACOBIA) to learn about manatees and other threatened species en route to Iquitos airport village
4-Day Itinerary
Day 1
PM: Arrive in Iquitos, transfer to Nauta, VIP reception at our private port, embarkation
Day 2
AM: Belluda Cano Creek Skiff exploration and encounter with pink dolphins.
PM: Dorado River Skiff exploration and piranha fishing
Day 3
AM Zapote River Skiff exploration and kayaking in the center of the Pacaya Reserve'
PM Pacaya River Kayaking and fishing
Day 4
AM Clavero Lake skiff exploration
PM Yarapa River skiff exploration and visit to Puerto Miguel village
More Property Amenities
Air Conditioning
Bar
Hair Dryer
Hot Water
Mini Refrigerator
River View
Safe Deposit Box
Accommodations
Air Conditioning
Hair Dryer
Hot Water
Mini Refrigerator
Safe Deposit Box
Air Conditioning
Hair Dryer
Hot Water
Mini Refrigerator
Safe Deposit Box
Similar Hotels