Nazca's economy depends largely on a busy tourist trade, a result the local attractions, including the mysterious Nazca Lines. Kunan Wasi Hotel offers a calm, quiet respite to travelers in need of a good night's sleep before they go see some of the most famous wonders of the ancient world.
Featured in:
Bed and Breakfast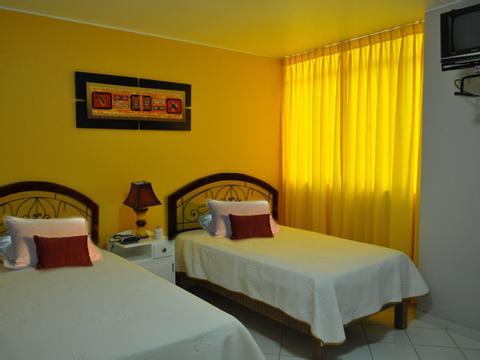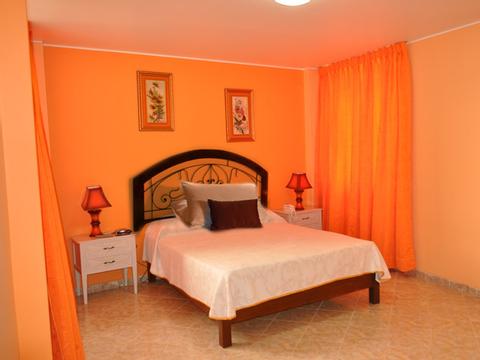 3:00 p.m. check in
12:00 p.m. check out
Wireless Internet
Free Breakfast
Get in some active tourism and explore opportunities for biking and sandboarding nearby. There are also plenty of great spots for hiking, including at the Cantalloc Aqueducts, located a short distance from the Nazca Lines. Also built by the Nazca people, these aqueducts transport water from the mountains to the fields in the valley, forming a winding pattern through an idyllic section of the lowlands.
Kunan Wasi Hotel is located just a block away from the Plaza de Armas, the main square in Nazca. From Plaza de Armas, the Bolognesi road will lead you to Nazca's most popular hotspots. Nazca is a relatively small town, so you won't have to travel far to find a good restaurant or bar to spend your evening.
Rooms at Kunan Wasi come in bright colors, with restrained decorative touches. Your room is equipped with its own bathroom, supplied with reliable hot water. Many rooms offer a balcony with a sweeping view of the town. You can leave your valuables stored in your room's safety deposit box, so passports and other important items don't weigh you down on your many expeditions through the prehistoric Nazca landscape. Security cameras in the hotel also help to ensure your belonging's safety.
You can make a phone call on the provided international phone, and also send international faxes. Access the courtesy Wi-Fi from the comfort of your room, or unwind with a little channel-surfing on the cable TV. There is a minibar provided in the room. In the morning, guests at Kunan Wasi can help themselves to a simple but hearty breakfast buffet.
More Property Amenities
Air Conditioning
Cable TV
Hot Water
Internet Access
Telephone
Accommodations
Alarm Clock
Hot Water
Mini Bar
Mini Refrigerator
Safe Deposit Box
Telephone
Wireless Internet
Alarm Clock
Cable TV
Hot Water
Mini Bar
Mini Refrigerator
Safe Deposit Box
Telephone
Wireless Internet
Matrimonial Suite
Sleeps 2
Alarm Clock
Cable TV
Hot Water
Mini Bar
Mini Refrigerator
Safe Deposit Box
Telephone
Wireless Internet
Alarm Clock
Cable TV
Hot Water
Mini Bar
Mini Refrigerator
Telephone
Wireless Internet
Alarm Clock
Balcony
Cable TV
Hot Water
Mini Bar
Mini Refrigerator
Safe Deposit Box
Telephone
Wireless Internet
Similar Hotels