Selous Game Reserve, Tanzania
The Selous Game Reserve covers over 13,370 square miles (45,000 square km) of wilderness in southern Tanzania, making it the largest protected game reserve in Africa. It's also a UNESCO World Heritage Site because of its untouched wilderness. The game concentrations and the multitudes of species here are astounding.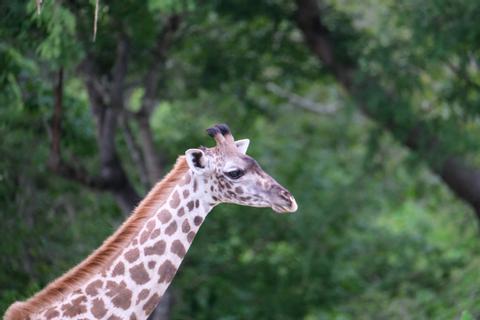 The resident 120,000 buffaloes, 100,000 wildebeest, 35,000 zebras, 40,000 hippos and 4,000 lions make its reputation as Africa's last great wilderness well deserved. Selous is also home to the largest population of the highly endangered African wild dog. More than 440 bird species have been recorded in the game reserve. Historically, Selous was known for its elephant population, but in 2013 it has dropped to just 13,000 individuals due to rampant poaching.
The dominant feature of the reserve is the Great Rufiji River, Tanzania's largest river. It forms a complex network of lakes, channels, and swamps through the reserve. This river also splits the reserve into two sections – the northern portion covers approximately 5 percent of the reserve's total area and is set aside exclusively for photographic safaris, while the remaining area south of the river is divided into hunting blocks.
Selous offers a variety of activities not permitted within national parks including off road game drives, boat safaris, walking safaris, and fly camping. The main activity is daytime game drives usually conducted in the morning and late afternoon, but the main highlight of Selous is the boat safari that offers the opportunity to view hippos and crocodiles in the lakes and channels of the Rufiji and elephants along the river banks. Most camps and lodges also offer walking safaris and a few offer fly camping opportunities.
Selous is a classic dry season park with July to October being the best time of year as the game concentrate along the river and are reliable spotted. Game viewing is fair to good during the remainder of the year because of dense vegetation making wildlife sightings more challenging. Most lodges and camps close in April and May during the long rains.
Due to the variety of activities, low tourist numbers compared to the northern parks, the untouched wilderness and superb game viewing, Selous is an outstanding safari destination. However, it should be noted that Selous experiences high humidity and high temperatures, unlike the parks of northern Tanzania which are located at a higher altitude and generally offer a more comfortable and drier climate.
Selous is easily accessible by bush plane from Dar Es Salaam (45 minutes) or Ruaha (90 minutes) on daily scheduled flights.