La Miss Gina, nuestro bote Pro 42, alberga hasta 16 buzos más la tripulación conformando una opción excelente para grupos de buzos y también podrá ser usado para viajes de buceo hacia el Atolón Turneffe. El Lady Grace, nuestro bote Newton 46, puede alojar hasta 24 buzos más la tripulación y brinda una salida cómoda para aquellos que deseen hacer buceo en el Agujero Azul de Jacques Cousteau.
Featured in:
Buceo, Snorkel
Duration:

3 hrs
Available Days:

Every day
Schedule:

9:00 AM, 11:30 AM, 2:00 PM
Hotel Transport Included
Mobile Ticket Included
Offered in English, Spanish
El Atolón Turneffe es el atolón más joven y grande de Belice; con 52 kilómetros de largo y 13 kilómetros de ancho. En la punta del sur del atolón y aproximadamente 2 horas y media en bote desde el puerto de Ramon's Village se encontrará un punto de zambullida conocido como el Codo de Turneffe. Recientemente catalogado como el Sitio de Buceo de Categoría Mundial #1, el Codo de Turneffe es un lugar que no se puede perder.
Al llegar al Codo, nuestros maestros buzos de Ramon's Village le darán una corta inducción, y después todos podrán dar el "paso de gigante" hacia el agua. Se planifica una profundidad máxima de 24 metros, pero las profundidades más superficiales podrán mantenerse de acuerdo a las preferencias individuales. Esta es una zambullida de múltiples niveles que permite un tiempo de fondo de 40 minutos. Esta zambullida normalmente cuenta con una visibilidad de hasta 27 metros, y las corrientes son constantes. Usted estará a la deriva a lo largo de montes coralinos compuestos de corales duros y algunas de las esponjas más grandes que verá. Además, también podrá apreciar otros especímenes de aguas profundas como las gorgonias y grandes bancos de pargos, meros y carángidos ojos-de-caballo. En este sitio, mientras más fuerte sea la corriente, mayor será la abundancia de vida marina. El interminable suministro de microorganismos a la deriva alimentan a los pequeños peces, los cuales a su vez alimentan a los más grandes y a los tiburones.
La segunda y la tercera zambullida en este viaje dependerá principalmente de la tripulación, el clima y las condiciones del día. Algunos sitios de buceo normalmente incluidos son la Pared de Billy Bob, Sayonara, el Play Ground, y el Front Porch. Estas son zambullidas de pared que van desde los 12 metros hasta los 21 metros y albergan una gran abundancia de corales y peces. Estas zambullidas también tardarán alrededor de 40 minutos antes de otra parada de seguridad por 3 minutos a los 4,5 metros. Entre la segunda y la tercera zambullida, la tripulación servirá almuerzo abordo. Usted no podrá acercarse a la costa en este viaje debido a la cantidad de rocas superficiales alrededor de las Islas Manglar. Después de la tercera zambullida usted comenzará a devolverse al Resort de Ramon's Village.
Se servirán bocadillos y el jugo a lo largo del viaje. Pero no lo olvide, Pineapples en la playa lo estarán esperando para servirle una deliciosa cena en su regreso, pero no está incluida dentro de la tarifa del tour. Tómese un poco de tiempo para refrescarse y únasenos en Pineapples en la playa para disfrutar de una gran velada.
What to Bring
Dinero para las tarifas del parque y el alquiler del equipo (adicional).
What's included
Bote, guía, tanques y pesas, 3 zambullidas, desayuno continental en el puerto de Ramon Village antes de la partida y sándwich de almuerzo abordo. Partida a las 6:00 a.m y regreso alrededor de las 4:30 p.m. Requiere mínimo 10 personas, o usted podría pagar una tarifa adicional e ir con menos del mínimo.
Transportation
Many of our tours and activities offer transportation pick up & drop off options from several locations and destinations. Options vary by tour, see "BOOKING REQUEST" for full details.
Similar things to do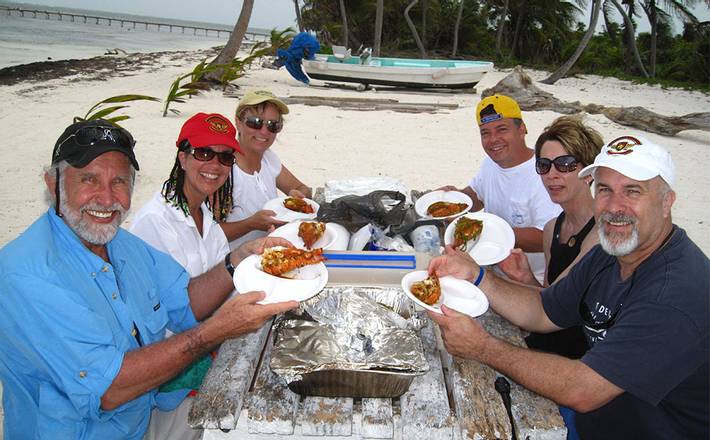 Tour de Navegación y Picnic en la Playa
Ambergris Caye
Este recorrido lo lleva a un picnic fuera de lo común en la costa de arena blanca en Robles Point. Para abrir el apetito la primera parada de snorkeling será en Mexico Rocks. Después de echar un vistazo bajo el agua, podrá intentar atrapar algunos peces con un anzuelo tradicional o una lanza y lo que sea que capture podrá ser servido en el almuerzo ¡No se preocupe si no lo hace, nosotros nos encargaremos!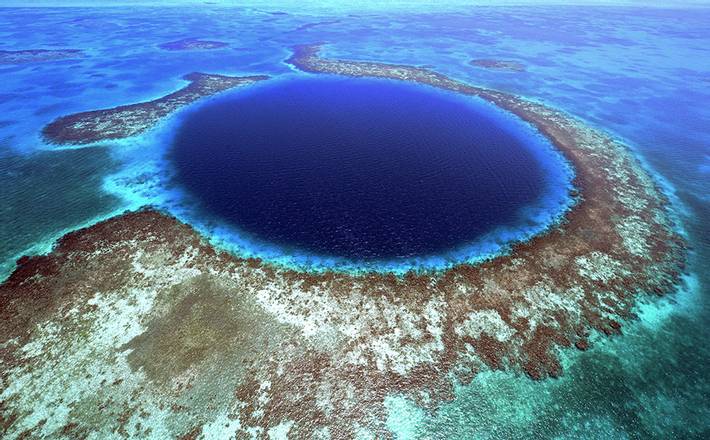 Tour al Gran Agujero Azul y al Arrecife Lighthouse
Ambergris Caye
Su aventura con los buzos de Ramon's Village comienza en nuestro muelle con un desayuno continental. Cuando su estómago no de abasto, abordará el Lady Grace, un barco de buceo Newton de 14 metros. El viaje de 21⁄2 horas al Arrecife Lighthouse, el cual alberga el Gran Agujero Azul, pasa por panoramas impresionantes, pero también será una gran experiencia disfrutar del tiempo tranquilo o bien hacer nuevos amigos en la tripulación.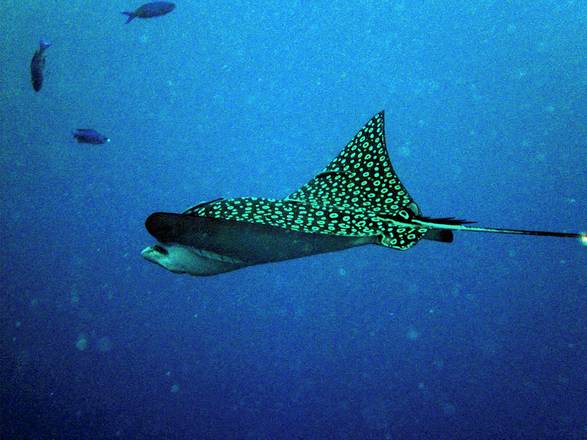 Tour de Snuba en la Reserva Marina Hol Chan o Mexico Rocks
Ambergris Caye
Los tours de buceo harán que lleve su experiencia de snorkelling al próximo nivel. Con el equipo de scuba usted podrá probar el buceo sin ninguna experiencia o clases previas. Usted podrá nadar a una profundidad de 6 metros por debajo de la superficie del agua, lo que le permitirá echar un vistazo más cercano a las especies marinas que habitan la Reserva Hol Chan.