Belize borders the Caribbean Sea and is home to a huge number of islands, including Ambergris Caye and Caye Caulker. Not surprisingly, there are many wonderful beaches here. Beach destinations offer you easy access to Belize's bountiful marine treasures. Snorkeling and scuba diving around the coral reefs of Glover's Reef Atoll (a UNESCO World Heritage Site) is delightful, as is simply lounging oceanside with a cold drink.
The beaches in Belize have brown or white sand, and border beautiful turquoise waters. Some towns are lively — like Placencia Village with its reggae bars, while others are more relaxed — such as the fishing village of Hopkins. The accommodations in these destinations range from full-service resorts to simple wooden cabanas. Needless to say, the seafood is plentiful and fresh in all of these places.
#1:

 Placencia Village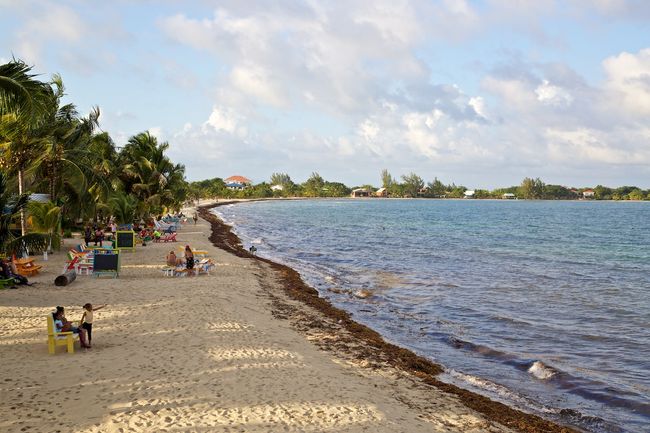 Placencia, Belize →
At Placencia Beach, visitors and locals mingle around the beach volleyball nets. There's a popular boardwalk next to the beach — find somewhere to dine al fresco after working up an appetite in the sun and sand. You can also visit bars where reggae music sets the mood for a fun, laid-back evening.
Resorts put you right on the sand, and you can find plenty of all-inclusive, luxury options. Or, opt for a thatched roof cabin, designed to look like a traditional home but quite plush on the inside.
Besides the popular beaches near town, you can take a boating trip to get to more remote beaches. Laughing Bird Caye is a popular destination for a day trip — it has soft sand beaches and nearby reefs for you to explore on a snorkeling trip.
#2:

 Hopkins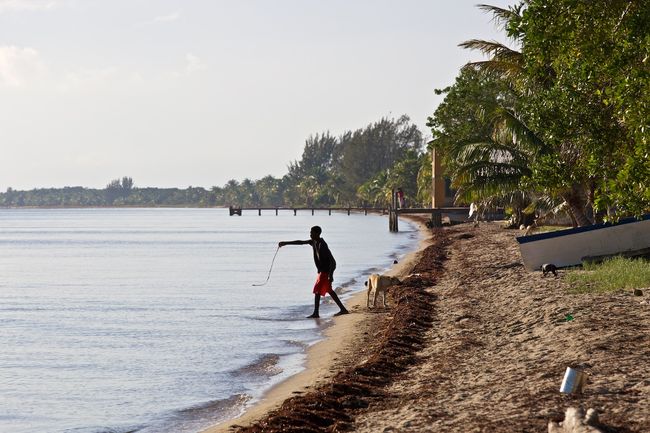 Hopkins, Belize →
At its heart, Hopkins is still a sleepy, idyllic fishing village. Getting around in a golf cart makes the whole town feel like a seaside amusement park.
You'll see locals fishing off the docks near the center of town. Beachside hotels and resorts make it easy to access the best strips of beach in Hopkins. Explore the village on foot or bicycle to really take your time enjoying the fresh ocean air.
Frequently asked questions
Can't find the answer you're looking for? Reach out to ourlocal experts.
Where Are The Nicest Beaches in Belize?

On the Caribbean Coast, Placencia Peninsula has the best beaches. Placencia's Maya Beach is especially tranquil and photo-worthy. The town of Seine Bight also has a few well-maintained stretches of beach.Visit a beach on Caye Caulker called "The Split" – it's a narrow channel that divides the island. It was supposedly formed by a hurricane. There is only a narrow but of sand, and visitors usually spread their beach towels on the remains of a cement wall.

Ambergris Cayes' best beaches are found on upscale resort properties. If you were thinking of booking a luxurious getaway, these are some of the best options in Belize.

Is It Easy to Get a Sunburn in Belize?

Belize has a tropical climate, and the sun shines quite strongly in this part of the world. You can get a sunburn more quickly here than in most parts of the U.S. Make sure to wear sunscreen with an SPF of at least 30, and keep in mind that the sun is strongest between 10 a.m. and 2 p.m.If you do get sunburned, aloe is readily available. Make sure to drink plenty of water to prevent getting dehydrated, especially if you visit the beach.