Lake Titicaca, Peru
At a staggering 12,467 feet (3,800 m) above sea level, Lake Titicaca seems to nearly touch the sky. Maybe this is why the Inca believed that it was here that Viracocha, the creator god, created the sun. According to Inca legend, other Titicaca natives include the first Inca king, Manco Copac. One of the highest lakes in the world, surrounded by mountains on either side, Titicaca is an obvious candidate for the stuff of legends.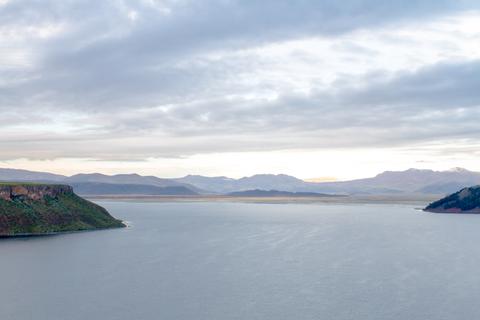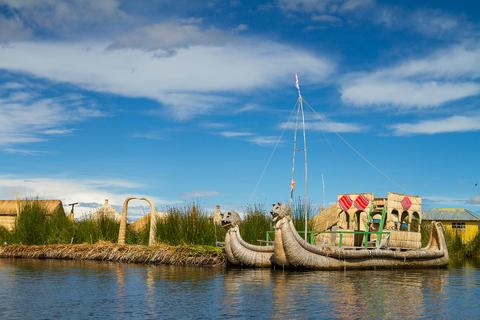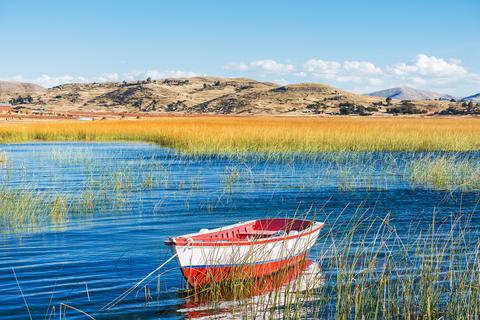 To get to the lake, you'll set out from the Peruvian town of Puno. Puno's economy relies heavily on tourism, and there are many boats and kayaks to rent to explore the lake and its many islands. Visitors often remark on the thin air surrounding the lake – because of the high altitude, it can take some getting used to. Titicaca has an area of 36,000 miles (58,000 km) and is 176 miles (284 km) deep.
Lake Titicaca is enormous, home to a number of populated islands with their own distinct cultures. Many of the islands have accommodations for guests who would like to stay the night. Some families on Anapia Island and Amantani Island are willing to host tourists and supply their guests with homemade meals.
Uros Islands are some of the most popular islands to visit in Lake Titicaca. They are referred to as the "floating islands" because of their delicate, man-made construction. Locals form them from compacted reeds, continually adding more reeds to keep the islands sturdy. From the same reeds, locals also make small boats, with prows shaped like dragon heads. You can commission a ride in one of these boats to another nearby island.
Amantani Island is one of the most popular islands for tourists to visit. Natives perform traditional dances for visitors every evening. There are Inca ruins at the summit of the island's two peaks, the perfect destination for a hike. Visit Taquile Island to see the natives' dexterity with textiles - on Taquile, knitting is a predominantly male occupation, and their knitted caps have become a distinctive element of the island's fashion. Taquile also has small Inca ruins on some of its peaks, with scenic views of the rest of the lake.
Lake Titicaca Personalized Trips
Lake Titicaca Things to Do