Pacaya Samiria Amazon Lodge
Located deep in the Amazon Basin, Pacaya Samiria Amazon Lodge allows visitors to get a close look at the rare plants and animals of the Amazon. This is a popular site for travelers interested in ecotourism and people who want to engross themselves completely in attractions that sprout from the ground or walk on four legs. With nearly 8,000 square miles (20,720 sq km) of nature reserve, the Hatuchay Pacaya Samiria Reserve offers visitors access to a huge piece of the Amazon.
The Pacaya Samiria Amazon Lodge is located 74.5 miles (120 km) to the southwest of Iquitos, a 1.5-hour drive by bus or car. First you will reach Nauta, a small village on the outskirts of the reserve. From there, you'll take a 2-hour speedboat ride down the Amazon to the reserve. On the way, keep your eyes peeled for pink dolphins, one of the Amazon River's most distinctive inhabitants.
Cabins at the lodge can comfortably fit from 4 to 6 people, with one private bathroom per cabin. Each cabin comes with a layer of mosquito netting, so you can sleep without fear of the notorious Amazon pests. Cabins are built with sustainable materials and decorated with cheerful, colorful details. Most importantly, each rustic cabin has its own balcony, which offers guests an unimpeded view of the Maroñon stretch of the Amazon River below.
At the lodge's club house, relax on one of the many hammocks or gather your fellow travelers to play a board game. Daily meals are provided by the lodge's restaurant, which serves both traditional Peruvian and international cuisine. No matter what kind of schedule you keep while visiting the Amazon, you'll have access to liquid refreshment at the lodge's café, which serves coffee and tea 24 hours per day. The gift shop sells souvenirs alongside practical necessities for exploring the Amazon, such as ponchos and bug spray.
On the grounds of the lodge, guests also have access to watchtowers — these are another spot to get a good eyeful of the intense, constantly evolving scenery of the rainforest. When you're ready to explore the Amazon from the ground, the lodge provides maps of hiking trails in the area. Keep your eyes peeled for river turtles, sloths, birds, monkeys, manatees, and tapirs.
Facility Amenities
---
Restaurant in Hotel
Free Breakfast
Wireless Internet
Spa Services
Wheelchair Accessible
Swimming Pool
Bar
Breakfast Available
Fan
Gardens
Hammocks
Jungle View
River View
Facility Amenities
---
Restaurant in Hotel
Free Breakfast
Wireless Internet
Spa Services
Wheelchair Accessible
Swimming Pool
Bar
Breakfast Available
Fan
Gardens
Hammocks
Jungle View
River View
Check In:
3pm
Check Out:
12pm
Pacaya Samiria Amazon Lodge Accommodations & Rooms
4 Rooms
Filter Rooms
Room Features
2 TwinOR 3 SingleOR 4 SingleOR 5 Single
Pacaya Samiria Amazon Lodge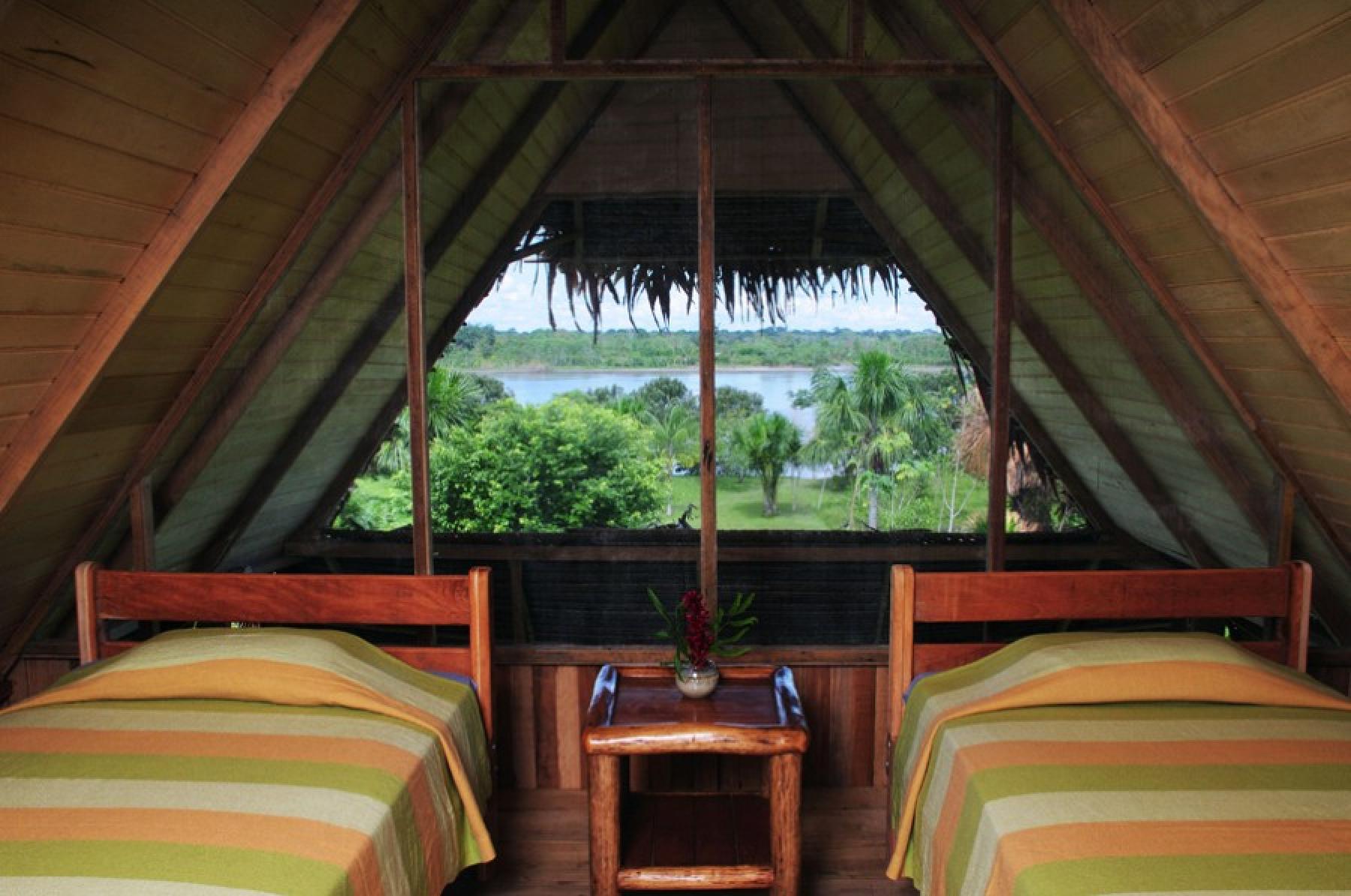 Room rates: $600
Anywhere.com