Tarapoto, Peru
Tarapoto is a large town in Peru's Northern Highlands. Tarapoto acts as a gateway to the northeastern high jungle and is a short, one-hour flight from Lima. This area has good food, lovely landscapes, and unique birds.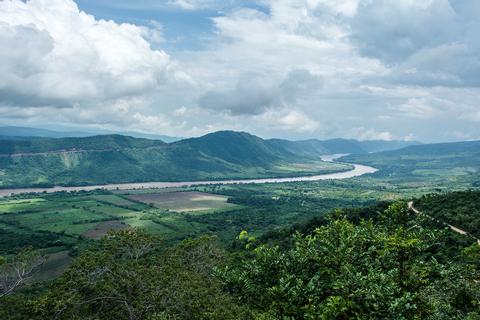 Known as the "City of Palms," Tarapoto was founded in 1782 in the lower Mayo River watershed along the Cumbaza River. The surrounding cloud forest descends into the lower Amazon rainforest, creating pristine ecosystems that harbor all sorts of plants and animals. Nearby farms grow cocoa, bananas, corn, coffee, palm oil, fruits, and tobacco. Due to its large size, fertile agricultural land, and access to the Marginal Highway, Tarapoto is something of a commercial hub in the area.
In the 1970s, coca production thrived in this area and Tarapoto acted as the home base for numerous drug traffickers. The territory was also dominated by the left-wing terrorist organization Movimiento Revolucionario Túpac Amaru (MRTA). Fortunately, both the drug lords and the MRTA were jailed and defeated by the 1990s, and today Tarapoto is a safe place to visit.
Tarapoto is a short flight from Lima and acts as a convenient jumping off point for adventures into the Amazon. Tarapoto is part of the Área Regional de Conservación Cordillera Escalera, which protects huge swaths of cloud forest and several indigenous communities. A few attractions are worth visiting in this area.
Set about 9 miles (14 km) outside Tarapoto, the Aguashiyacu Waterfalls cascade through the jungle into a chilly pool below. Birds have nests behind the falls and can sometime be seen flying in and out of the waterfall—the best time to spot these birds is around dawn or dusk. You can swim in the pool beneath the falls, and the whole place is generally just a good spot to take pictures and enjoying the scenery.
13 miles north of Tarapoto is the isolated village of Lamas. The people here are known as the Lamistas, and they speak a mixture of Quechua and jungle dialects. Their unique sense of identity is palpable and can be explored in some depth at their small museum.
The Orquídea Chocolate Factory is known throughout Peru for its delicious organic chocolate. The factory is set just outside town and allows travelers to see demos and learn how cacao is made into chocolate. You'll also walk away with some mouth-watering chocolate bars.
Travelers can visit Lago Lindo, a 13,100-acre (5,300-ha) private reserve that's about two hours south of Tarapoto. Mahogany trees and water channels make this peaceful place ideal for birding. Rafting can also be enjoyed on the nearby Mayo and Huallaga Rivers.
There are a number of hotels in and around Tarapoto that offer travelers a comfortable place to rest their heads. There are several good eateries in town that serve up camarones, pork dishes, Italian pizza, and a variety of local dishes. There are also a few lively bars and discos where you can drink, dance, and enjoy music. What's more, Tarapoto has a growing community of artists and there are stores around town where you can peek into galleries and buy paintings and other art.