Belizean Shores Resort offers beautifully appointed suites on Ambergris Cayes, which is Belize's most developed island. While you're staying here it's easy to travel 30 minutes to San Pedro to take advantage of its bars and restaurants.
Featured in:
Beachfront, Luxury, Sustainable, Cabins and Villas, Great for Families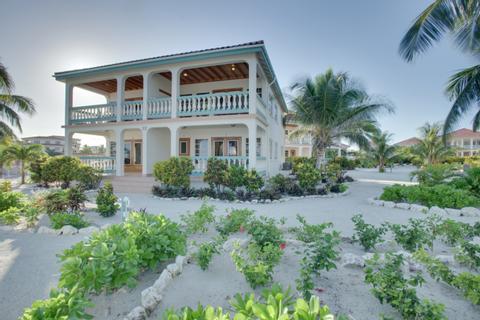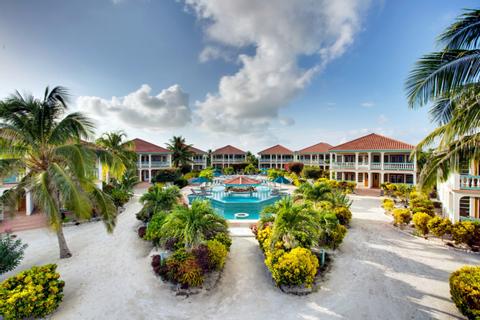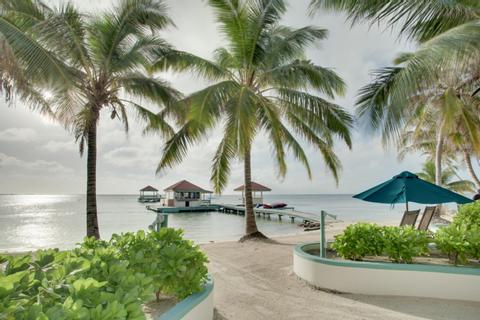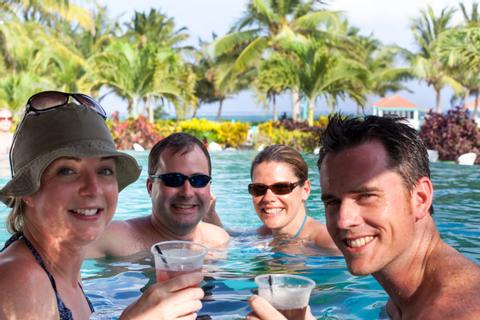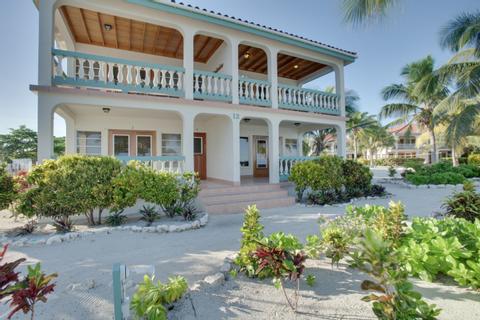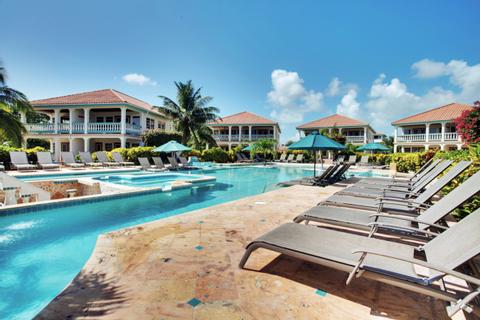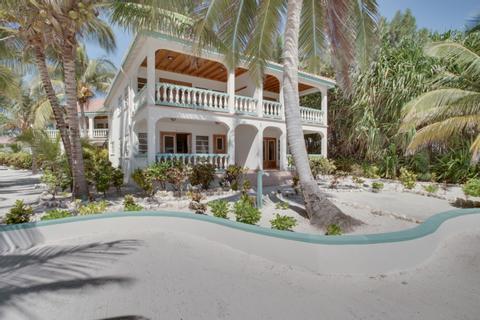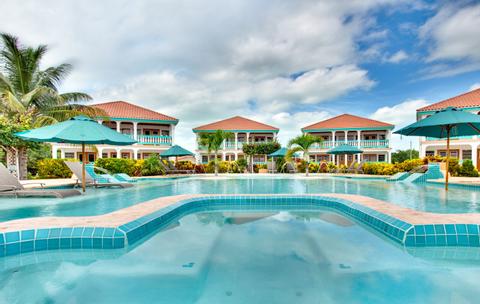 3:00 p.m. check in
11:00 a.m. check out
Free Airport Pickup
Restaurant in Hotel
Spa Services
Swimming Pool
Wireless Internet
Try kayaking, windsurfing, and parasailing while you're on the bright blue waters of the Caribbean. You can arrange take a boating tour of Belize's incredible Caribbean landscape. Visiting the Great Blue Hole or the Belize Barrier Reef makes for a memorable day trip. These are widely regarded as the premier scuba diving destinations in the world. The Great Blue Hole is an ancient depression in the ocean floor, and has some stunning cave-like formations. It's surrounded by the Lighthouse Reef, which offers a habitat to sharks and tropical fish. To explore the strip of beach closer to your resort, you have the option to borrow one of the resort's kayaks or paddleboards. While you're at the resort, you'll never be far from a watery oasis. Besides the beach, the resort has an outdoor saltwater pool with swim-up bar, and a hot tub in the middle of the pool. The pool also features a mini waterslide and a trampoline. While they're on land, kids can play on the resort's playground. Babysitting services are available at the resort, if you'd like to go on an excursion without younger companions.
You can stay quite active during your stay. On the grounds you'll have access to a tennis court, a basketball court, and a volleyball court. For a less sporty competition, there's also ping-pong table.
This resort also offers conference facilities. They can come equipped with audio and visual equipment upon request. These rooms are large enough to accommodate up to 100 people. While you're in the business center you can also use the hotel's free Wi-Fi.
Belizean Shores Resort offers 48 rooms, spread out across 12 two-story buildings. All of the rooms here are roomy suites with opulent master bedrooms. Suites at this resort come complete with small kitchens, which are fully equipped. Guest accommodations also come with living rooms and dining areas. In the living room you'll find a cable TV.
You'll have either a private balcony or a private patio. Rooms overlook either the hotel pool or the beach. These accommodations have calm, neutral colors and tile floors. Bright pieces of art on the wall make the space especially welcoming.
All of the rooms come with air conditioning and fans. Rooms here also provide safety deposit boxes so that you have a completely secure place to store your valuables.
Belizean Shore's restaurant has Central American and Belizean specials, and the cuisine here emphasizes fresh, local ingredients. Try a slow-cooked Belizean stew or some fresh seafood while you're here. The resort has a bar that offers a long wine list and a delightful list of tropical cocktails. You can also visit the resort's on-site Island Tavern. It serves three meals a day and hosts entertainment on some weeknights. You can also request a barbecue if you'd like to do some grilling on the beach.
More Property Amenities
Air Conditioning
Babysitter
Bar
Beach Access
Breakfast Available
Cable TV
Conference Rooms
Fan
Free Airport Transport
Game Room
Hammocks
Hot Water
Jacuzzi
Kitchen
Laundry Service
Ocean View
Private Parking
Safe Deposit Box
Telephone
Accommodations
Sea View Lower Level Suite
Sleeps 4
Air Conditioning
Cable TV
Fan
Iron & Ironing board
Microwave
Mini Refrigerator
Safe Deposit Box
Telephone
DVD Player
Dining Room
Porch
Pool View Upper Level Suite
Sleeps 6
Air Conditioning
Cable TV
Iron & Ironing board
Microwave
Mini Refrigerator
Safe Deposit Box
Telephone
DVD Player
Dining Room
Porch
Sea View Upper Level Suite
Sleeps 6
Air Conditioning
Cable TV
Fan
Iron & Ironing board
Microwave
Mini Refrigerator
Safe Deposit Box
Telephone
DVD Player
Dining Room
Porch
Sea Front Upper Level Suite
Sleeps 6
Air Conditioning
Balcony
Cable TV
Fan
Iron & Ironing board
Microwave
Mini Refrigerator
Safe Deposit Box
Telephone
DVD Player
Living Room
Dining Room
Porch
Sea Front Lower Level Suite
Sleeps 4
Air Conditioning
Balcony
Cable TV
Fan
Iron & Ironing board
Microwave
Mini Refrigerator
Safe Deposit Box
Telephone
DVD Player
Living Room
Dining Room
Patio
Porch
Pool View Lower Level Suite
Sleeps 4
Air Conditioning
Balcony
Cable TV
Fan
Iron & Ironing board
Microwave
Mini Refrigerator
Safe Deposit Box
Telephone
DVD Player
Living Room
Dining Room
Porch
Similar Hotels