Las Terrazas Resort sits right on the white sand beach of Ambergris Caye. This idyllic shore is beautifully maintained by the resort, and gives you a great spot to swim and snorkel the day away.
Featured in:
Beachfront, Luxury, Honeymoon, Sustainable, Best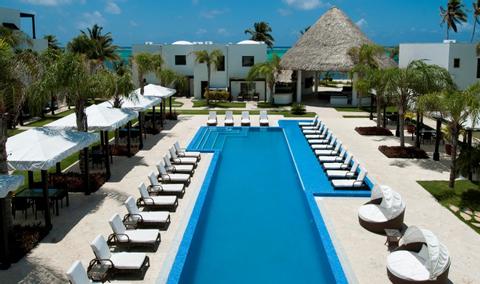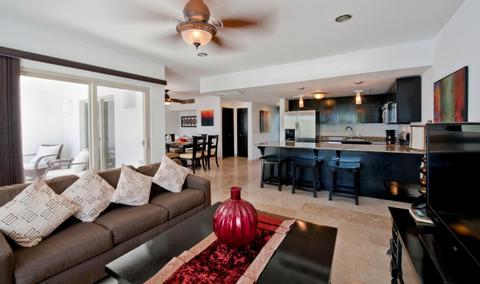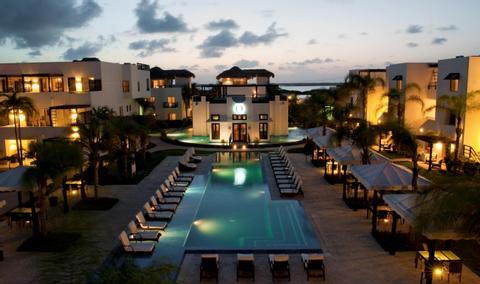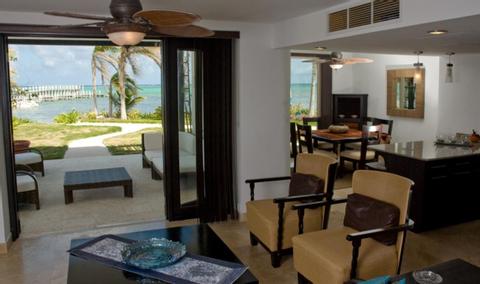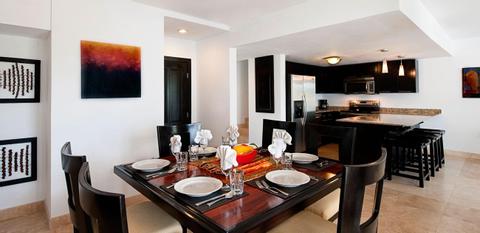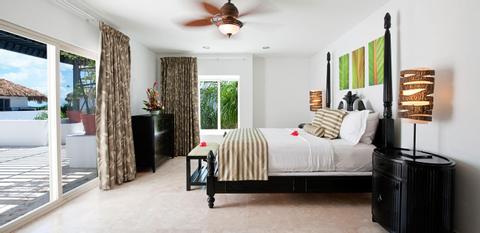 3:00 p.m. check in
12:00 p.m. check out
Free Airport Pickup
Restaurant in Hotel
Spa Services
Swimming Pool
Wireless Internet
You can find everything you need to get the most out of your environment on the grounds of the hotel. Visit the dive shop and suit up for some underwater exploration. The resort provides kayaks, hobie cats, paddleboards, and water bikes for free. Guests can also help themselves to the resort's bikes to see the inland sights and sounds. Amberis Caye is a convenient place to stay for visitors who want to see the Belize Barrier Reef. This reef was named a UNESCO World Heritage Site because of its enormous size and the habitat it provides for endangered animals like sea turtles, manatees, and crocodiles. During your stay you can rent golf carts from the resort, which are the preferred method of transportation on the island.
Expend some energy in the resort's 70-foot (21-m) infinity pool. Next to the pool and along the beach you'll find luxurious lounge chairs. Sidle up to the poolside bar for a refreshing, tropical happy hour. There's more relaxation to be had at the spa, where you can pick from a long list of different massages and skin treatments. They even offer invigorating mud baths.
Rooms at Las Terrazas are all spacious and modern. They also have a homey touch that comes from the locally crafted furniture. You'll find the atmosphere remains cool and comfortable thanks to central air conditioning and ceiling fans. There is free Wi-Fi available in all of the rooms, as well as throughout the resort.
Each room has a private bathroom with a hair dryer, bathrobe, and upscale amenities. You have the option to book a penthouse that has its own Jacuzzis or plunge pool. Keep your clothes clean using your room's full-sized washer and dryer.
Las Terrazas accommodations are designed to keep you entertained, with 42-inch flat screen TVs and DVD players with surround sounds. When you leave for the day you can lock up your valuables in the room's safety deposit box.
There's a fully equipped kitchen that has granite countertops. You can request to have your kitchen stocked with groceries before your arrival.
Las Terrazas is 3.5 miles (5.5 km) from the beach town of San Pedro, where you'll find a solid variety of international restaurants. For a convenient meal or drink, visit the resort's restaurant and rooftop lounge. The restaurant focuses on fresh seafood and produce.
In addition to the rooftop bar, Las Terrazas also offers meeting and conference facilities for business travelers. They have a wide array of convenient services for travelers who wants to host a business retreat.
More Property Amenities
Air Conditioning
Babysitter
Balcony
Beach Access
Cable TV
Coffee Service
Conference Rooms
DVD player in Room
Fan
Free Airport Transport
Hair Dryer
Hot Water
Internet Access
Iron & Ironing board
Jacuzzi
Kitchen
Laundry Service
Microwave
Ocean View
Telephone
Wet Bar
Accommodations
Three Bedroom Penthouse
Sleeps 6
Air Conditioning
Cable TV
Hair Dryer
Hot Water
Iron & Ironing board
Microwave
Mini Refrigerator
Safe Deposit Box
Telephone
Wireless Internet
DVD Player
Living Room
Dining Room
One Bedroom Resort View Residence
Sleeps 2
Air Conditioning
Cable TV
Hair Dryer
Hot Water
Iron & Ironing board
Microwave
Mini Refrigerator
Telephone
Wireless Internet
DVD Player
Living Room
Dining Room
Two Bedroom Sunset Lagoon View
Sleeps 4
Air Conditioning
Cable TV
Hair Dryer
Hot Water
Iron & Ironing board
Microwave
Mini Refrigerator
Safe Deposit Box
Telephone
Wireless Internet
DVD Player
Living Room
One Bedrrom Sunset Lagoon View
Sleeps 2
Air Conditioning
Cable TV
Hair Dryer
Hot Water
Iron & Ironing board
Microwave
Mini Refrigerator
Safe Deposit Box
Telephone
Wireless Internet
DVD Player
Living Room
Two Bedroom Ocean Front Sea House
Sleeps 4
Air Conditioning
Cable TV
Fan
Hair Dryer
Hot Water
Iron & Ironing board
Microwave
Safe Deposit Box
Telephone
Wireless Internet
DVD Player
Living Room
Dining Room
Three Bedroom Resort View Residence
Sleeps 6
Air Conditioning
Alarm Clock
Cable TV
Hair Dryer
Hot Water
Iron & Ironing board
Microwave
Mini Refrigerator
Safe Deposit Box
Telephone
Wireless Internet
DVD Player
Living Room
Dining Room
One Bedroom Penthouse
Sleeps 2
Air Conditioning
Alarm Clock
Balcony
Cable TV
Hair Dryer
Hot Water
Iron & Ironing board
Microwave
Mini Refrigerator
Telephone
Wireless Internet
DVD Player
Living Room
Dining Room
Two Bedroom Resort View Residence
Sleeps 4
Air Conditioning
Alarm Clock
Cable TV
Hair Dryer
Hot Water
Iron & Ironing board
Microwave
Safe Deposit Box
Telephone
Wireless Internet
DVD Player
Living Room
Dining Room
Three Bedrrom Sunset Lagoon View
Sleeps 6
Air Conditioning
Alarm Clock
Cable TV
Hair Dryer
Hot Water
Iron & Ironing board
Microwave
Mini Refrigerator
Safe Deposit Box
Telephone
Wireless Internet
DVD Player
Living Room
Dining Room
One Bedroom Ocean Front Sea House
Sleeps 2
Air Conditioning
Alarm Clock
Cable TV
Fan
Hair Dryer
Hot Water
Iron & Ironing board
Microwave
Mini Refrigerator
Safe Deposit Box
Telephone
Wireless Internet
DVD Player
Living Room
Dining Room
Three Bedroom Ocean Front Sea House
Sleeps 6
Air Conditioning
Cable TV
Hair Dryer
Hot Water
Iron & Ironing board
Microwave
Mini Refrigerator
Safe Deposit Box
Telephone
Wireless Internet
DVD Player
Living Room
Dining Room
Two Bedroom Penthouse
Sleeps 4
Air Conditioning
Alarm Clock
Balcony
Cable TV
Hair Dryer
Hot Water
Iron & Ironing board
Microwave
Safe Deposit Box
Telephone
Wireless Internet
DVD Player
Living Room
Dining Room