Cities in Belize have diverse populations. You can meet Mennonites, Garífuna people, Creole Belizeans, and descendants of the ancient Maya. These cities are usually not far off from a cultural destination, like a Maya ruin, or one of the many natural attractions in Belize's countryside.
If you skip exploring Belize's cities, you're missing out on opportunities to soak up the local culture and the nation's history. The laid-back locals of San Ignacio's mountain foothills lead a different life from those who call the beaches of Placencia Village home. When adding to your list of Belize adventures, don't forget that one of life's most exciting is making friends with new people from different places.
#1:

 Placenica Village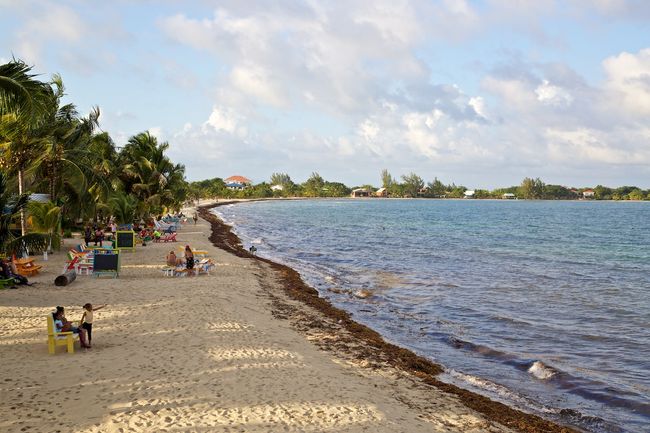 Placencia, Belize →
Placencia Village puts you right next to one of the most popular beaches in Belize. Come here to enjoy a busy beach town, where you can experience interesting local culture, as well as beautiful beachfront scenery. Casual restaurants in the area serve Caribbean fare and seafood.
There's some beachy nightlife in the downtown area, where it's easy to spend a fun night out with new friends and reggae music pumping in the background. The main street that runs through town is for pedestrians only, making it easy to bump into other travelers and socialize. Wander downtown to see some of the area's outdoor markets.
Because Placencia gets a lot of visitors, you have lots of options for restaurants as well as places to stay. Beachfront resorts offer luxuriously appointed rooms and a nice variety of on-site activities, like spas and toys you can take out on the water.
#2:

 Belize City
Belize City, Belize →
This is Belize's most populous city, and it's where most international travelers begin and end their trips, so it's a destination that sees quite a bit of action. Sample local restaurants and relax at a coastal hotel before you start your journey into the Caribbean or the jungle.
Just because you're in the city doesn't mean you have to forgo nature. Plan a trip to the Belize City Zoo, which is more of an animal refuge than a zoo. Super rare jaguars live here, as well as sloths, and tropical birds — this is one of the best spots to get an idea of the panoply of animals that live in the rainforests and mountains of Belize. Belize City is also a great place to plan a day trip to a Mayan ruin called Altun Ha, a temple that's located a short distance outside of the city.
You can find comfortable, budget-friendly hotels near the coast when you're looking for something time efficient. Or, venture into the jungle and spend your time surrounded by wildlife.