Rumors Hotel is located on mile 2 1/2 Benque Viejo Road. We are conveniently located in a Hotel Zone within easy access of the many amenities in San Ignacio Town.
Featured in:
Eco Lodges, Sustainable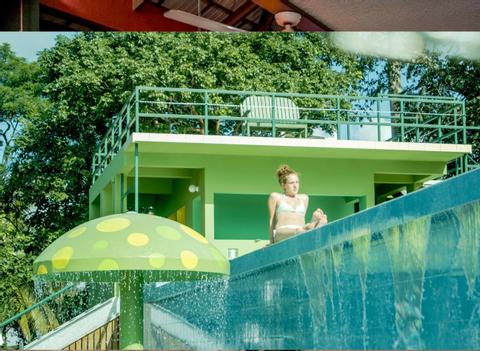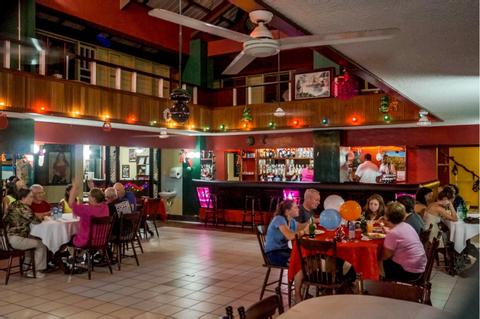 3:00 p.m. check in
11:00 a.m. check out
Restaurant in Hotel
Swimming Pool
Wireless Internet
We are a small Belizean family-owned and operated hotel. We cater to travelers seeking a tranquil getaway from the buzz of town (San Ignacio) while still keeping its conveniences well within easy access. Situated near all major attractions in the Cayo District, we're an ideal outpost for the adventure traveler seeking to experience the best of Belize's cultural, historical and eco-adventure attractions.
Hector Montero, proprietor and CEO of Rumors Resort Hotel is a professional building contractor. His projects can be traced along all corners of this country, even off the mainland. His career development led him to study and work abroad in the USA for some time. As a recreational activity there, he would frequent a particular Restaurant and Bar lounge by the name of Rumors in Winter Haven Florida, back in the mid 80′s.In the summer of 1995, he set off to layout the foundations of what would open its doors to the public in 1998 as Rumors restaurant and bar.
The facility was built on the same premises as his residence and the place he grew up in. The name evidently reflecting that of his favorite recreational spot in his earlier days. Rumors Restaurant and Bar was planned to be a joint venture between Hector and his youngest brother who would manage the facility while he maintained focus on his construction projects. The partnership thrived for a couple of years until it broke off in 2000. Hector's brother went his own way and so the business sought for care and attention from Hector.
You'll know you've made the right choice once you come over the bend and see Rumors Hotel's charming facade.Weighing out his priorities and deciding to follow his passion, Hector decided to put the restaurant & bar on the market for either sale or lease. Idling on the backburner, the establishment occasionally took on a function as a banquet facility. It hosted all sorts of celebrations from Christenings, proms, wedding receptions, birthday parties, anniversaries to pageants and conventions. These occasional events would sustain the facility while it underwent continuous and gradual expansion. The idea was to add value to the venue in order to sell at a higher price some day. Hence, the addition of our first 4 accommodations came through.
Rumors consequently commenced operation as a motel, offering accommodations to local walk-ins.Hector's outstanding skills and craftsmanship in the construction industry took on full swing and became evident in his ever-developing masterpiece He gradually laid out each piece of it as envisioned right off his mind, without a master plan. This was all possible with the joint blood and sweat of his sons. The challenge was great as it demanded the family to live double lives – their separate jobs in their own field of work and their commitment to the continual development and maintenance of this establishment.
Although several persons showed interest on various separate occasions, none committed fully to meet the requested price. The venue was leased on one occasion but with a negative outcome. Time passed and the venue continued its expansion while operating at a very minimal rate. It wasn't until the summer of 2010 when my job in our nation's capital fell apart that I decided to return home. With much necessity for a source of income, I asked my dad to let me run the business and show him that it holds great potential and to leave it in the family instead of selling it.
After all, we had all worked very hard in constructing and maintaining the establishment, I now wanted a chance to reap the fruits of my efforts.On October 1st of 2011, I tapped around in efforts to find a market. I wasn't quite sure what I was aiming for, I just knew I had to figure out some way forward. That whole year and most of the following was spent hosting promotional events with DJ's, pageants, whatever kept us afloat. It was becoming more of a night club and I wasn't quite happy with that. Upon finally completing our most recent rooms, I decided to tap into the tourism industry. I got the place signed up on a couple of Online Travel Agents, did some networking, and pushed as much to get into the industry.
The first year was an automatic success, guests loved our venue!Rumors Hotel has been upgrading its facilities ever since and is currently still undergoing expansion with the construction of our swimming pool which is scheduled for completion by November of 2015. We welcome you to come experience this wonderful place as you join in our family atmosphere. Don't sacrifice sleep quality for closeness to town and don't trap yourself in a jungle to get some rest. At Rumors Hotel, we offer that perfect notch between both extremes. We look forward to hosting you soon!
More Property Amenities
Air Conditioning
Alarm Clock
Bar
Beach Access
Cable TV
Coffee Service
Fan
Hair Dryer
Hot Water
Iron & Ironing board
Kids Pool
Microwave
Mini Refrigerator
Private Parking
Safe Deposit Box
Accommodations
Air Conditioning
Cable TV
Hot Water
Iron & Ironing board
Safe Deposit Box
Wireless Internet
Air Conditioning
Alarm Clock
Cable TV
Hair Dryer
Hot Water
Iron & Ironing board
Microwave
Safe Deposit Box
Wireless Internet
Air Conditioning
Cable TV
Hot Water
Iron & Ironing board
Safe Deposit Box
Wireless Internet
Feedback from Travelers
The staff at Rumors were incredible! We received perfect service and couldn't have asked for a better stay. We would absolutely stay again and highly recommend!
The room was quite small and nothing fancy. The new pool area is excellent. I don't know if we would use this accommodation again, but the staff were fantastic.
Similar Hotels