This luxurious 7-day trek to Machu Picchu allows you to have an unforgettable trekking experience in between stays in luxurious lodges that include perks like massages and Jacuzzis. Guides carry the bulk of your supplies and handle all of the meal preparations — while you hike, all you need to to focus on is the views and adjusting the tremendous altitude. Dinners include wine pairings and the cooks are ready to cater to your special requests.
Duration:

6 hrs
Available Days:

Every day
Schedule:

7:00 AM
Inquire for Transportation
Mobile Ticket Included
Offered in English, Spanish
Besides the sprawling Inca ruins, this tour also takes you through a surprising variety of ecosystems — 15 in total, including steamy plateaus, altitudes as high as 15,000 feet (4,572 m), and tranquil mountaintop lakes. With so many different types of terrain, you'll never get the chance to get tired of the view. Besides scenery, you'll also have the chance to to experience Andean culture, in villages where locals live much as they did when the Inca ruled the mountains.
ITINERARY THE SALKANTAY TREK TO MACHU PICCHU 7 day experience Day 01 - Cusco / On the way to Soraypampa Day 02 - Soraypampa | Hike to Lake Humantay Day 03 - Soraypampa | Crossing the Salkantay Pass Day 04 - Wayraccmachay | Descending into the cloud forest Day 05 - Collpapampa | Following the Santa Teresa river valley Day 06 - Lucmabamba | Exploring Llactapata pass Day 07 - Machu Picchu | The Sanctuary
What follows is a customized daily itinerary with the most relevant information.
DAY 0 CITY OF CUSCO | TRIP BRIEFING
Tonight you will meet your guides and other trekkers for an important informational meeting. Time: 7:00 pm Location: El Mercado Hotel (Calle 7 Cuartones 306, Centro Histórico del Cusco, Cusco) Duration: Approximately 45 minutes
DAY 1 CUSCO TO SORAYPAMPA
After you've had an early breakfast, your tour guide and will pick you up at your hotel in Cusco. You'll set the tone for your trip with a stop at the Quilla Rumiyoc archeological site, which has terraces and water channels that were designed to honor the moon goddess.
Your drive brings you to the mountain village Mollepata where you'll stop by the El Pedregal farmhouse for an educational look at local agriculture. Afterward, you'll continue driving until you reach Challacancha, where you'll begin your hike to Soraypampa on the fairly easy Camino Real (Royal Path). At this point in the hike, you'll be easing into the altitude. At the end of the trail, you'll reach the Salkantay Lodge, where you'll spend the night.
Pick up time from your Cusco hotel: 7:00am Trekking Time: Approximately 6 hours (including picnic lunch en route) Hiking Level: Moderate to Challenging Meals: L (en route) and D Overnight: Salkantay Lodge Optional: Guests who do not wish to walk may be taken to the lodge by vehicle.
DAY 2 HIKE TO HUMANTAY LAKE
After breakfast at the lodge, you'll start your half-day hike to Lake Humantay. It's a gorgeous sight, with bright blue water surrounded by snow-capped mountains. Your guide will lead you in a meditation and make a small offering to the goddess "Pachamama" — Mother Earth.
Afterward, you'll head back to the lodge for a hot lunch. The rest of your day is yours to do as you please — this is a good chance for massages and Jacuzzis. There are also a couple of optional additional excursions, outlined below.
Trekking Time: Approximately 4 hours Hiking Level: Moderate Meals: B, L and D Overnight: Salkantay Lodge
Optional activity: Horseback riding (At an additional cost) Chakana Excursion: 5–6 h. horseback/trekking combo to a nearby high view point, where a huge Inca cross (chakana) has been placed (1-2 h. riding on a steep hillside). This excursion will replace the hike to glacial lake.
Short Excursion: 2 hours ride around Soraypampa in the afternoon (after hike to glacial lake). Note: While the morning hike to Lake Humantay is optional, we strongly recommend your participation in preparation for the strenuous hike on day three
DAY 3 CROSSING THE SALKANTAY PASS
Day three brings a more challenging hike. You'll hike through the Rio Blanco Valley, circling the Humantay Peak, making your way through plateaus dotted with boulders of varying sizes. These boulders are evidence of the river that used to carve out these massive rocks. This hike brings you to Salkantay Pass, the highest point on the trek at 15,213 feet (4,636 m).
During your descent, you'll stop among the boulders for a hot picnic lunch. Then you'll continue down hills and through marshes to the Wayra Lodge at Wayraccmachay.
Trekking Time: 6–8 hours (including lunch) Hiking Level: Challenging, crossing a 4,638m (15,213ft) mountain pass Meals: B, L (en route) and D Overnight: Wayra Lodge Optional: Horseback Riding. You may choose to trade day 3´s hike up to Salkantay pass for a horseback ride (entirely or partly at additional cost).
DAY 4 DESCENDING INTO THE CLOUD FOREST
Take your time at breakfast at the Wayra Lodge, after which you'll continue your descent on a path that follows the Salkantay River. You'll see more locals during this leg of the journey, passing by their cozy mountain abodes.
At lunch, you'll arrive at Colpa Lodge. Guests tend to remember this lodge for its incredible view, which looks out over three rivers. The staff here will greet you with a traditional Andean lunch, cooked Pachamanca style — your guides will show you how they cook using a natural underground oven that's heated by hot stones.
For the rest of the day, you have the option of taking a second hike to a nearby cloud forest, or simply relaxing at the lodge.
Trekking Time: 3–4 hours Hiking Level: Easy to Moderate Meals: B, L, and D Optional Activity: Afternoon bike from Manchayhuaycco to Collpapampa. You will descend through a beautiful valley in which you will admire the diverse cloud forest vegetation through the slopes of the valley. Duration: 3hrs approximately / Level: Easy. This activity has an additional cost. Overnight: Collpa Lodge
DAY 5 FOLLOWING THE SANTA TERESA RIVER VALLEY
Today we hike along the Santa Teresa river valley, through more populated rural areas.
As you hike through the Santa Teresa River Valley, you'll hop over small streams and see waterfalls fed by far-off glaciers. You'll also cross through scenic fruit orchards. Lunch is served on the banks of a river, before another hour-long walk to a vehicle that will take you the short drive to Llactapata Inca Trail. Follow this trail to a coffee plantation that produces top-tier organic coffee. You'll notice the increased humidity — signs that you're close to the Amazon. Your trail ends at your bed for the night, at the lovely Lucma Lodge.
This day includes the option of replacing the trek with an all-day ziplining excursion, or the addition of a bike trip. Both are an additional cost.
Trekking Time: 5–6 hours (including lunch) Hiking Level: Moderate to Challenging (because of distance, not terrain) Meals: B, L and D Overnight: Lucma Lodge
Optional Activities:
Zip Line: Located in Santa Teresa. This is a full day activity which replaces the trek. It has an additional cost.
Biking: Option a) Yanama pass – Hornopampa – Lluskamayo. You will head downhill almost 8,000 ft. through a dirt road admiring breathtaking views of the surrounding mountains. Duration: 5 hrs. Level: Easy to moderate. Option b) Descent from Hornopampa to Lluskamayo. Duration: 3.5 hrs. Level: Easy
DAY 6 FIRST VIEWS OF MACHU PICCHU FROM LLACTAPATA PASS
Your day begins with a 2-3 hour climb up steps built by the Inca. You'll reach a peak first, your last before you reach Machu Picchu. Next, follow your guide to the Llactapata ruins, located at an elevation of 8,974 feet (2,736 m). Scholars believe this area may have served as a roadside shrine on the way to Machu Picchu. From here, you'll be able to see the a southeast view of Machu Picchu in the distance.
Head a short distance down the trail to a meadow with a panoramic view — this is where you'll stop for lunch. Afterward, you'll descend through bamboo forests, ending the hike at the Hidroelectrica train station. From there, you'll embark on a one-hour train ride to Aguas Calientes, the small town that serves as the gateway to Machu Picchu.
Trekking Time: 4–6 hours Hiking Level: Moderate to Challenging Train from Hidroelectrica to Aguas Calientes: 1 hour Meals: B, L (en route) and D Overnight: Inkaterra Pueblo Hotel
DAY 7 VISIT MACHU PICCHU SANCTUARY
After a very early buffet breakfast at the hotel, you'll start the bus ride to your final destination, Machu Picchu. The bus ride takes 30 minutes. On a two-hour tour, your guide will offer insight into structures like the Watchtower and the Temple of the Sun, as well as the terraces hillsides and royal residences. Some edifices are more mysterious, and point to the Inca's profound astronomical insight.
If you're ready for more hiking, consider an additional side trip to the top of Huayna Picchu, the mountain next to Machu Picchu that offers an incredible view of the site — many people come here just for the photograph and bragging rights.
Once you've toured Machu Picchu, you'll return to Aguas Calientes for lunch. After lunch, you'll hop on the train to begin your return to Cusco. A car will be waiting for you you at the train station to bring you to your Cusco hotel.
Huayna Picchu hike: 10am (subject to availability) Afternoon train from Aguas Calientes to Ollantaytambo and transfer to Cusco Hotel: 3 – 4 hours approx Meals: B and L
Note: Huayna Picchu Mountain tickets are subject to availability
END OF SERVICES
IMPORTANT NOTE:
TRAVEL INSURANCE The Salkantay Trek to Machu Picchu is an Adventure Travel Activity which takes place in remote locations and at certain times at high altitudes. As such, it contains a certain level of risk. In order to ensure a safe experience for every guest, we kindly request that every guest presents valid proof of insurance coverage as a minimum for Medical Emergency Treatment and Evacuation. Please note that some insurance policies exclude Adventure Travel Activities or similar from the coverage, so please be careful when assessing and/or purchasing your insurance policy and please make sure that the insurance policy includes Adventure Travel Activities or similar.
DEFINITION OF "VALID PROOF OF INSURANCE" It is required presentation of the following information at least 60 days prior to trip start date: ** Name of Insurance Company and Name of Specific Policy (if applicable) ** Coverage registration number or code ** 24hr emergency telephone numbers provided by the insurance company
Our provider partners with an insurance company called BUPA GLOBAL TRAVEL – a member of the BUPA Group to oer insurance coverage for Medical Emergency Treatment and Evacuation, including Adventure Travel Activities. Upon your request, we may purchase this insurance coverage ON YOUR BEHALF from the mentioned supplier at a rate of US$10 per person per day. The full terms of coverage of the mentioned policy can be found at BUPA Global's website.
In the event that a guest has not presented valid proof of insurance to us at least 30 days prior to the trip start date, provider will provide the aforementioned insurance policy at the rate of US$10 per person per day, for the duration of the itinerary purchased of 7 Days / 6 Nights.
Get your personalized travel insurance quote here.
NOT INCLUDED:
Massage & Spa Services, Laundry Service, Optional Activities: Chakana Inca Cross Excursion (for the Trekking Program only), Canopy Zipline, Horseback Riding (For the Trekking program only, subject to change). Alcoholic beverages. Bottled water and sports drinks are not included. In an effort to reduce plastic waste on the trail and at the lodges we encourage guests to use refillable water bottles. For this purpose we provide and ample supply of the highest - quality filtered water, available at multiple water stations at the lodges. Local taxes (18% IGV) on meals and lodging applicable to Peruvians, foreign residents in Peru and tourists. Traveling in Peru for 60+ days
What to Bring
Original passport in hermetic plastic bag, mosquito repellent, sun screen, sunglasses, flashlight, tablets for altitude sickness (easily bought in the drugstores in Cusco), heavy clothing (hat, scarf, wind breaker, poncho, gloves), hiking boots, 6 pairs of socks (feet can get wet, so it's really important to have dry and warm socks), money for personal expenses, tips, and extra services (like add-on activities, spa services, and laundry at the hotels).
In the rainy season it is important to have your personal belongings in plastic bags, toilet paper, snacks, camera.
What's included
** All services and transportation (vehicles and trains) from pick up in Cusco on Day 1 to drop off in Cusco on Day 7. ** 6 nights lodging (5 nights in MLP lodges, 1 night in Aguas Calientes in a 4-star hotel). ** All meals except breakfast on Day 1 and dinner on Day 7. ** Service of a bilingual guide (English/Spanish) from Day 1 to Day 7 (other languages available at additional cost). ** Transportation of personal belongings on the trek by pack horses/mules and/or porters. ** Guided visit of Machu Picchu Sanctuary (includes entrance, transportation to and from the site and Huayna Picchu permits). ** Wireless Internet access (Wi-Fi) at all lodges and hotels. ** US$50.00 gratuities for service sta (MLP lodge sta, mule drivers and route chefs), excluding guides. ** Water, tea, coffee, soft drinks and fresh fruit juices are free of charge at the MLP Lodges. Only filtered water and tea are available free of charge at the hotel in Aguas Calientes.
Transportation
Many of our tours and activities offer transportation pick up & drop off options from several locations and destinations. Options vary by tour, see "BOOKING REQUEST" for full details.
Similar things to do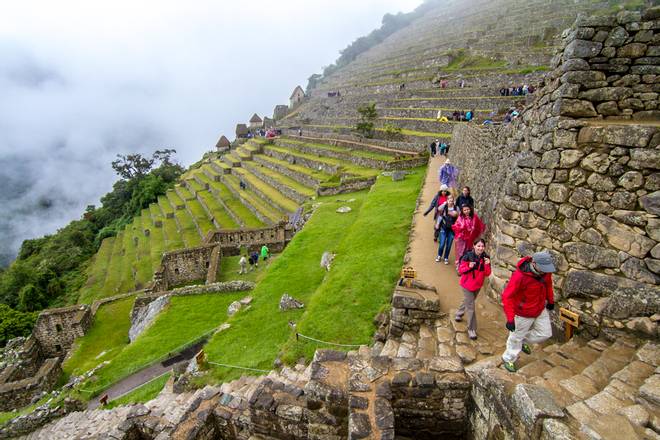 Inca Trail to Machu Picchu 4 Days/3 Nights
Cusco
This 4-day, 3-night tour provides travelers with a comprehensive experience on the Inca Trail. You'll hike for several days, passing Inca archeological sites and enjoying stunning views before arriving at your final destination—the sacred city of Machu Picchu.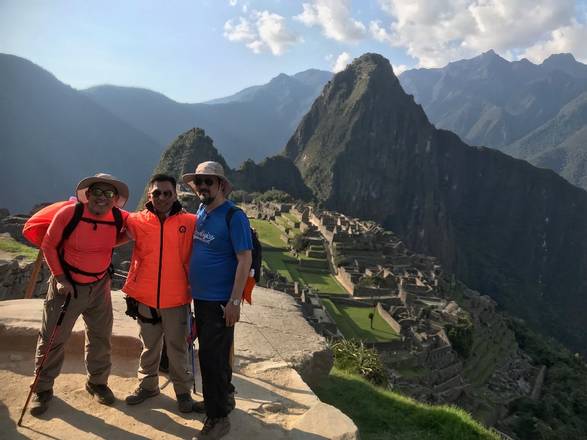 Inca Trail to Machu Picchu 2 Days/1Night
Cusco
This 2-day, 1-night tour offers travelers an excellent introduction to the Inca Trail and Machu Picchu. You'll take the train to and from Cusco, hike along a section of the Inca Trail towards the Wiñay Wayna archeological site, and explore Machu Picchu. What more could you ask for?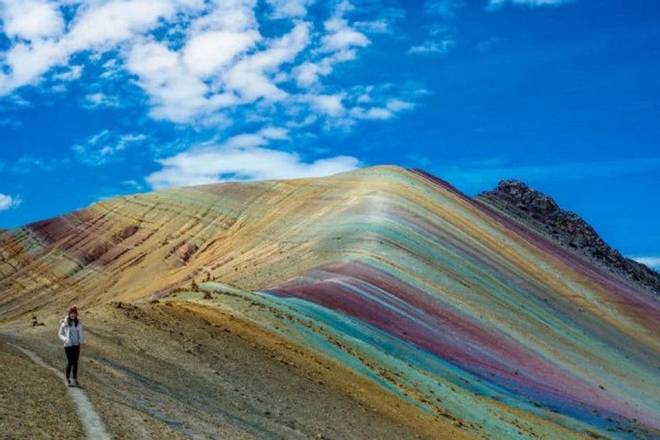 Palccoyo Rainbow Mountain 1 Day
Cusco
This tour allows you to experience beautiful views of the Palccoyo "Rainbow" Mountain. The colorful stripes on the mountain are layers of sediment exposed by erosion. How bright the colors appear depends on the weather — the colors can be more dull on cloudy or rainy days, but no matter what the conditions on the day of your tour there's still plenty to see on this one-day trek.