Staying at Turneffe Island Resort puts you in the midst of one of Belize's most interesting marine ecosystems. While you're here, you can easily plan lots of day trips to different nature destinations in the Caribbean, and put aside plenty of time to soak up the pastoral beauty of the resort.
Featured in:
Waterfront, Beachfront, Luxury, Cabins and Villas, Great for Families, Isolated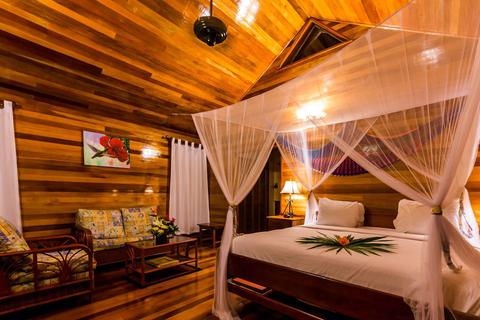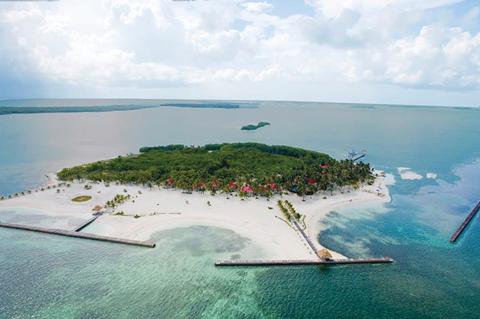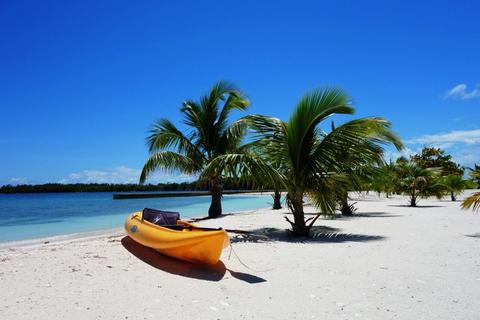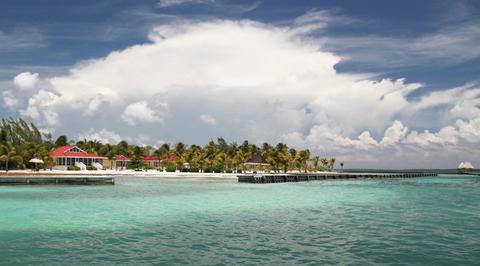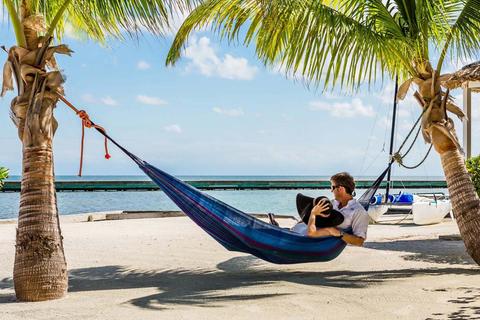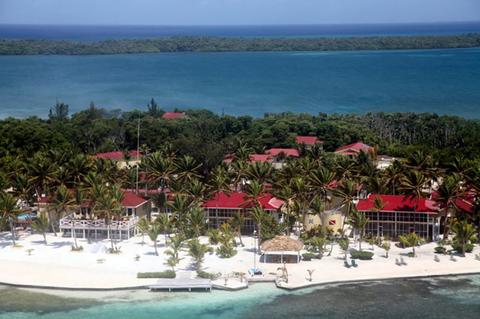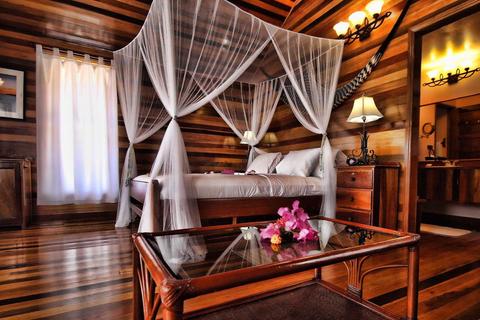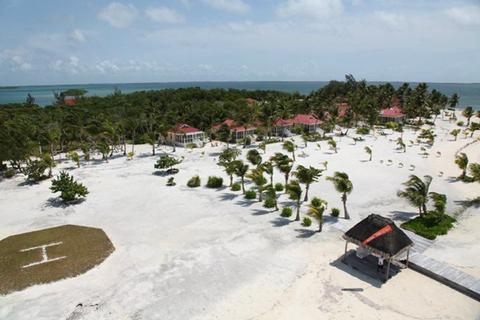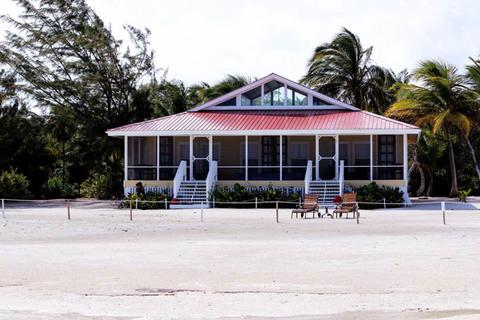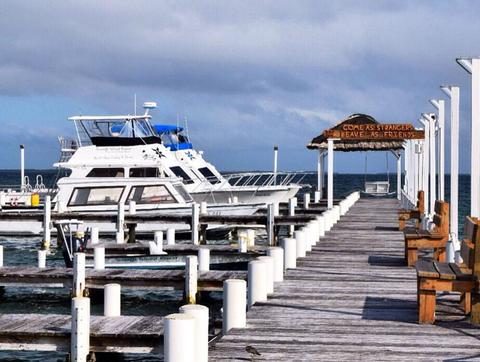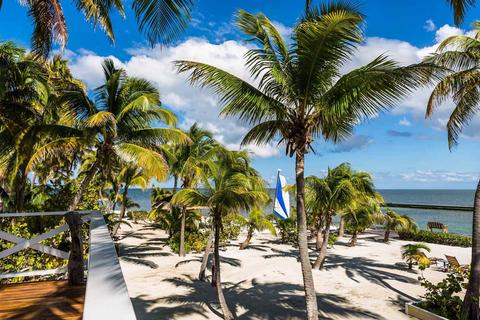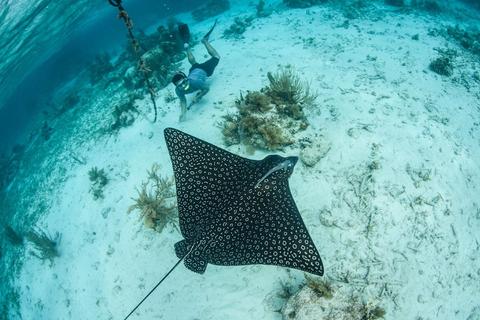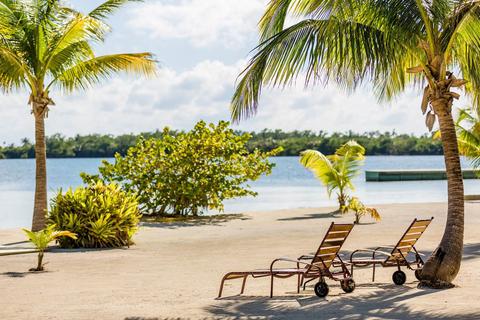 3:00 p.m. check in
12:00 p.m. check out
Free Airport Pickup
No children allowed
Spa Services
Restaurant in Hotel
Wireless Internet
Swimming Pool
Turneffe Island is actually an archipelago, composed of small coastal islands near Belize's famous Belize Barrier Reef. These islands are less crowded than Caye Caulker and Ambergris Caye, and they have their own reef that surrounds the islands. Staying here, you'll be a short distance from Lighthouse Reef. The Turneffe Islands also provide a home for mangrove forests, creating a habitat for rare birds, fish, and other animals. If you're interested in bird watching, make sure to visit the nearby red-footed booby sanctuary. The huge diversity of marine wildlife in this area makes it the perfect location for snorkeling, diving, or fishing.
Every accommodation at Turneffe Island Resort has a screened patio, furnished with teak chairs and coffee tables. All of the rooms come decorated with local art. Beds here have comfortable, name-brand mattresses. You'll also get a nightly turndown service, and in the morning you can partake in the coffee and tea service.
Private bathrooms come with upscale amenities and hairdryers. Guests can shower indoors, or try a more adventurous bathing experience in the outdoor shower – great for keeping sand out of the house.
For a more secluded vacation, consider booking one of the private villas. These accommodations are larger and more luxuriously outfitted – each comes with a wraparound porch and a sweeping view of the Caribbean.
You can access free Wi-Fi all over Turneffe Island, including at the resort. If you need to make a call, you can visit the hotel office to use their satellite phone. There are no TVs or phones in hotel rooms, so you can get in lots of undisturbed rest and relaxation. You can also request that your room come with a mini-fridge or a minibar.
The dining room serves dishes family-style, with lots of options for everyone to share. Chefs at the resort emphasize local, in-season ingredients. You can look forward to lots of fresh seafood, fruits, and Belizean specialties. Meals are served at set times, but you can visit the dining room whenever you want for a drink or a snack.
There are lots of beaches for you to visit in the area, but you can also take a dip in the hotel pool. At the resort spa you can choose from a wide variety of massage styles. You can also get a facial, a body scrub application, or a mani-pedi.
More Property Amenities
Ocean View
Air Conditioning
Internet Access
Coffee Service
Bar
Beach Access
Free Airport Transport
Fan
Massage
Hair Dryer
Mini Bar
Mini Refrigerator
Balcony
Gardens
Laundry Service
Room Service
Accommodations
FISHING PACKAGE - Deluxe Guest Room 11 nights
Sleeps 2
Air Conditioning
Hair Dryer
Hot Water
Mini Bar
Mini Refrigerator
Patio
SNORKELING PACKAGE - Deluxe Guest Room 10 nights
Sleeps 2
Air Conditioning
Hair Dryer
Hot Water
Mini Bar
Mini Refrigerator
Patio
FISHING PACKAGE - Deluxe Guest Room 4 nights
Sleeps 2
Air Conditioning
Hair Dryer
Hot Water
Mini Bar
Mini Refrigerator
Patio
FISHING PACKAGE - Deluxe Guest Room 7 nights
Sleeps 2
Air Conditioning
Hair Dryer
Hot Water
Mini Bar
Mini Refrigerator
Patio
Private Villa 4 Nights Package
Sleeps 2
Air Conditioning
Hair Dryer
Hot Water
Mini Bar
Mini Refrigerator
Living Room
Porch
Private Villa 7 Nights Package
Sleeps 2
Air Conditioning
Hair Dryer
Hot Water
Mini Bar
Mini Refrigerator
Living Room
Porch
SNORKELING PACKAGE - Deluxe Guest Room 3 nights
Sleeps 2
Air Conditioning
Hair Dryer
Hot Water
Mini Bar
Mini Refrigerator
Patio
Superior Guestroom 4 Nights Package
Sleeps 2
Air Conditioning
Hair Dryer
Hot Water
Mini Bar
Mini Refrigerator
Porch
Deluxe Guest Room 11 nights
Sleeps 2
Air Conditioning
Hair Dryer
Hot Water
Mini Bar
Mini Refrigerator
Patio
Superior Guestroom 7 Nights Package
Sleeps 2
Air Conditioning
Hair Dryer
Hot Water
Mini Bar
Mini Refrigerator
Porch
SNORKELING PACKAGE - Deluxe Guest Room 11 nights
Sleeps 2
Air Conditioning
Hair Dryer
Hot Water
Mini Bar
Mini Refrigerator
Patio
Superior Room 11 Nights Package
Sleeps 2
Air Conditioning
Hair Dryer
Hot Water
Mini Bar
Mini Refrigerator
Porch
Private Villa 11 nights Package
Sleeps 2
Air Conditioning
Hair Dryer
Hot Water
Mini Bar
Mini Refrigerator
Living Room
Porch
Deluxe Guest Room 10 nights
Sleeps 2
Air Conditioning
Hair Dryer
Hot Water
Mini Bar
Mini Refrigerator
Patio
Deluxe Guest Room 7 nights
Sleeps 2
Air Conditioning
Hair Dryer
Hot Water
Mini Bar
Mini Refrigerator
Patio
Superior Guestroom 3 Nights Package
Sleeps 2
Air Conditioning
Hair Dryer
Hot Water
Mini Bar
Mini Refrigerator
Porch
DIVING PACKAGE - Deluxe Guest Room 11 nights
Sleeps 2
Air Conditioning
Hair Dryer
Mini Bar
Mini Refrigerator
Patio
DIVING PACKAGE - Deluxe Guest Room 7 Nights
Sleeps 2
Air Conditioning
Hair Dryer
Mini Bar
Mini Refrigerator
Patio
Deluxe Guest Room 3 nights
Sleeps 2
Air Conditioning
Hair Dryer
Hot Water
Mini Bar
Mini Refrigerator
Patio
Deluxe Guest Room 4 nights
Sleeps 2
Air Conditioning
Hair Dryer
Hot Water
Mini Bar
Mini Refrigerator
Wireless Internet
Patio
Private Villa 3 Nights Package
Sleeps 2
Air Conditioning
Hair Dryer
Hot Water
Mini Bar
Mini Refrigerator
Living Room
Porch
Private Villa 10 nights Package
Sleeps 2
Air Conditioning
Hair Dryer
Hot Water
Mini Bar
Mini Refrigerator
Living Room
Porch
DIVING PACKAGE - Deluxe Guest Room 4 nights
Sleeps 2
Air Conditioning
Hair Dryer
Hot Water
Mini Bar
Mini Refrigerator
Patio
FISHING PACKAGE - Deluxe Guest Room 10 nights
Sleeps 2
Air Conditioning
Hair Dryer
Hot Water
Mini Bar
Mini Refrigerator
Patio
SNORKELING PACKAGE - Deluxe Guest Room 7 nights
Sleeps 2
Air Conditioning
Hair Dryer
Hot Water
Mini Bar
Mini Refrigerator
Patio
SNORKELING PACKAGE - Deluxe Guest Room 4 nights
Sleeps 2
Air Conditioning
Hair Dryer
Hot Water
Mini Bar
Mini Refrigerator
Patio
Superior Room 10 Nights Package
Sleeps 2
Air Conditioning
Hair Dryer
Hot Water
Mini Bar
Mini Refrigerator
Porch
DIVING PACKAGE - Deluxe Guest Room 10 nights
Sleeps 2
Air Conditioning
Hair Dryer
Mini Bar
Mini Refrigerator
Patio
DIVING PACKAGE - Delux Guestroom 3 Nights
Sleeps 2
Air Conditioning
Hair Dryer
Mini Bar
Mini Refrigerator
Patio
FISHING PACKAGE - Deluxe Guest Room 3 nights
Sleeps 2
Air Conditioning
Hair Dryer
Hot Water
Mini Bar
Mini Refrigerator
Patio