Hua Hin, Thailand
Hua Hin is a seaside resort city in Thailand. It is popular with Thais, having become quite fashionable as a weekend getaway spot for Bangkok residents, as well with foreigners and as an ex-pat retirement or holiday home location. It is in the Province of Prachuap Khiri Khan, to the north of Prachuap city, which is about one to two hours distant by bus. Although developing rapidly, there is a commitment by the local and provincial authorities to avoid the kind of overheated blight that has affected other beach resorts in Thailand.
Popularized as a resort in the early-1920s by King Prajadhipok, Hua Hin is closely associated with the Thai royal family and is a quiet and relaxing seaside resort ideal for family vacations, a reasonable 2.5 hours drive down from Bangkok. Until 1934, it was known as Samore Riang, or "rows of rocks". The tranquil fishing village was turned into a royal resort and consequently became popular among Siam's nobility and upper classes. In 1928, Prajadhipok built his Klai Kangwon (Far From Worries) Palace. As of 2007, Klai Kangwon is a full-time residence of the current king and is not open for visitors, although the outer palace grounds are open for walkers and joggers 16:00-19:00 daily (wear shoes, have sleeved shirts that cover at least your upper arms and bring your passport). The 5 km long beach itself is pretty, more so than Pattaya's, and the sea is relatively clean. However, most of the beach can completely disappear along certain parts of the coast during high tide. Besides just sunbathing, snorkeling and swimming, visitors can also enjoy golf, spas, caves, peaks, waterfalls, shops, seafood and nearby national parks. The town is clean, warm and laid-back, making it ideal for families and couples.
Hua Hin Personalized Trips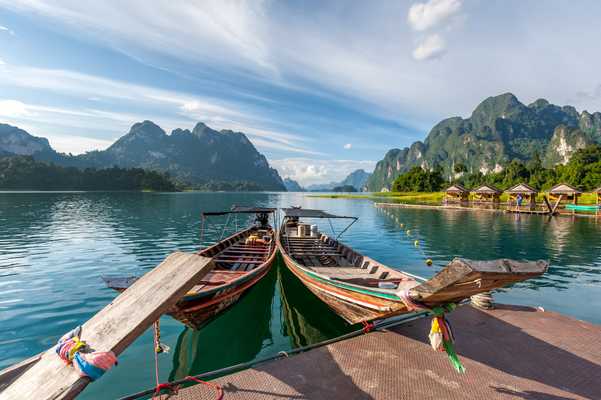 Thailand
Thailand Culture and Beaches
Customer Reviewed A wonderful journey to the best beaches and islands in Kingdom of Siam. The journey begins in the bustle and bustle of Bangkok. It is filled with impressive skyscrapers and stunning temples. Our journey takes us from Bangkok's bustling streets on to dreamy beaches and islands.