Get off the grid and enjoy a private island like atmosphere with a getaway to Tobacco Caye's beach cabanas.
Featured in:
Beachfront, Eco Lodges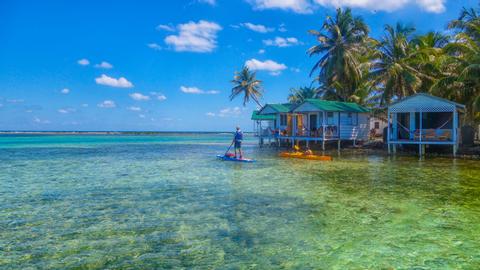 3:00 p.m. check in
12:00 p.m. check out
The tiny island of Tobacco Caye is home to six "over the water" beach cabins. Sitting exactly on the shoreline all the bungalows face the Belize Barrier Reef. A porch juts out the back creating the illusion that half of the cabin is floating on water. Wake up and you can dangle your feet in the ocean water without ever leaving your room.
There are five 1 bedroom and 1 bath cabins and the final cabana is a 2-bedroom "family" cabana. The entire island is off the grid. Solar power and rain collection provide electricity and the running water. Wifi is available for a daily fee but there are no televisions, or telephones so come unplug! Meals are provided in the dining hall where you will meet and mingle with other travelers.
Kayaks and other adventure equipment is available.
Tobacco Caye is located thirty minutes off the shore of Dangriga in central Belize.
Boat transfers are available riverside from the main bridge foot in Dangriga. Boat operators congregate at the Riverside Cafe, at the main bridge, in the center of town. Boats leave from this area from 10am through 1pm daily. There is not a set schedule, a boat needs 4-6 passengers before they can depart to Tobacco Caye so there may be a short wait before the boat leaves. Please relax, grab a drink or got to the nearby store for some snacks or a bottle of rum.
Please keep in mind this a very simple type of transportation, nothing fancy about it, so be prepared for the adventure.
Accommodations
ALL INCLUSIVE 3 DAYS
Sleeps 14
ALL INCLUSIVE 5 DAYS
Sleeps 14
PACKAGE 2 Resorts 3 nights Each
Sleeps 14
Similar Hotels