Spend a little time in San Ignacio, Belize and get to love 'Cayo' as much as the locals do. Sweet Songs Jungle Lodge shows you why Belize is an adventurer's paradise — all from the comfort of deluxe accommodations...it is a vacation, after all.
Featured in:
Beachfront, Eco Lodges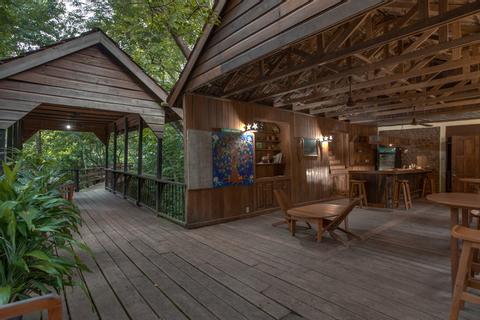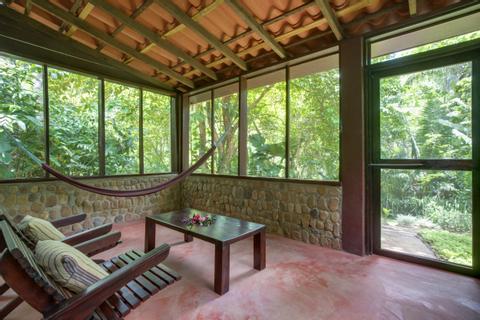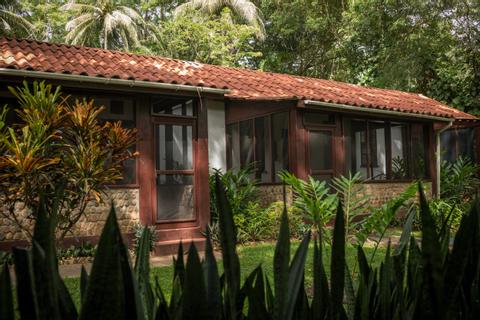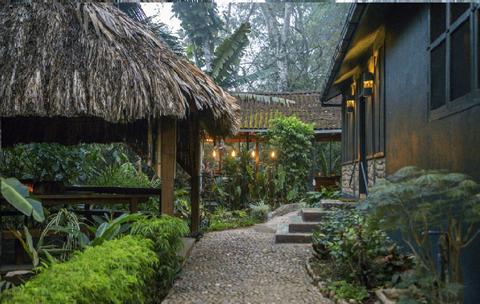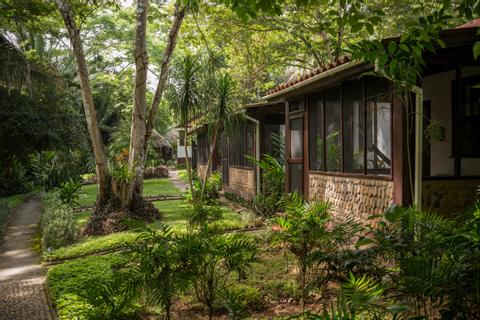 3:00 p.m. check in
1:00 p.m. check out
Restaurant in Hotel
So, why name a jungle lodge 'Sweet Songs,' aren't jungles wild and rugged? They can be, but they're also full of the sweet sounds of nature — from flowing rivers to rainfall, and rustling leaves to birdsong, the sweet scent of the Earth and the sounds of nature will leave you feeling refreshed and relaxed at Sweet Songs Jungle Lodge in San Ignacio, Belize. Here, you can enjoy the perfect blend of outdoor adventure and relaxation.
Practically steps from shores of the Macal River and the Belize Botanical Gardens (which spans an impressive 45 ac or 18 ha), you can enjoy an assortment of exciting outdoor excursions. Be an early bird and go on a birdwatching expedition where you'll see some of Belize's more colouful residents. Explore Mayan ruins. Paddle or tube your way through underground caverns, then soar across an emerald canopy on a zip line. Exhausted from the thought of having so much fun? At Sweet Songs Jungle Lodge, you can rest up for each day of adventure from the comfort of...
Casitas: Perfect for 1-4 guests. Two queen size beds and screened porches with hammocks make these humble accommodations a welcome retreat to enjoy a hot shower and a nice long nap.
Bungalows: Ideal for up to 4 guests, your private bungalow offers a king size bed if you want to spread out, and a full/double size futon if you're sharing space. Enjoy morning coffee, courtesy of your kitchenette, and blissful moments from the hammock on your private deck.
Casita Deluxe: A traditional casita connects to a smaller additional room, offering you and your travel companions (up to 6 guests) plenty of space to hang out between adventures. Need a little privacy? The smaller room has one queen size bed; the larger room has two queen size beds. Your front porch has a hammock and outdoor seating.
Bungalow Deluxe: This 'Garden House' has a queen size bed and two full/double size futons, so up to 6 guests will have a comfortable place to stay. Enjoy the additional space of a wraparound deck.
Tree House: For a truly memorable jungle getaway, stay in your very on tree house. From the panoramic views on your second level porch to the private garden, you and your travel companion will be tucked away from the world and totally immersed in nature. Bonus? Enjoy the same amenities that you'll find on the ground, such as a queen size bed and shower in your private bathroom.
Need even more room? Consider one of three 'River House' options:
Mopan River House: Stay in half of the river house. Up to 8 guests can enjoy four bedrooms and two bathrooms.
Macal River House: Stay in half of the river house. Up to 6 guests three bedrooms and two bathrooms.
Entire River House: Spread out over the entire river house. 14 guests will enjoy seven bedrooms and four bathrooms.
Or choose from three 'La Casona options:'
Upstairs: Take the upstairs, where 10 guests will enjoy three bedrooms and three bathrooms.
Downstairs: Stay downstairs, where 6 guests will enjoy three bedrooms and one bathroom.
Entire La Casona: 16 guests can sprawl out across six bedrooms and four bathrooms.
All accommodations offer complimentary toiletries, bed and bath linens, and more.
Roughing it is easy when you know you'll be returing to Sweet Sounds Jungle Lodge. Make your dreams of exploring Belize's jungles come true on your next adventure vacation!
More Property Amenities
Private Parking
Room Service
Bar
Gardens
Internet Access
Beach Access
Massage
Air Conditioning
Laundry Service
Accommodations
Double Queen Casita Deluxe
Sleeps 4
Three Bed Guest House
Sleeps 9
Two Bed Guest House
Sleeps 6
Double Queen Casita
Sleeps 4
Similar Hotels