The Inkaterra Reserva Amazónica Tambopata is a beautiful jungle lodge in Peru's Amazon rainforest. Set just outside Puerto Maldonado, this hotel has comfy bungalows, good food, and instant access to nature.
Featured in:
Luxury, Eco Lodges, Honeymoon, All Inclusive, Isolated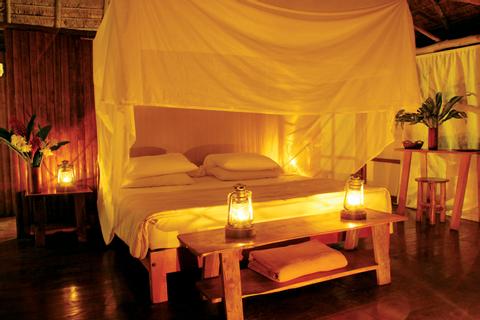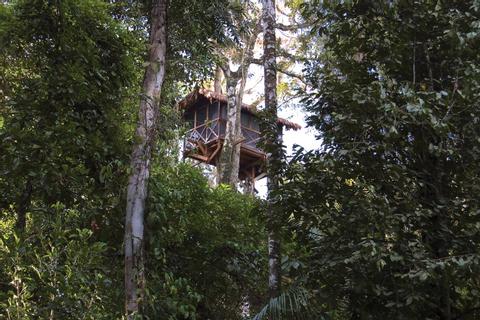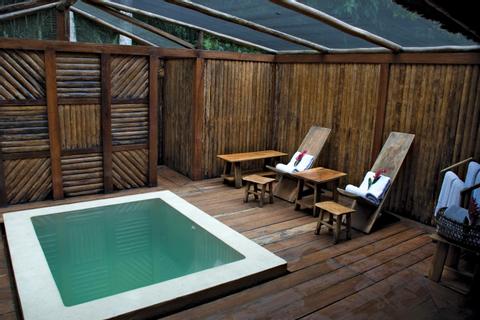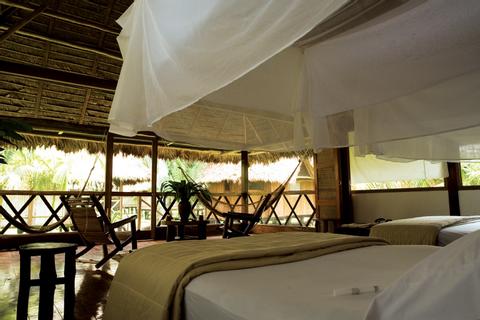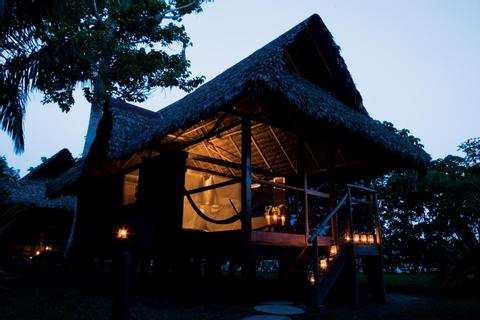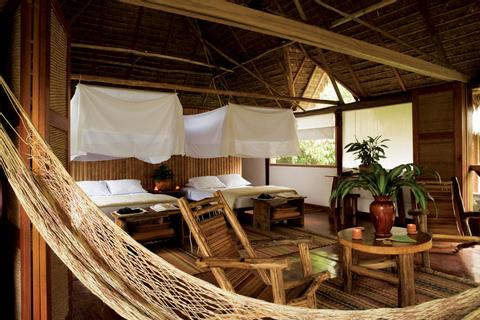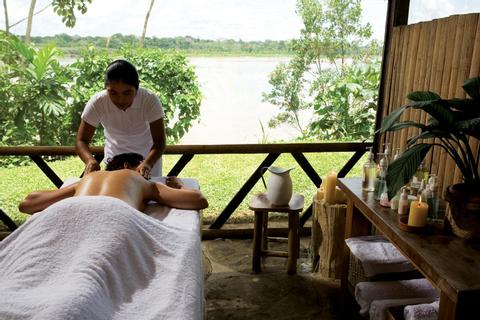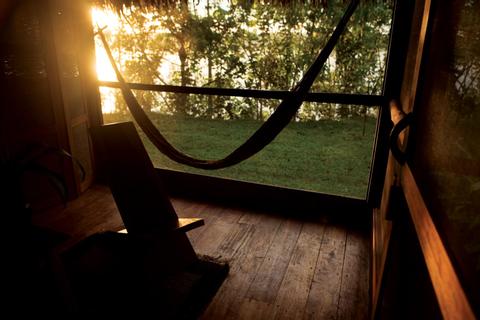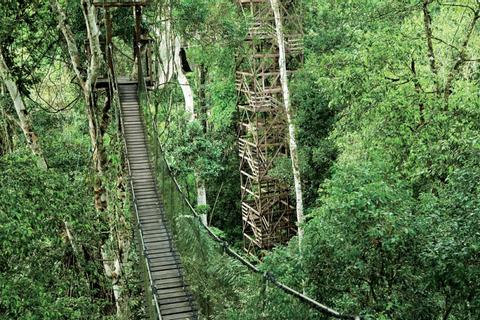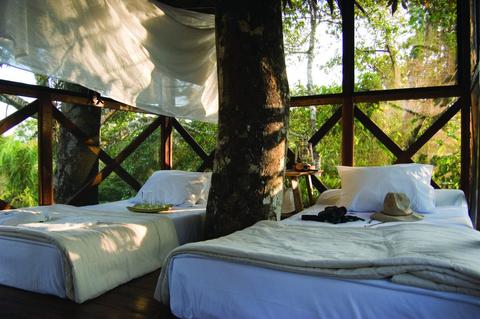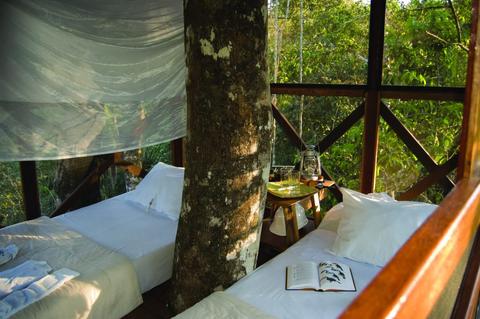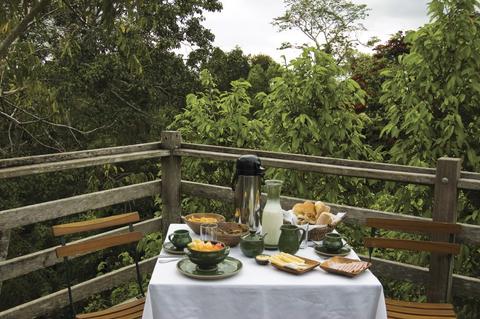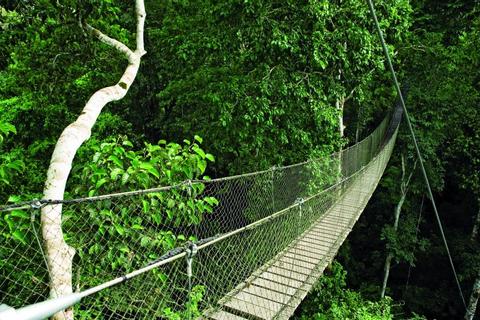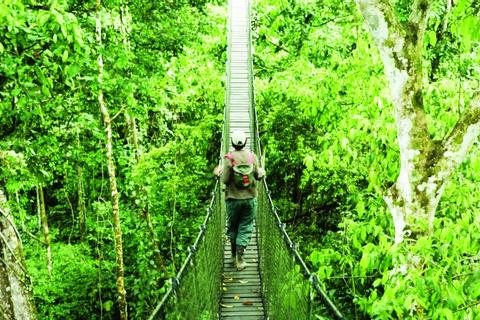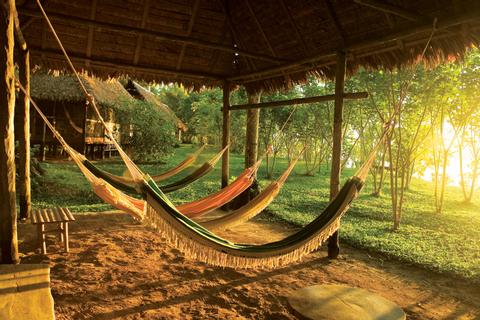 1:00 p.m. check in
12:00 p.m. check out
Free Breakfast
Restaurant in Hotel
Spa Services
Wireless Internet
Puerto Maldonado is located in the southeastern reaches of Peru. Set deep within the Amazon, Puerto Maldonado is a good place for travelers who want to experience the jungle. The town itself is small and relaxed, and most travelers will spend time at their lodge and in the surrounding rainforest. There are all kinds of animals in this area, including macaws, monkeys, capybaras, and even jaguars—you might see some of these animals while exploring the area's two protected areas.
The Inkaterra Reserva Amazónica is the most luxurious lodge in the Peruvian Amazon. It's also the oldest, and was founded in 1975. The lodge is built near the river and has wonderful access to the outdoors.
In fact, the lodge is completely surrounded by nature—there is 500 acres (200 ha) of private land surrounded by another 25,000-acre (10,000-ha) reserve. Guests of this hotel can enjoy walks on jungle trails and excursions along hanging bridges. There are also two towers that allow for a bird's-eye view into the forest canopy.
After a long day spent exploring the jungle, return to the comfort of your own private bungalow, where you'll find a hot shower and cozy accommodations. There are 35 private bungalows and three luxury suites. The bungalows have beds with mosquito nets, ceiling fans, and kerosene lamps. The bathrooms have the hotel's own brand of organic shampoo and conditioner, and there are robes and slippers for guests to use. All bungalows have their own screened-in porch and hammock, and some have views of the river. Meals are enjoyed in the elegant dining building, which is supported by the beautiful trunk of a strangler fig tree. There are dinner buffets that feature tasty organic salads and entrees made from local plants, fish and animals—you might even enjoy a grilled piraña one night. Enjoy the light of candles and the sound of the rainforest as you dine. Guests often gather for cocktails in the dining area or relax on comfortable sofas in the upstairs lounge. ENA, the spa at Inkaterra Reserva Amazónica, combines classic nurturing with the exotic ingredients of the Amazon. The spa is located along the banks of the river and offers a range of relaxing treatments, including massages, exfoliations, reflexology, and more. There is a daily teatime and nature presentations at night. The hotel also offers guests a range of activities, including fishing, hiking, and nighttime caiman spotting. The Inkaterra Reserva Amazónica also runs a butterfly house located near Puerto Maldonado's airport.
More Property Amenities
Balcony
Bar
Breakfast Available
Fan
Hiking Trails
Hot Water
Internet Access
Jungle View
Massage
Accommodations
Amazonica Suite 3 Nights/ 4 Days Package
Sleeps 3
Amazonica Suite 4 Nights/ 5 Days Package
Sleeps 2
River View Superior Room 2 Nights/ 3 Days Package
Sleeps 2
River View Superior Room 4 Nights/ 5 Days Package
Sleeps 2
Superior Room 4 Nights/ 5 Days Package
Sleeps 3
Tambopata Suite 2 Nights/ 3 Days Package
Sleeps 2
Tambopata Suite 3 Nights/ 4 Days Package
Sleeps 3
Tambopata Suite 4 Nights/ 5 Days Package
Sleeps 2
Amazonica Suite 2 Nights/ 3 Days Package
Sleeps 3
River View Superior Room 3 Nights/ 4 Days Package
Sleeps 3
Superior Room 2 Nights/ 3 Days Package
Sleeps 4
Superior Room 3 Nights/ 4 Days Package
Sleeps 4
Similar Hotels