Refugio Amazonas is an eco-lodge that's about 4 hours from Puerto Maldonado. The lodge is comfortable, secluded and set within the Peruvian Amazon.
Featured in:
Eco Lodges, Midrange, Sustainable, All Inclusive, Great for Families, Isolated, Best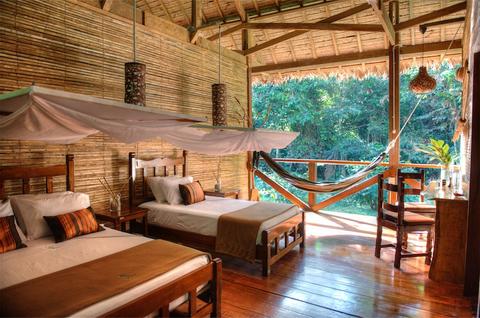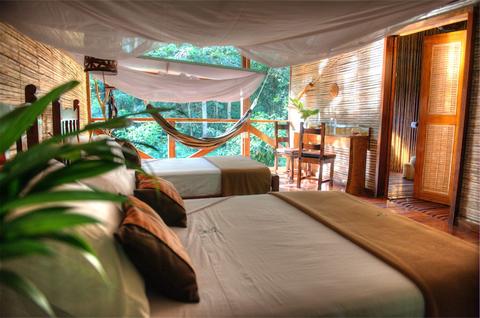 1:00 p.m. check in
12:00 p.m. check out
Restaurant in Hotel
Wireless Internet
Free Breakfast
Puerto Maldonado is a small and basic town. There are a number of lodges in the surrounding jungle, many of which are along the two rivers that flow through this area. Most travelers will only briefly pass through town while on their way to their lodge. The Puerto Maldonado area is thickly forested and filled with all kinds of creatures, including macaws, parrots, monkeys, caiman, and more. Activities include jungle walks and safari boat rides.
Refugio Amazonas is run by Rainforest Expeditions, an eco-conscious tourism company in Peru. Rainforest Expeditions cares about the environmental and social impacts of tourism. They work hard to protect nature and also partner with local families to ensure that they benefit from ecotourism.
This lodge is farther than some of the others in the area—it takes about 4 hours to get here from Puerto Maldonado, including a 3-hour boat ride. However, the trek is worth it, as the lodge and surrounding area are absolutely stunning. Refugio Amazonas is located inside a 500-acre (200-ha) private reserve that's within the buffer zone of the Tambopata National Reserve.
The Refugio Amazonas lodge blends seamlessly with its surroundings. The lodge is built with natural materials, including bamboo, wood, adobe and palm fronds, and has many open-air settings that allow guests to directly experience the jungle. In fact, each of the rooms has one wall that's completely open to the rainforest—this unique feature allows guests to watch birds and monkeys from the comfort of their room.
The rooms are rustic, clean, and charming. All have a private hot water bathroom and beds with mosquito nets. Most rooms lack electricity but have kerosene lamps and candles, although there are eight rooms equipped with electricity until 10 PM and free Internet.
Meals are enjoyed in the lodge's open-air dining room. The dining room has long wooden tables and high thatched-roof ceilings. The lodge provides self-serve, three course meals that combine Peruvian and international cuisine. The meals include items such as leek cream soup, eggplant lasagna, and chicken in Brazil nut sauce; deserts include apple crêpes, pudding cake, and mango mousse. All fruits and salads are thoroughly washed before serving. Guests have access to unlimited amounts of filtered drinking water, as well as coffee and tea. The chefs at Refugio Amazonas can accommodate special dietary requirements.
There's a loft above the dining room with a bird's-eye view of the rainforest canopy. Set with hammocks and sofas, this is a comfortable place to read, chat, or simply relax. Refugio Amazonas has a wellness center where guests can enjoy massages and aromatherapy. The lodge also has jungle trails and a 100-foot (30-m) canopy tower that offers incredible views in the surrounding forest—be on the lookout for macaws, parrots, and toucans while up here. Refugio Amazonas also offers wildlife boat tours, cultural activities, kayaking, and visits to the macaw clay licks.
More Property Amenities
Balcony
Bar
Breakfast Available
Gardens
Hot Water
Internet Access
Jungle View
Accommodations
Superior Room 3 Nights/ 4 Days - A La Carte Program
Sleeps 3
Superior Room 4 Nights/ 5 Days - A La Carte Program
Sleeps 2
Superior Room 2Nights/ 3Days - A La Carte Program
Sleeps 2
Comfort Room 3 Nights/ 4 Days . A la Carte Program
Sleeps 5
Comfort Room 2 Nights/ 3 Days - A La Carte Program
Sleeps 4
Comfort Room 4 Nights/ 5 Days - A La Carte Program
Sleeps 3
Feedback from Travelers
Would highly recommend! The staff is excellent, our guides Jonathan and Boris were VERY good! Cecelia, the manager, was very friendly, welcoming, helpful and hard-working! Even met two of the scientists who were very interesting, They are very organized and coordinate everything on time. Our family had an incredible experience!!!
The open-room, but luxury feeling lodge exceeded our expectations. Excellent experience, designed to put city dwellings in touch with the jungle, but still keeping the safety. The staff was extremely helpful, professional. Never had any issues with English. The food was excellent!
This was our favorite adventure after Machu Picchu. I was a little apprehensive about the open wall but when we got there we were blown away by the location and the lodge itself. Just amazing. What an adventure it was. We were all so very happy to have been able to experience the Amazon Jungle from this beautiful spot.
Similar Hotels