Inotowa Expeditions Lodge
The Inotawa Lodge is nestled in the thick jungle of the Tambopata National Reserve. This lodge will put you nearby some of the reserve's most scenic lakes, as well as the reserve's famous parrot-covered salt licks.
This lodge makes several of Tambopata's lakes very accessible. While you're staying here you should take boating trips to La Torre Lake, Cocococha Lake, or Tres Chimbadas Lake. Boating tours will be your best opportunity to see giant otters, which is a species of otter found only in a couple of rivers in South America. Tambopata Reserve is especially well known for bird watching – keep an eye out for endangered species like harpy eagles and hyacinth macaws. Your hiking guides will help you spot birds as well as reptiles, monkeys, mammals, and aquatic species. During your stay, you'll have access to the lodge's kayaks and bicycles. On the grounds of the lodge you can hike on a network of trails through the surrounding forest.
Inotawa Lodge works with the La Torre indigenous people to ensure that the lodge is a sustainable part of the rainforest economy. The grounds of the lodge blend in with the surrounding rainforest, but also have their fair share of ornamental plants. When you're ready for a siesta, check out the shaded hammock area near the lodge.
Each of the accommodations comes in a single, thatched roof cabin. All of the cabins are made from sustainable material, and come with private bathrooms. All of the cabins .
During your stay you'll take all of your meals in the lodge's dining room, where the staff serves home-cooked Peruvian fare and fresh fruit juices. There is also a bar where you can socialize with other travelers. The cabins do not have electricity, but there is an outlet at the bar where you can charge your electronics.
Facility Amenities
---
Restaurant in Hotel
Free Breakfast
Wireless Internet
Spa Services
Wheelchair Accessible
Swimming Pool
Breakfast Available
Fan
Hiking Trails
Jungle View
Facility Amenities
---
Restaurant in Hotel
Free Breakfast
Wireless Internet
Spa Services
Wheelchair Accessible
Swimming Pool
Breakfast Available
Fan
Hiking Trails
Jungle View
Check In:
1pm
Check Out:
12pm
Inotowa Expeditions Lodge Accommodations & Rooms
7 Rooms
Tres Chimbadas + Lago La Torre + Lago Cocococha 5 Days 4 Nights Package
1 SingleOR 2 TwinOR 3 SingleOR 1 DoubleOR 1 Double +1 SingleOR 4 Single
Lago Cocococha 3 Days 2 Nights Package
1 SingleOR 2 TwinOR 3 SingleOR 1 DoubleOR 1 Double +1 SingleOR 4 Single
Tres Chimbadas 3 Days 2 Nights Package
1 SingleOR 2 TwinOR 3 SingleOR 1 Double +1 SingleOR 1 DoubleOR 4 Single
Lagos La Torre 3 Days 2 Nights Package
1 SingleOR 2 TwinOR 3 SingleOR 1 DoubleOR 1 Double +1 SingleOR 4 Single
Lago Cocococha + Lagos La Torre 4 Days 3 Nights Package
1 SingleOR 2 TwinOR 1 DoubleOR 3 SingleOR 1 Double +1 SingleOR 4 Single
Tres Chimbadas + Lago La Torre 4 Days 3 Nights Package
1 SingleOR 2 TwinOR 3 SingleOR 1 Double +1 SingleOR 1 DoubleOR 4 Single
Tres Chimbadas + Lago Cocococha 4 Days 3 Nights Package
1 SingleOR 2 TwinOR 3 SingleOR 4 Single
Fantastic lodge in the jungle. Great balance of comfort and contact with nature
Inotowa Expeditions Lodge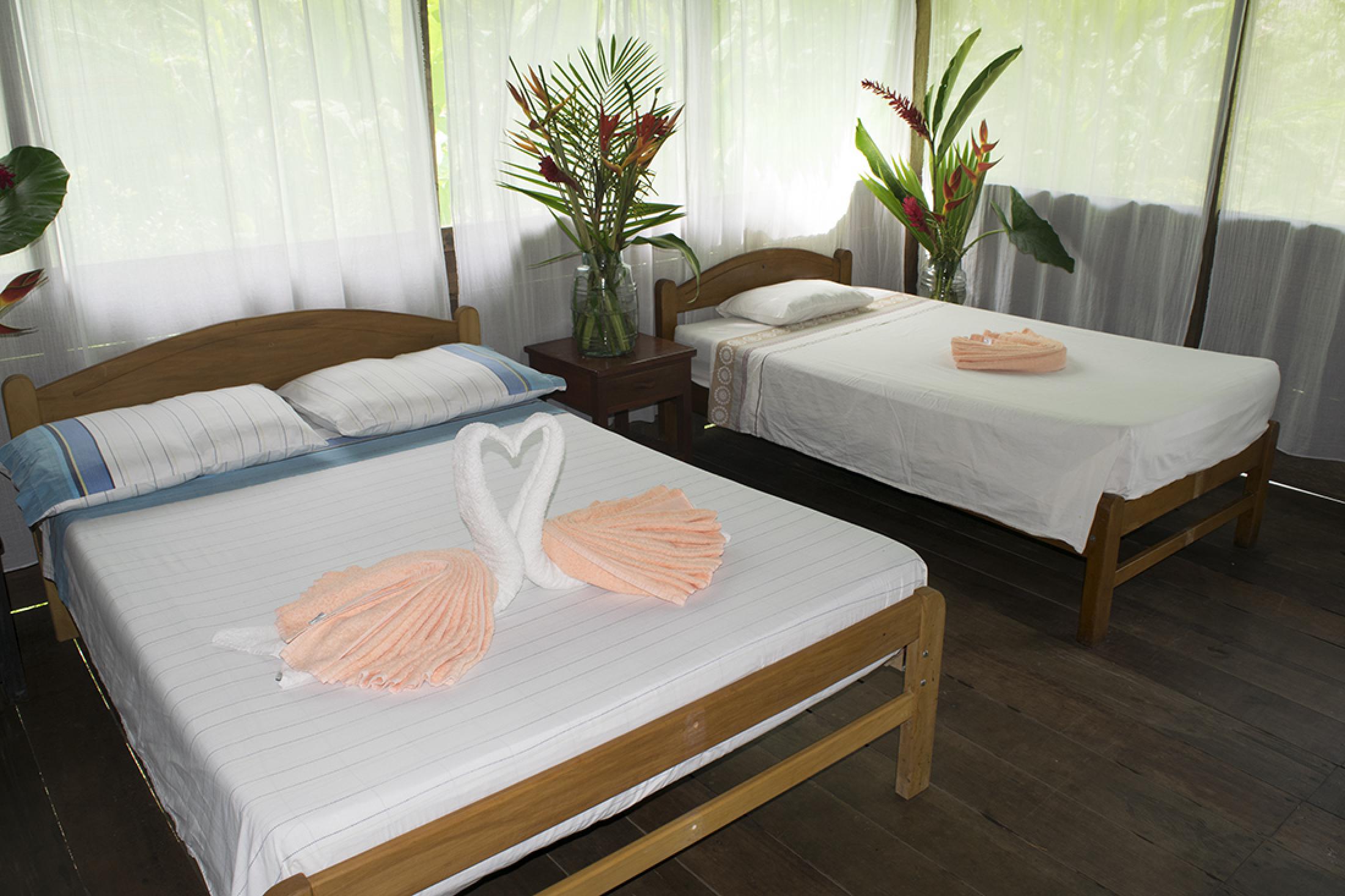 Room rates: $326
21
Anywhere.com