The Tambopata Research Center is located seven hours from Puerto Maldonado. This secluded jungle lodge offers travelers an unparalleled experience in the Peruvian Amazon.
Featured in:
Eco Lodges, Sustainable, All Inclusive, Great for Families, Isolated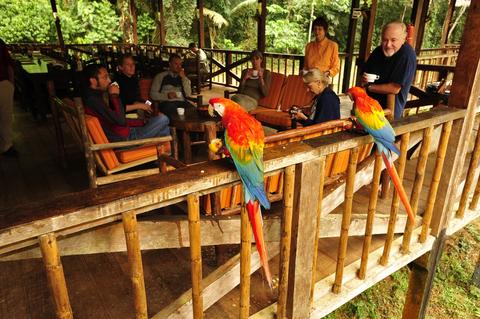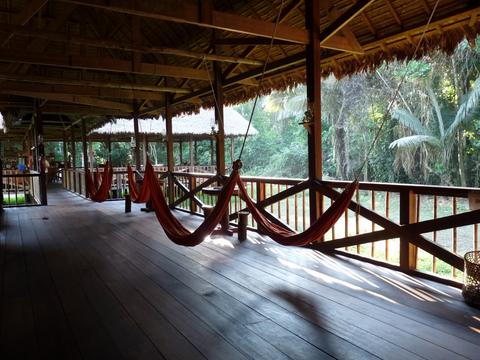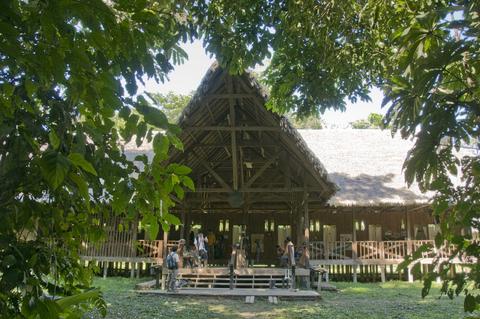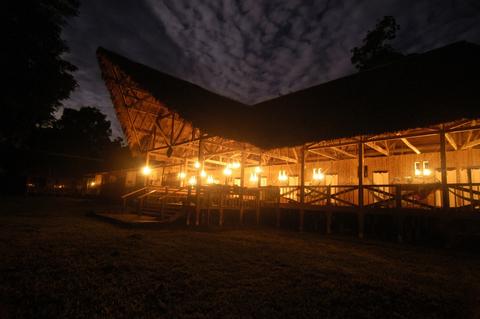 1:00 p.m. check in
12:00 p.m. check out
Free Breakfast
Restaurant in Hotel
Wireless Internet
Puerto Maldonado is located within the southeastern reaches of Peru. The town is small and simple, and most travelers will likely pass through here briefly while en route to their lodge. The surrounding area is dense with jungle and has a huge amount of wildlife, including monkeys, macaws, caiman, tapirs, and even jaguars. Activities in the Puerto Maldonado area focus on the outdoors.
The Tambopata Research Center is located about seven hours up the Río Tambopata from Puerto Maldonado. Operated by Rainforest Expeditions, this lodge is one of the most remote rainforest lodges in South America. This is the only lodge near the Parque Nacional Bahuaja Sonene, a wilderness area the size of Connecticut. What's more, the world's largest clay lick, which attracts macaws, parakeets and parrots, is located nearby. Needless to say, guests of this hotel will enjoy abundant access to nature.
The newly renovated lodge has 18 bedrooms. The rooms are connected by a raised boardwalk and have shared hot water bathrooms. As with other lodges run by Rainforest Expeditions, the rooms here have one wall that is entirely open to the forest—this allows guests to enjoy the sights and sounds of the jungle within the comfort of their own room. All of the rooms have beds with mosquito nets, bedside tables, and a clothes hanger. Kerosene lamps and candles provide light, and there is a generator turned on daily so that guests can recharge batteries.
Breakfast, lunch and dinner are served in the hotel's open-air dining room. These are three-course meals that typically consist of a soup or appetizers, salad, main course, and dessert. There is filtered water offered to guests throughout the day, as well as coffee and tea. The restaurant staff can accommodate individuals with special dietary needs.
There are ample hammocks around the lodge where guests can swing and relax. While at the lodge, it's not uncommon to see animals right on the hotel property, include white-lipped peccaries, macaws, spider monkeys, and howler monkeys. The Tambopata Research Center offers guided tours through the area, including trips to the world-famous clay-lick. The lodge also has a small observation tower with great views of the palm swamp and the blue and gold macaws that inhabit this area. Other activities here include kayaking, standup paddle boarding, and nature walks.
More Property Amenities
Fan
Bar
Breakfast Available
Gardens
Hot Water
Internet Access
Jungle View
Balcony
Accommodations
Comfort Room 3 Nights/ 4 Days Package
Sleeps 2
Hot Water
Safe Deposit Box
Comfort Room 4Nights /5 Days
Sleeps 3
Hot Water
Safe Deposit Box
Standard Room 3 Nights/ 4 Days Package
Sleeps 2
Hot Water
Safe Deposit Box
Suite 3 Nights/ 4 Days Package
Sleeps 3
Fan
Hot Water
Safe Deposit Box
Wireless Internet
Suite 4 Nights/ 5 Days Package
Sleeps 3
Superior Room 5 Nights/ 6 Days Package
Sleeps 2
Superior Room 6 Nights/ 7 Days Package
Sleeps 2
Hot Water
Safe Deposit Box
Wireless Internet
Standard Room 4 Nights/ 5 Days Package A La Carte
Sleeps 2
Similar Hotels