Explore the Amazon Basin from the comfort and elegance of a luxurious river cruise set amidst one the world's most wild and stunning destinations. Enjoy every convenience when you're on-board, and exciting adventures, courtesy of your daily itinerary. Get in touch with nature; learn about local customs; observe incredible animals in their natural habitat, and do it all from the luxury of a floating hotel.
Featured in:
Boat Hotel, All Inclusive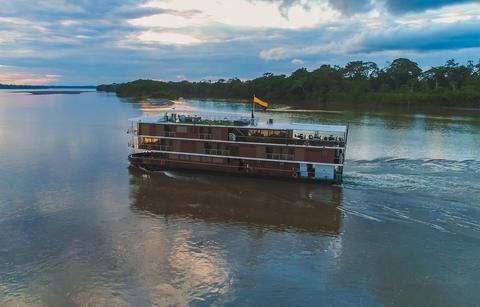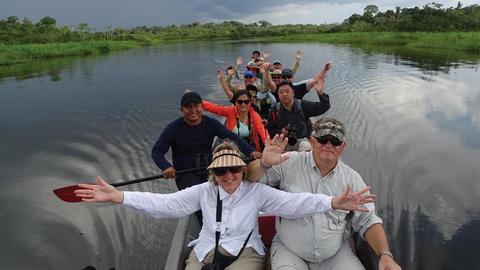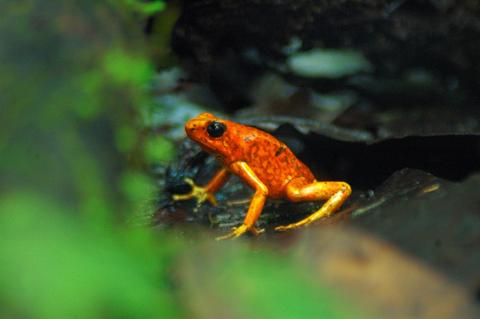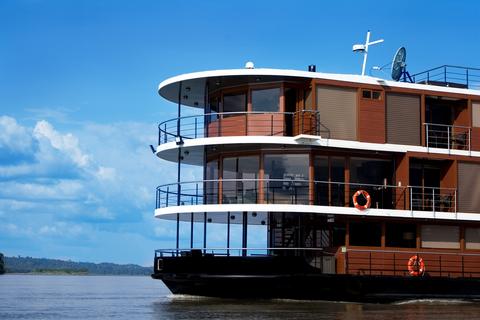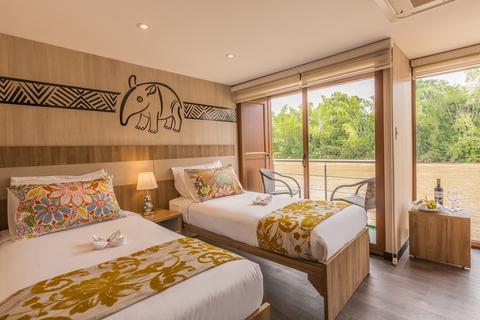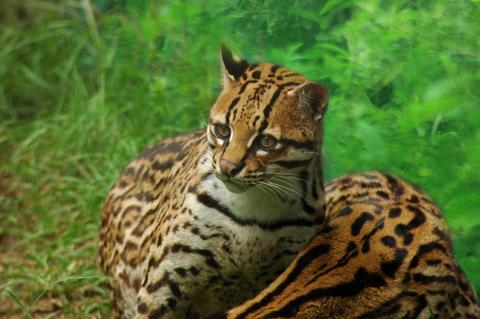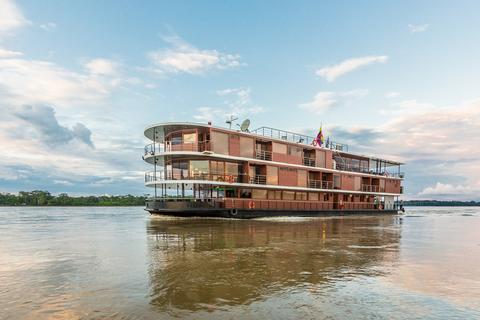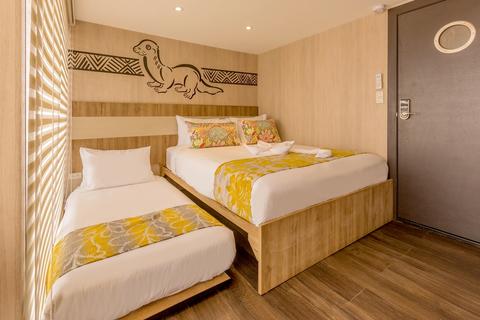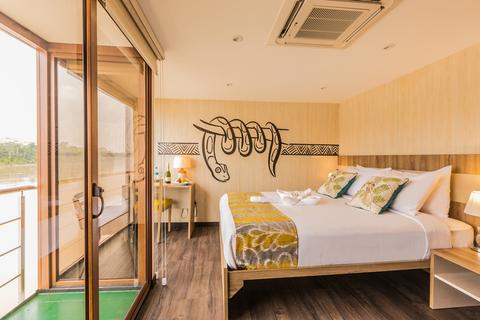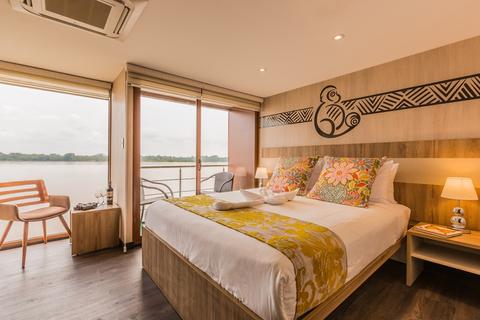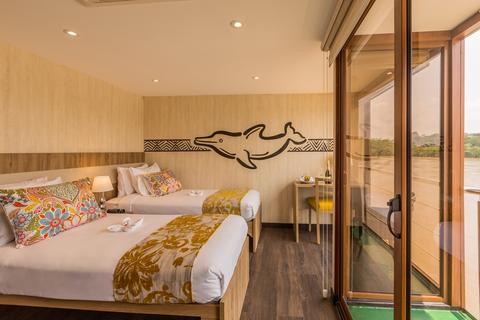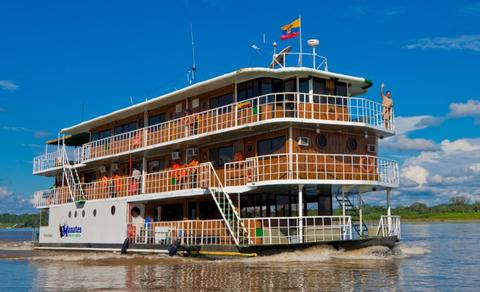 2:00 p.m. check in
12:00 p.m. check out
Restaurant in Hotel
The ancient rainforests of the Amazon are the stuff of legend and movies; to experience them yourself is so surreal that you may feel you're entering a dream world. How can a place such as this exist outside of the hustle and bustle of the digital world? Ecuador's portion of the Amazon Basin is full of dense tropical jungles and an incredible level of life-giving humidity. In Ecuador, the Napo River runs through it all — eventually finding its way into the mighty Amazon River. Exraordinary animals such as pink river dolphins, caimans, monkeys, tropical birds, and yes, even manatees, call this breathtaking place home.
Why Stay Riverside When You Can Stay On The River?
M/V Manatee Amazon Explorer Cruise lets you experience it all aboard a luxury river cruise. Stay in one of 10 Standard Cabins equipped with air conditioning, a private hot water en-suite, floor to ceiling windows, and a balcony from which to enjoy it all. Or, upgrade to one of 4 Deluxe Cabins; they feature all of the comforts of Standard Cabins, plus the added indulgence of a private balcony, whirlpool bathtub, and view.
When you aren't in your private lodgings, enjoy the boat's reading room, observation deck with hot tub, explorer's boutique, bar and lounge, rainforest spa, and an al fresco dining room and lounge. Take the time to enjoy these pleasant amenities between your excursions. Speaking of which…
An Itinerary Full of Adventure
Your 5 day/ 4 night itinerary spans Monday through Friday, and includes the following :
Day 1 - Monday: Quito, Coca, Napo River A 30-minute flight takes you from Quito to the city of Coca, where you will then transfer to a dock and board a motorized canoe that will journey down the Napo River for approximately 90-minutes. You will then arrive at and be welcomed aboard the M/V Manatee Amazon Explorer. A local expert and naturalist guide will teach you about Ecuador's portion of the Amazon, after which, you will have the opportunity to explore the ship and get settled in your room. Your evening closes with supper and your first adventure — a night tour of the forest's and its nocturnal residents.

Day 2 - Tuesday: Yasuni National Park and Blackwater Lake Canoeing Wake up with the Sun to explore Yasuni National Park — home to the pink river dolphin. Because your excursion is first thing in the morning, you'll have the opportunity to spot anacondas, birds such as the 'stinky turkey,' primates, and river turtles. Spend the afternoon canoeing in a 'blackwater' lake filled with otters and manatees, the latter of which can be shy. You will then enjoy hiking around the Riparian/Gallery Forest where tropical birds flit about. Here, you'll also have the chance to observe a fascinating and thriving colony of leaf-cutter ants that have appropriated a 'giant fig tree' as their home.

Day 3 - Wednesday: Quechua Family Visit, Cooking, and Crafts The day's adventures begin with a cultural exchange as you enjoy visiting with an authentic Quechua family who calls the banks of the Napo River home. Learn about their customs and tight-knit community. Next, you'll board the M/V Manatee Amazon Explorer for lunch and leisure while you continue to travel upstream. Take part in a cooking class where you will learn how to prepare traditional Ecuadorian dishes, then learn how to make some traditional handicrafts.

Day 4 - Thursday: Forest Adventure and Canopy Tower Observation Treat yourself to a leisurely morning aboard the vessel before departing for a walk through the rainforest where you'll have the opportunity to enjoy a host of flora and fauna. Your afternoon will take you to a canopy tower which had been built agains an imposing 'Kapok' tree. Get a bird's-eye view of the forest and realize just how small a human being is when compared to the entirety of the Amazon. Adventure continues into the night as you canoe down the river in search of black caimans; don't worry, a flashlight will aid you in your quest.

Day 5 - Friday: Return Voyage All good things must come to an end, and the same is true of your M/V Manatee Amazon Explorer river cruise. You'll depart the same way you came — taking a 90-minute motorized canoe back to Coca Airport to return to Quito. Then, it's time to explore the next chapter of your adventure vacation.
Explore Your Way to A Better World
Because M/V Manatee Amazon Explorer supports Capi's Amazon River Station (CARS), you can feel good about the fact that going on this once in a lifetime adventure means you are supporting three (3) "nonprofit sustainable rescue projects for endangered animals in the Ecuadorian Amazon Rainforest: the charapas turtle, the pink river dolphin, and the manatee."
Focus more on adventure and less on logistics when you let your Anywhere Local Expert manage all of the accommodations, tours, and transportation associated with your Ecuadorian excursions. Spend more time looking at what's in front of you and less time looking at a screen during your elegant cruise through the mighty Amazon Basin, courtesy of the M/V Manatee Amazon Explorer.
PLEASE NOTE: M/V Manatee Amazon Explorere will make every effort to stick to the itinerary outlined. However, for the safety of you and your companions, it may be necessary to alter plans if you and your group encounter inclement weather, or technical and/or operational difficulties.
More Property Amenities
Jungle View
All Meals Included