Witness the awe inspiring beauty of a volcano for yourself. Thanks to the Andes, Ecuador is studded with volcanoes! South of Quito, you'll find the 'Avenue of the Volcanoes,' a section of the Pan-American Highway that's lined by a dozen volcanoes. This makes for an amazing scenic drive. The only thing better? Stopping to explore one of these giants when you go on an Ecuador volcano trek.
The following destinations will place you in close proximity to Ecuador's volcanoes, including Cotopaxi and Chimborazo. There are many ways to explore the volcanic landscape; Ecuador volcano hikes are a popular choice, but horseback riding is an option as well. If you're seeking a slightly less rugged experience, you're always welcome to sketch or take photographs in one of the countries parks. These destinations range in size and services, so there's an Ecuador volcano experience for every type of traveller (and budget).
#1:

 Baños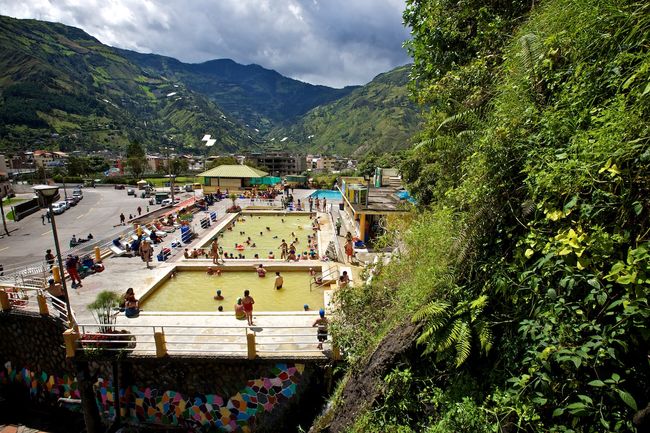 Baños, Ecuador →
Baños sits at the foot of the Tungurahua Volcano, an active volcano that heats the volcanic springs that bubble throughout the landscape. This volcanic landscape provides visitors with a lot to see and do.
Besides going for a dip in the region's many hot springs, you can also experience the interesting flora and fauna which inhabit the sides of the mountains. Take a hike up a winding path that brings you to some of the most impressive vistas in the area. You could also take in the view of a river and a waterfall from an exhilarating zip line tour.
Baños sits right on the edge of Sangay National Park. Besides Tungurahua Volcano, you can also see the peaks of El Altar and Sangay Volcano. They are best admired from a distance — climbing is much too tricky for casual sightseeing. Still, it's worth a visit for the stark beauty of Ecuador's highlands.
#2:

 Latacunga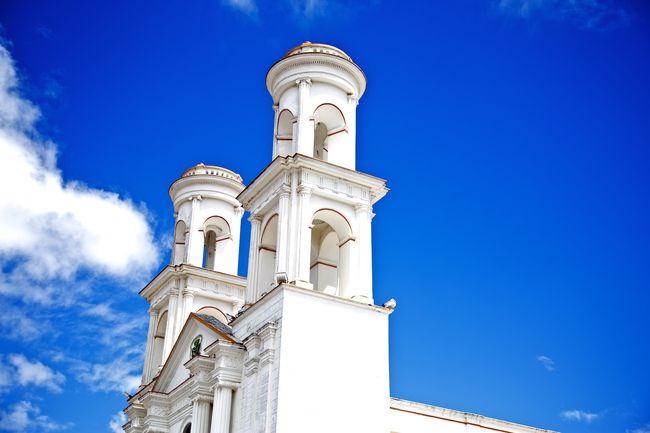 Latacunga, Ecuador →
Latacunga puts you close by Cotopaxi Volcano — so close, in fact, that the town has had to deal with the menace of eruptions. Santísima Virgen de la Merced is the town's patron saint, and since her arrival in the 18th century, she's helped guard the city against earthquakes.
It's possible to hike to the summit of Cotopaxi Volcano and see for yourself the breathtaking views from the summit. While you're in the park, you should also visit the Limpiopungo Lagoon. This lagoon's still surface mirrors the reflection of the Cotopaxi Volcano and attracts a variety of birds.