Ecuador's beaches are a hidden treasure for travellers who make the time to explore the country's coastline. Despite mellow towns and scenic views, Ecuador's beaches aren't as well known as some of its neighbours — and that's a shame. Or is it? After all, that's less competition for you! The following destinations will provide you with exclusive access to sun, fun, and sand whilst you're in Ecuador.
The waves are practically outside of your door when you say at one of Ecuador's beach hotels; let the sound of the waves lull you to sleep every night and greet you every morning in Montañita. All kinds of activities await you! Go fishing in Canoa or snorkelling in Santa Cruz. Nature lovers will enjoy excellent whale-watching every year from June to September — a favourite pastime in Salinas. Take boat trips out to nearby islands, and more. Closer to the mainland of Ecuador's beaches, you'll enjoy some stellar surf spots.
Whatever adventures you choose, don't forget one of the best parts of Ecuador's beaches — tasty, fresh seafood.
#1:

 Puerto Lopez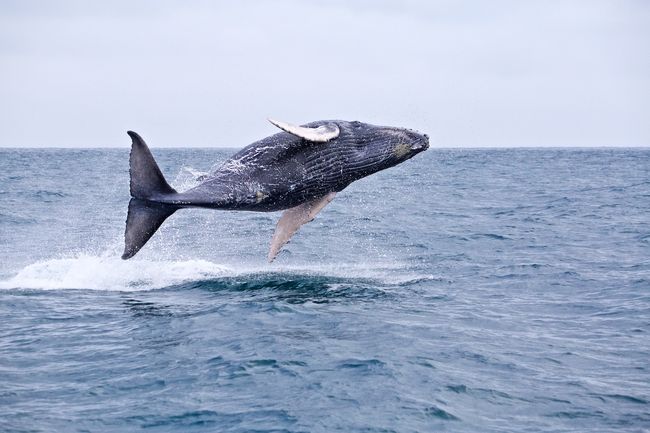 Puerto Lopez, Ecuador →
Located on the Pacific coast, this whale-watching destination puts you near some of the best beaches in Ecuador. Puerto Lopez has a boardwalk (known locally as the Malecón) that brings you to restaurants and cafes with attractive views. The town beach is also lined with restaurants and places to grab a drink as you watch the sunset.
Machalilla Park has three impressive beaches. It's typically fairly uncrowded here, and there's a viewpoint where you might be able to observe some whales at a distance. Farther inland, you can also find nature trails for easy hikes.
#2:

 Montañita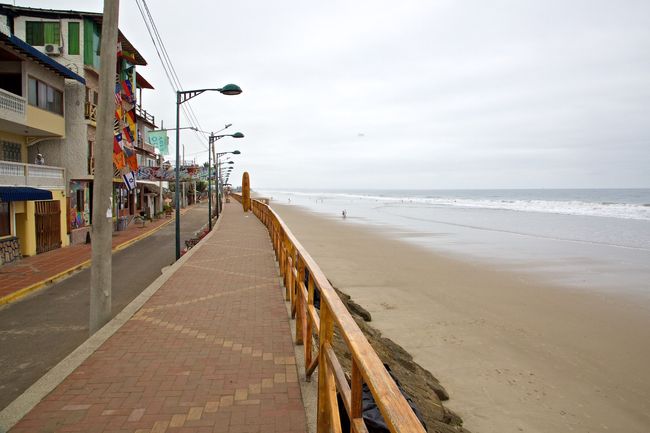 Montañita, Ecuador →
Come here for some of the most challenging waves in Ecuador, as well as one of the prettiest beaches. This town gained popularity as a hippy surfing destination, and has maintained that reputation to this day.
Surfers come here for the long break and consistent waves, which can reach a height of 10 feet (3 m) near the point. Less experienced surfers can practice their technique with the gentler beach break. If you're not much of a surfer, the beach is still a great place to do some people-watching.
Because of its popularity among backpackers, you can find lots of affordable accommodations near the beach. These accommodations echo the mellow vibe of the beach.
Frequently asked questions
Can't find the answer you're looking for? Reach out to ourlocal experts.
Where Are the Nicest Beaches in Ecuador?

It depends on what you're looking for in a beach. Some of Ecuador's beaches are known for their party scenes, and others are serene expanses of unblemished coast. Some of Ecuador's most pleasant beaches have yet to become well known among tourists.Ecuador's beaches have blue-green water, and serve as a habitat for a bounty of marine animals and waterfowl. Put aside time to swim, tan, and take in the strange and lovely sights of Ecuador's Pacific coast. Here's a list of some of Ecuador's must-see beaches.

San Cristobál – Galápagos

The Galápagos is known as Ecuador's crown jewel. This archipelago's stunning beaches crowd with a variety of the rare native species. Sea lions and iguanas don't mind sharing the beach with visitors.

San Cristobál is a popular destination for beachgoers, principally because of a beach called Cerro Brujo. Volcanic rock formations lie to either side of the beach. You should wear your goggles underwater to see the enormous variety of fish.

Atacames and Súa – Esmereldas

Atacames is one of Ecuador's most popular beaches. Visitors will have a good selection of restaurants and places to stay. The town of Atacames knows how to party, and has a reputation for a boisterous bar scene.

You'll find the beach gets quite crowded from July to mid-September. It has small waves for easy swimming. But swimmers should take caution – there is a strong undertow, and no lifeguards.

Unfortunately, thefts are common, so do not take valuables onto the beach, and avoid visiting the beach at night.

If Atacames gets too crowded for your liking, you can find some peace and quiet in nearby Súa. Súa is a smaller beach town, and a rapidly developing destination. The waves here are just as beautiful as those at Atacames, but the town is much more low-key.

Montañita – Santa Elena Peninsula

Montañita is the most popular surfing beach in Ecuador. Surfers from all over the world have visited this beach for surfing competitions. Montañita has a strong hippy vibe, and lots of bars with music and dancing.

Salinas – Santa Elena Peninsula

Salinas beach is located on a bay, with calm waters that make for a pleasant swim. The town is home to upscale resorts and restaurants. This is the ideal beach town for visitors looking for a little bit of luxury.

Canoa – Manabí

Canoa is a wide beach, with lots of room for beachgoers to spread out. It has a good beach for swimming, with decent waves for surfing. Cliffs overlook the beach, and the wind here makes it a popular spot for hang gliding and kite surfing. These are thrilling activities to watch from the comfort of a beach blanket.

Much like Montañita, the town of Canoa is known for its youthful crowds and laid-back atmosphere.

Bahía de Caráquez – Manabí

Bahía de Caráquez is a well-developed resort town, with a variety of building projects focused on ecological sustainability. The water here welcomes both swimmers and surfers.

Besides the beach, visitors can explore the nearby mangrove islands and tropical dry forests.

Los Frailes – Machalilla National Park, Julcuy

Los Frailles beach is located in Machalilla National Park. It is usually quite empty, leaving you to enjoy the horseshoe-shaped beach by yourself. Large rock formations flank either side of the beach. Cliffs overlook the blue-green water and the white sand.

Puerto López – Julcuy

About 6 miles (10 km) south of Machalilla National Park, you'll come to the fishing village of Puerto López. This small town has a friendly beach. At the docks, fishing boats arrive in the late afternoon to sell their daily catch. Waters here are calm, and make for easy swimming.

Is It Easy to Get a Sunburn In Ecuador?

It's easy to get sunburned in Ecuador because the country is right along the equator (the sun is stronger the closer you are to the equator). It's especially easy to get burned while at high altitudes or in the tropics, even if there are clouds.In order to protect against painful sunburns, we advise wearing sunscreen with at least SPF 30. Use hats and protect your eyes with sunglasses. It's also important to drink water and stay hydrated, especially when you're on the beach. Bring a bottle or two with you and take breaks in the shade throughout the day.