Beauty and magic are awaiting you in Ecuador's rainforests, where monkeys and tropical birds give the natural world a boisterous personality, as they travel noisily from tree to tree. Hikes will take you past waterfalls and dense, colorful vegetation, reminding you that you're on a proper jungle trek. The Achuar Tribal Lands serve as a reminder that the Amazon still has a sizable population of indigenous people. Some are willing to interact with visitors, although many prefer to keep their distance. Sound amazing? It is!
Unfortunately, oil companies have posed a threat to the ecological diversity of Ecuador's rainforests in recent decades, so lodges throughout the jungle typically emphasize the importance of sustainable tourism. Ecuador's rainforest lodges also have the added benefit of offering you a highly unique experience whilst you support an important cause, because you'll often find yourself return from exciting excursions to accommodations you cannot possibly find on even the most elaborate city rooftops. Head to Yasuní and you'll see what we mean.
Don't just read about Ecuador's rainforests, experience them for yourself and make your next travel story the stuff of legend.
#1:

 Cuyabeno
Cuyabeno, Ecuador →
You haven't truly seen the rainforest until you go somewhere like Cuyabeno, one of the few remaining places in the world where you can see primary rainforest.
Swamps and wetlands attract a huge variety of birds — keep your voice low and paddle closer with the help of a guide. You'll need a guide to see this part of the rainforest! Besides helping you navigate the dense scenery, your guide can help you spot some of this landscape's most interesting plants and animals.
#2:

 Yasuní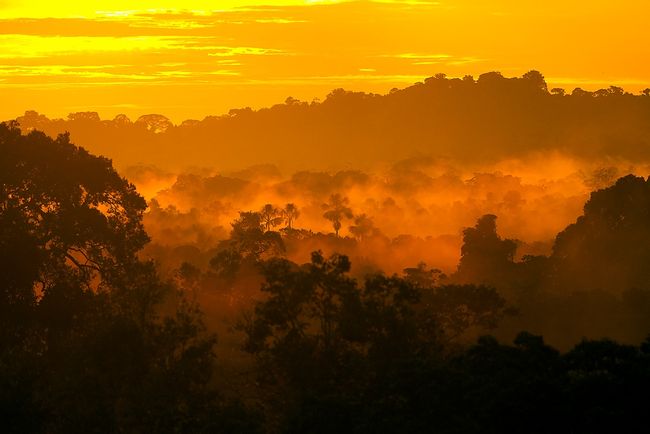 Yasuni, Ecuador →
Yasuní is in the running for 'most biologically diverse place in the world' — every inch of the forest is alive with a multitude of life cycles. Walk on trails next to the dense roots of the gigantic kapok trees. During your hike, you're most likely to see monkeys and toucans chattering in the branches overhead.
Visitors to Yasuní should be sure not to miss visiting the Macaw Salt Lick, where flocks of colorful macaws gather to snack on the salty minerals. Get more information on this dazzling environment at the Wildlife Interpretation Center, where you can also learn about the Kichwa people that call the rainforest home.
While you're here, help preserve the rainforest with a stay at a nicely appointed ecolodge. At the Napo Wildlife Center, you can have a thatched roof cabana all to yourself.