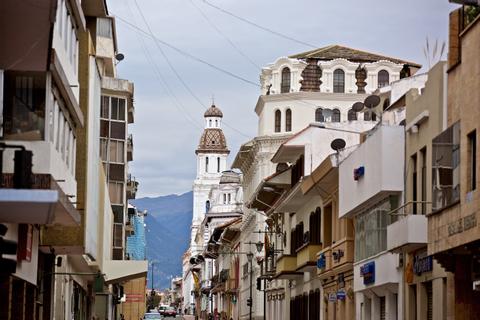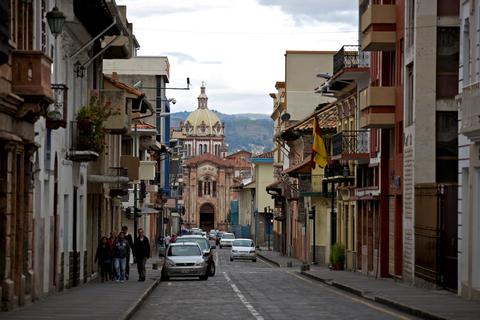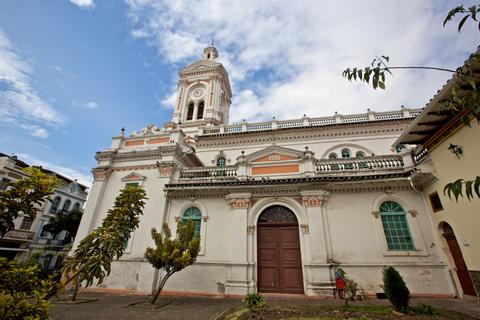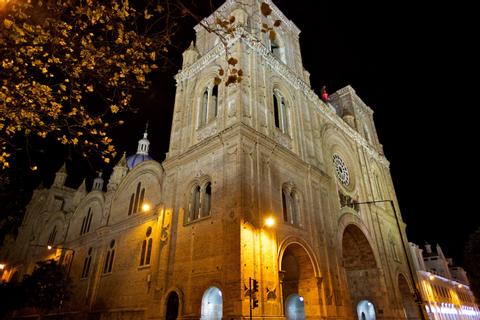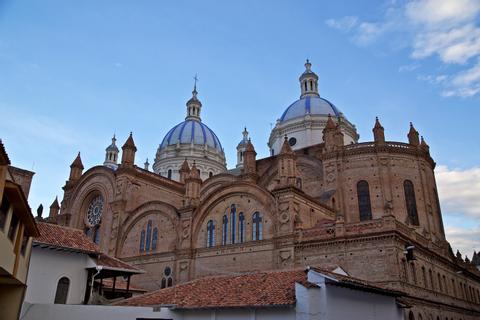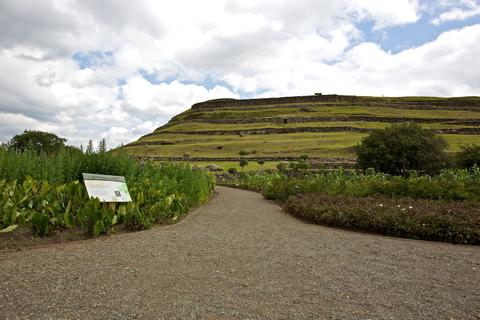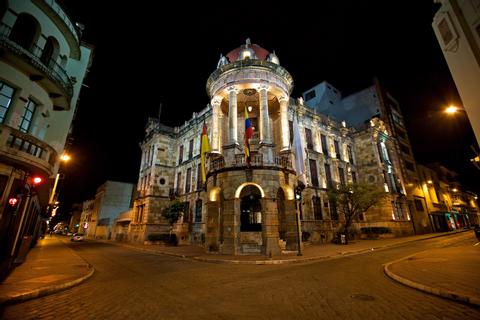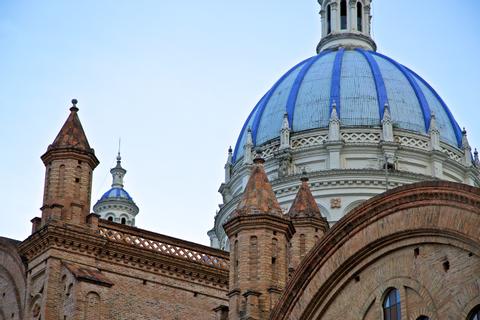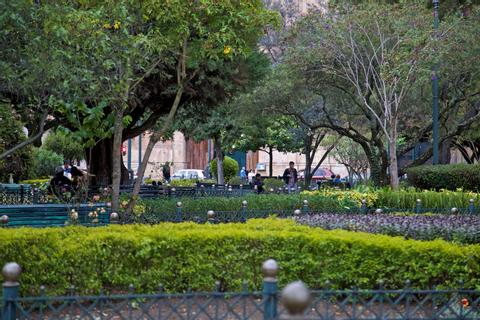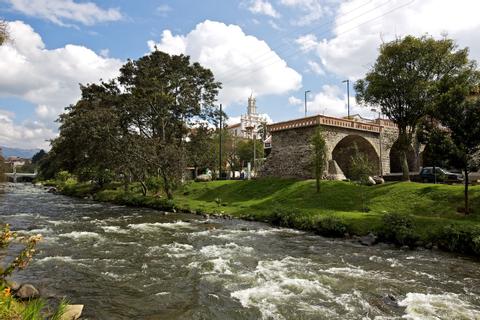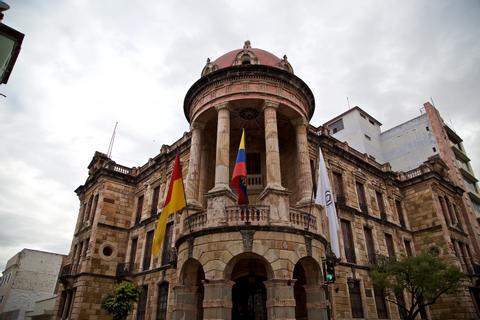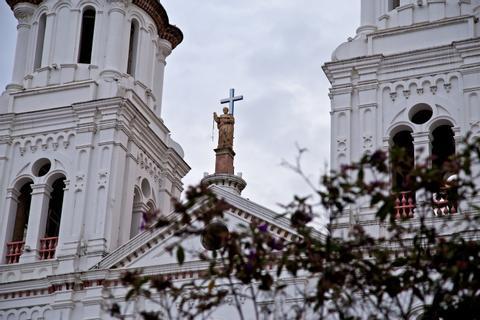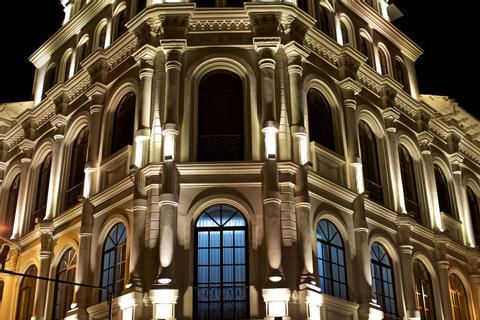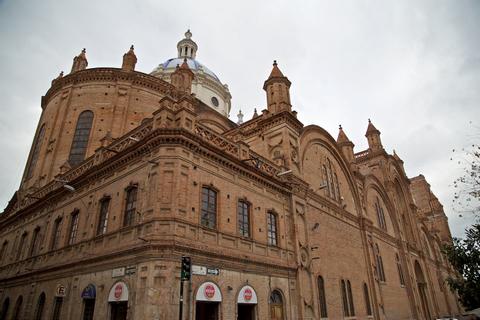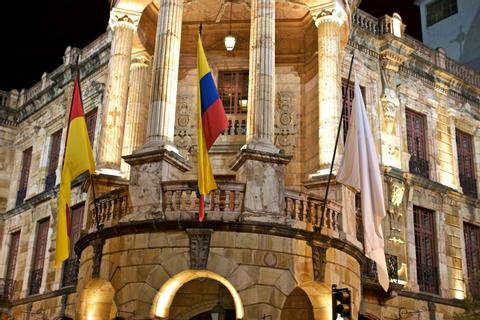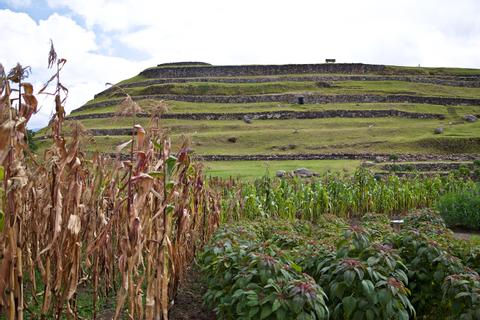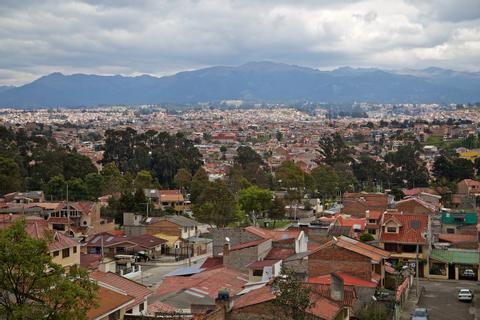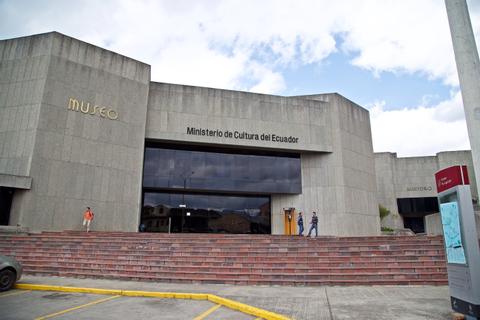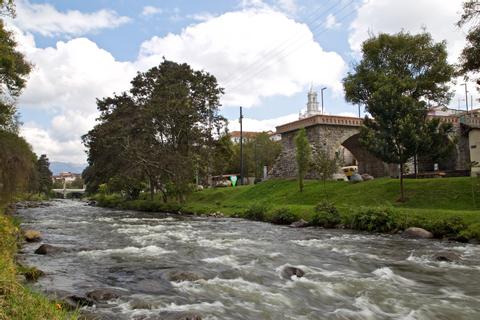 Cuenca's deep indigo church steeples and sprawling clusters of red roof buildings contrast with the lush green of the mountain. In many ways Cuenca resembles the Old Town district of Quito, however, Cuenca's cobblestone streets are noticeably more clean and tranquil. Even so, there are several universities in the city, with the student population giving the town a lively atmosphere at night. It isn't hard to find an exquisite restaurant or exciting bar in Cuenca.
Cathedral of the Immaculate Conception is one of the town's most interesting colonial sites. It is often called the "New Cathedral of Cuenca" because it was built when the nearby Old Cathedral became too small—which speaks volumes about the changes that took places in the population of Cuenca over the years. Its construction is European, with giant domes of blue-glazed tile that were imported from Czechoslovakia. The church sits across the street from Parque Calderón, the city's main square. Parque Calderón is studded with palm trees, statues, and ice cream shops.
The buildings of Cuenca are of 16th-century Renaissance architectural persuasion, a rarity among South American cities. While Ecuador is full of colonial architecture, most of it is in the baroque style. Even for those unfamiliar with European architecture, the European influence on Cuenca is hard to miss. Look no further than cathedral El Sagrario, which was completed in 1557 above Inca ruins. The original stones still peek out from the structure.
Cuenca is a true blend of different cultures. Built atop an old Inca city, the colonial buildings of Cuenca largely cover up its pre-Columbian roots. One of the few preserved Inca sites is the Pumapungo Museum. Set in Cuenca's downtown area, this Inca site doubles as a natural history museum. It is this preservation and illumination of the past that led to Cuenca being declared a UNESCO World Heritage Site.
For a big taste of history, visit Museo de las Culturas Aborígenes, which hosts over 5,000 archeological treasures that represent more than 20 different pre-Hispanic cultures. Many other museums throughout the city host an impressive variety of classical and modern artwork. Museo Municipal de Arte Moderno is a modern art museum in downtown Old Cuenca. It boasts rooms filled with 20th century Ecuadorian art, and has lovely courtyards studded with sculptures.
Just a short drive from the city is the famed Cajas National Park, an austere region that resembles that of the Scottish moorlands with its rocky green profile and mysterious dark lake. To experience green space right in the city, Parque Paraíso lives up to its name: its paradise-like with its gorgeous manicuring, attractive ponds, native flowers, and ample picnic spots.
Cuenca Personalized Trips