Ban Gioc waterfall, Vietnam
As you approach the Chinese border in the Northeast of Vietnam, you will come across a wall of tumbling waterfalls. They cascade into bright blue pools, framed by towering, jungle-clad mountains. This is Ban Gioc Waterfall, a marvel of nature at the very edge of Vietnam.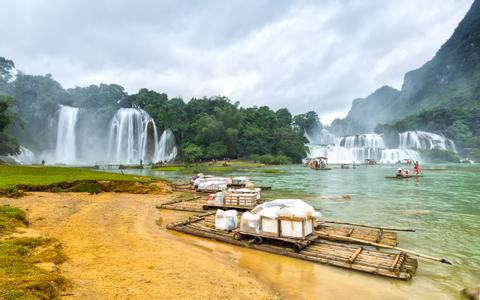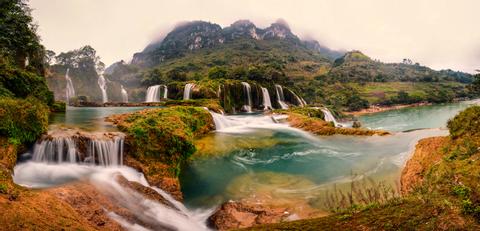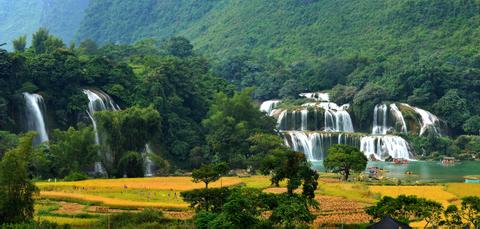 Ban Gioc is one of the most remote attractions in Vietnam. It shares a border with China and is 50 miles (80 km) or more from any large towns. Many visitors make this trek by motorbike, while others enjoy the comfort of a private minivan. However you decide to arrive, the journey is well worth it.
The falls stand at 98 feet (30 m) high and an incredible 984 feet (300 m) across, a cascade of the Quay Son river. They are the widest falls in Vietnam yet still seem to be relatively unknown. Outside of weekends and public holidays you may find you have the falls almost to yourself. The lack of crowds makes these majestic falls even more impressive; the tiny bamboo boats that ferry tourists look tiny in comparison.
You will also see the falls from afar as you approach the ticket entrance. A billowing cloud of spray rushes up to meet the neighbouring rugged mountains, hinting at the size and power of this natural wonder. Take a short walk through the picturesque countryside to the falls.
Most people will visit Ban Gioc while traveling around the northern hill tribe villages in Ha Giang and Cao Bang, or as an add-on trip from Ba Be National Park. Aside from Ban Gioc, you can also visit Nguom Ngao caves and a hilltop temple nearby. The countryside surrounding the falls is a beautiful place to explore.