Long Son Pagoda, Vietnam
Built in the 19th century, this pagoda has striking architecture and colorful mosaics. Right behind the pagoda, you can see a hilltop statue of Buddha that looks out over downtown Nha Trang. This is an active pagoda, and if you arrive at the right time of day you may hear the sound of monks chanting.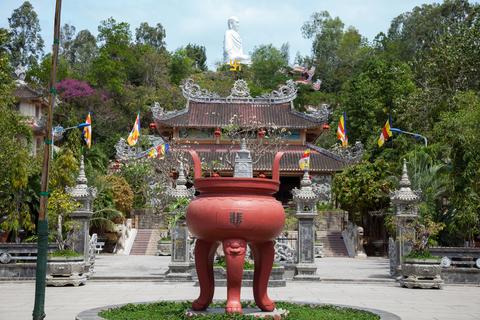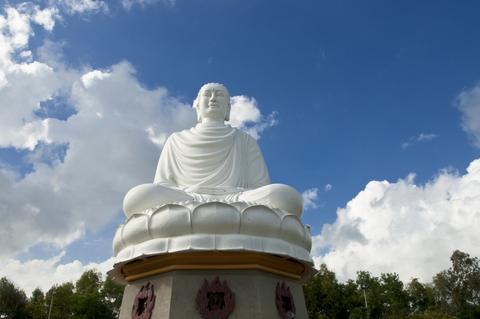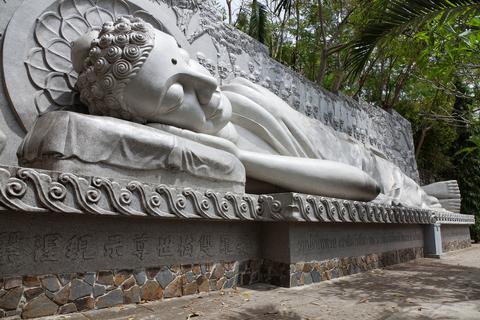 The serene, seated Buddha is 79 feet (24 m) tall. Before you reach the hilltop Buddha, there's another large statue of the reclining Buddha. Once you climb to the top of the steps, you'll have an excellent view of the city.
This pagoda has an interesting history – it was originally built in 1886, perched atop a nearby hill. Monks chose this location in keeping with Taoist tradition, which incorporates topography into the design of religious buildings. Unfortunately, a cyclone destroyed the oriiginal in 1900. It was rebuilt, only to be damaged in 1968 in the course of the war, and was eventually restored in 1971. Today, it stands in testament to the relentless dedication of local monks to maintain this center of worship.
Note that you will probably be approached by people who want to sell you (unofficial) tours or take donations for the pagoda. You can politely decline with a simple shake of your head. If you want to donate, make sure to only put money in the official donation box.
Long Son Pagoda Things to Do