Tam Coc Bich Dong, Vietnam
One of the highlights of visiting beautiful Ninh Binh is to take a boat ride along the slow-moving rivers that cut through the iconic jungle-clad mountains. There are a few options for enjoying the foot peddled journey, and one of the most popular is along the Ngo Dong River, through the Tam Coc river caves.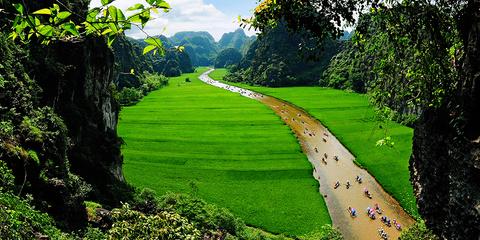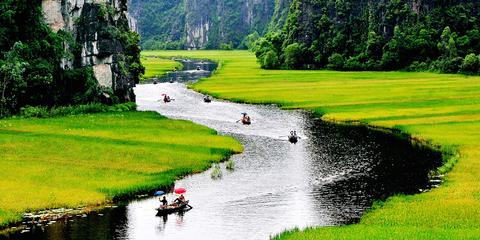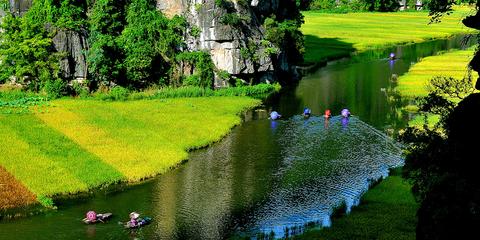 The Ngo Dong river runs through one of the most enchanting areas of Ninh Binh, made famous in the 2017 movie rendition of King Kong (Skull Island). The winding river runs alongside the flooded rice paddies, vibrant green in Spring and ochre yellow in Autumn. Towering above the small metal boats plowing the river is the towering limestone peaks, drenched in jungle. It is through these mountains that the slow but powerful river flows, and has carved magnificent caves over the years.
The Tam Coc river trip embarks from the small lake close to the main stretch of hotels and restaurants in Ninh Binh. There's a small ticket office here where you pay for the ride, which is a 2-hour round trip. Remember that although you have paid for the boat ride, the boatmen and ladies will expect a tip which they'll often ask you for in the final cave surrounded by drink and souvenir sellers. Don't feel pressured to buy anything but do give a tip to your boat driver.
The Tam Coc river caves are best visited in the morning when the sun isn't too hot, or late in the afternoon when the sun lights up the winding river. You'll also beat the tour groups at these times. Tam Coc is perfectly paired with a visit to the Bich Dong Pagoda, a short cycle ride from the Tam Coc boat dock.