Thien Cung cave, Vietnam
Each of the caves surrounding Halong Bay has its own creative nickname, and Thien Cung Cave has taken the celestial title of Heaven Cave. It isn't hard to see why. Cave exploration is an integral part of a visit to the unique limestone karsts of Halong Bay and Thien Cung Cave is certainly one of the most impressive.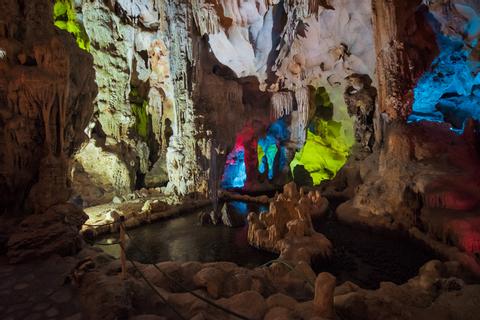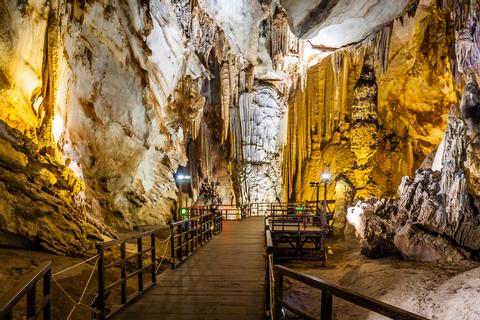 Located not far from Halong City, along with the main cruise routes through Halong Bay, Thien Cung Cave is one of the most visited spots in the area. The cave was only discovered in 1993 (by fishermen escaping a storm) but, with its special hidden entrance and unique stalactites and stalagmites, it quickly found its way to the top of most cruise itineraries.
Within the spacious confines of the cave, you can find the naturally formed shapes of birds, fish, flowers, animals and dancing maids among the stalactites and stalagmites. There is one cluster of stalactites that hang like a flowing curtain and another that sound like a beating drum when the wind blows through the cave. Around every corner and adorning four large central pillars these amazing formations are lit up by colorful lights hidden among the rock, just waiting to be discovered. Some are as clear as a painting, while others take a little imagination.
You Halong guide will likely regale you with stories of the cave, imagined by the local Halong people and based on the many rock images. And, as with many Halong tales, the story involves dragons and princesses and an elaborate party!
As the cave is located relatively close to the mainland, it is a popular place for day-trippers and is therefore very busy. The island's dock is usually busy with boats and loud with the oohs and aahs of visitors entering the cave by its narrow entrance. If you can ignore the crowds and the flash of cameras, the heavenly magic of the cave will take your breath away.