Cruise along Vietnam's Halong (or Ha Long) Bay in comfort and style. You'll visit the Hai Duong Province; enjoy amazing meals; kayak through the famous limestone karsts; visit nearby islands; go caving/spelunking, and so much more. With this awesome excursion, your accommodations and adventure are rolled into one. Take the scenic route through Halong Bay when you board the Lavender Cruise.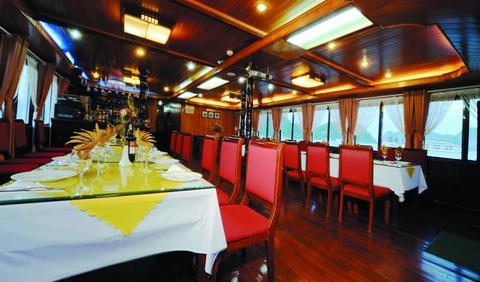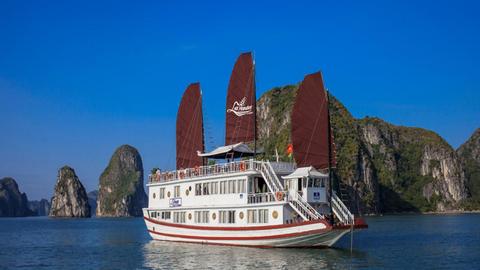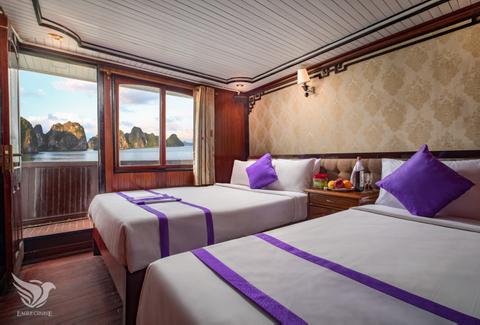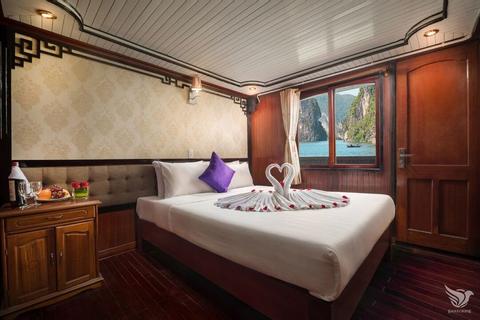 12:00 p.m. check in
10:00 a.m. check out
Attractions & Sites
13 km
The beauty of Vietnam's Halong Bay is legendary — impressive limestone karsts pop-up throughout emerald and sapphire waters. Floating fishing villages and pearl farms dot the watery landscape, as do islands. There's so much to see, but it's easy to miss if you speed through the region, so take the slow route. When you choose the Lavender Cruise, you can anticipate the following itinerary:
Day 1: Hanoi to Halong Bay
07:45-08:15 A.M.
Pickup from your hotel (if using the shuttle bus service).
10:00 A.M.
Stopover in Hai Duong Province.
12:00-12:30 P.M.
Officially board and embark on the Lavendar Cruise. After a short briefing, you'll enjoy a welcome beverage, and check into your cabin.
13:15 P.M.
Indugle in a delicious lunch of fresh, regional seafood as you sail past Incense Burner Island, Fighting Cock Islet, and Stone Dog.
15:00-16:30 P.M.
Enjoy kayaking through limestone formations; visit Titop Island; relax on the sun deck, the choice is yours. After this free time, you'll return to Lavender Cruise to freshen up, then head out for a magical adventure at a Pearl Farm. Here, you'll learn about the entire pearl-making process, as well as how jewelrey is crafted from these harvested pearls (option available upon request).
Once your pearl tour concludes, it's time to return to the ship for a sunset party, followed by a cooking class at the on-site restaurant. You'll learn how to make fresh and fried spring rolls, and mix up a tasty fish sauce to serve with them. After your refreshments, you'll want to admire cruising past Soi Sim Beach before heading on to Rang Dua Island's sleeping area, which is near the Surprising Cave.
19:30 P.M.
Feast upon a variety of Vietnamese and Asian foods under the night sky. Dinner al fresco was never this decadent and serene.
Evening activities available:
Join a squid fishing crew aboard their boat. Play cards and sing karaoke with the crew, then learn how to prepare the squid with a chef. Tired from an already long and adventurous day? Treat yourself to a happy hour cocktail at Lavender Cruise's Bar.
Day 2: Halong Bay to Hanoi
06:15 A.M.
Rise and shine for morning exercises on the sun deck.
07:15 A.M.
Since you've worked up an appetite, it's time to enjoy a tasty breakfast, including coffee, tea, and pastries from the Lavender Cruise's bakeries.
08:00 A.M.
Time to go on an excursion to Surprising Cave (Hang Sung Sot). Discovered by the French in 1901, this cave has been opened to tourists since 1936. Admire its beauty, learn about its geological background, and more.
09:30 A.M.
You'll be checking out, but the good times don't have to come to an end, yet! Relax on the sun deck, sip tea in the restaurant, and admire the stunning beauty of Halong Bay.
10:15 A.M.
Savour a traditional Vietnamese lunch as your ship effortlessly makes its way back to the pier.
12:00 P.M.
You'll disembark from the ship for the final time and be driven back to Hanoi.
16:30 P.M.
Welcome back to Hanoi! Your trip has officially concluded.
This vacation, set sail for adventure, excitement, and natural beauty when you indulge in the Lavender Cruise 3* Tour of Halong Bay. Spend two extraordinary days and one amazing night exploring the region. From limestome karsts and caves to pearl farms and squid boats, this is a unique excursion through Vietnam's watery wonderland. Add this outdoor and cultural experience to your Vietnam itinerary today!
More Property Amenities
Similar Hotels