This 3-day, 2-night cruise around Halong Bay brings you to see the beautiful caves and scenic waters of Vietnam's top attraction. Its limestone formations that have inspired some of Vietnam's most well-known legends, and the name Ha Long translates to "Descending Dragon Bay," and an ancient dragon is supposed to have dropped pearls into the bay, pearls which eventually became the unusual limestone shapes we see today. During your cruise, you'll also see pearl farms and squid boats — part of the fabric of everyday life in this part of Vietnam.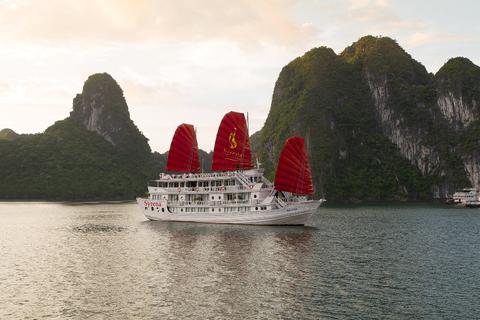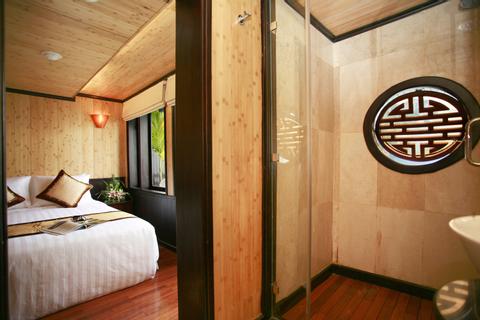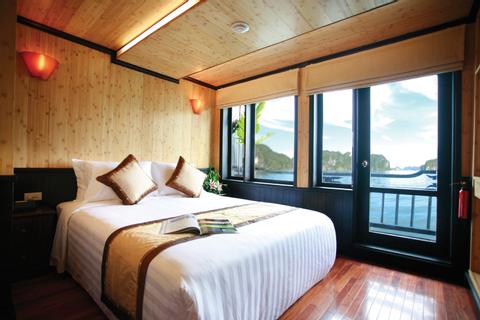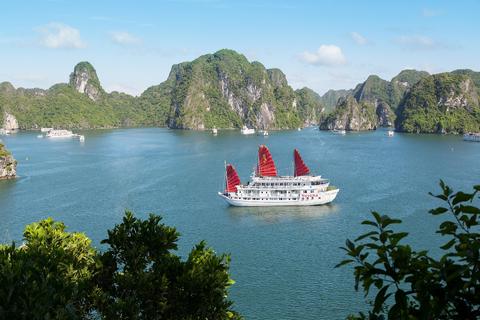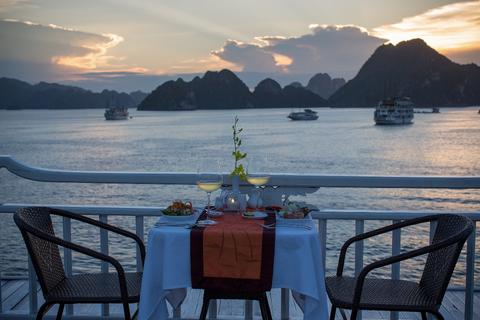 12:00 p.m. check in
10:00 a.m. check out
– Some rooms feature –
Wireless Internet
Attractions & Sites
13 km
Syrena Cruise takes place on two boats, offering a total of 34 suites and cabins, with enough room for a total of 68 passengers. Rooms are modern, clean, and air conditioned. Meals on the boat are included – each evening you'll enjoy a happy hour and a cooking demonstration before dinner.
DAY 1
12:30 PM
Arrive at Tuan Chan Harbor.
12:45 PM
Tour the cabin with your captain, and review standard safety information.
1:00 PM
Depart from the harbor and have lunch on board. You'll cruise through the Ba Hang fishing village, where traditional fishing boats stand against the backdrop of the rocky cliffs. You'll also pass by landmarks like Dinh Huong Island, Cho Da Iset, and Ga Choi Islet.
2:30 PM
Your first stop brings you to Bo Nau Cave, which is also called"Pelican Cave," after the birds that often gather near the entrance. Next, you'll stop by the attractive interior of the Sprite Cave.
3:45 PM
Leave Sprite Cave and make your way to Titov Island, which is named after Soviet cosmonaut German Stepanovich Titov, who visited the island in 1962. The island has a sharp peak that looks out over the lake. The tour stops here so your group will have the chance to lounge on the beach and go for a swim. Best of all, there is a set of stairs leading to the island's summit for a sweeping view of the jewel-toned bay.
6:00 PM - 7:00 PM
Happy hour takes place aboard the ship.
6:30 PM
Before dinner, you'll learn a little more about the steps that go into preparing delicious Vietnamese cuisine with a cooking demonstration.
7:00 PM
Dinner from a set menu.
8:30 PM
Choose from a variety of evening activities, including: a film shown in the dining room, squid fishing, or a massage (for an additional fee).
DAY 2
06:00 AM
Optional wakeup call, in time for the 6:30 AM Tai Chi lesson on the sun deck. If you don't care for some light exercise, feel free to sleep until breakfast.
07:45 AM
Breakfast in the dining room.
08:30 AM
Transfer to the day boat.
10:05 AM
Take an excursion to Trong Cave, where you can see columns formed by stalactites and stalagmites flowing together and fusing into a single formation. This cave faces a cave known as the "Virgin Cave," and these two caves are supposed to represent two star-crossed lovers.
Next, you'll visit Dong Tien Lake, or "Fairy Lake Cave," a wet cave that visitors usually navigate in kayaks.
12:00 PM
Return to the ship.
12:30 PM
Lunch.
2:30 PM
Take a trip to see a local pearl farm, where you'll get to browse jewelry-quality pearls from the surrounding water. Next, you'll visit Me Cung Cave, where fanciful lights make the interior particularly enchanting. It's a massive cave, but you'll just explore the easily accessible parts.
4:30 PM
Return to the ship, where you'll set sail for an overnight destination.
6:00 PM - 7:00 PM
Happy hour.
6:30 PM Cooking demonstration.
7:00 PM
Dinner.
8:30 PM
Choose from a menu of activities. You can go squid fishing from the first floor, or settle back with a movie. The boat also provides a selection of board games and cards for guests who'd rather socialize or hang out with their family.
DAY 3
06:00 AM
Another optional early-morning wakeup call for Tai Chi. This morning, you'll have the majestic Luon Cave in the background as you cruise through the bay.
07:00 AM
Light breakfast in the dining room.
08:00 AM
Set out on a guided tour of Luon Cave. You'll make your journey in a traditional woven bamboo boat, as you explore this cave with a low ceiling.
08:30 AM
When you return to your ship, you'll place where luggage where porters can collect it in time for your return to Tuan Chau Harbour.
09:15 AM
For your final meal, you'll have a brunch buffet in the dining room. After brunch, please settle any outstanding dining bills you may have.
10:45 AM
Return to the harbor. This concludes the tour, and what will most likely be one of your most memorable tours in Vietnam.
More Property Amenities
Accommodations
Air Conditioning
Hot Water
Mini Bar
Wireless Internet
Similar Hotels