Vedana Resort sits on the banks of one of the largest lagoons in Southeast Asia. Visitors can book luxury rooms, villas, and bungalows that offer excellent views of the tranquil landscape.
Featured in:
Luxury, Honeymoon, Bed and Breakfast, Best, Great for Families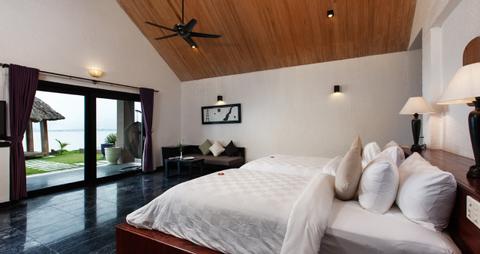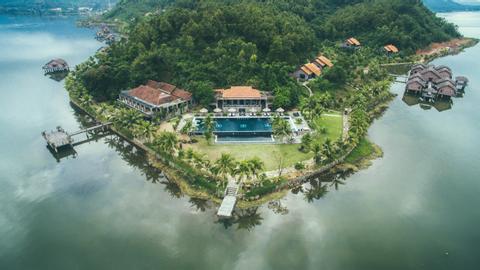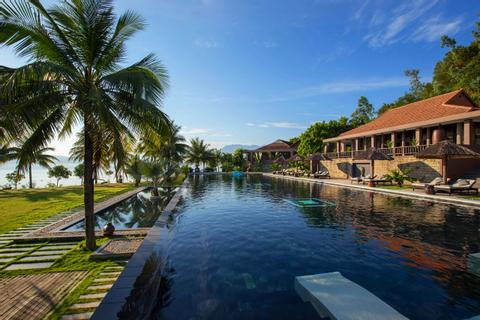 2:00 p.m. check in
12:00 p.m. check out
Free Breakfast
Wireless Internet
Attractions & Sites
It takes about an hour to get to Vietnam's ancient capital of Hue from the lagoon. While you're here, you can get climb on a boat painted to look like a dragon and cruise down the Perfume River, stopping to see the temples and pagodas on its shores. The Thien Mu Pagoda is one of the most famous and has a stunning 7-story pagoda. It was originally built in the 17th century but had to be rebuilt in the early 1900s. Visitors to Hue should also stop to see the Imperial City, which served as royal stomping grounds from the 19th the mid-20th century. For years, no non-royal people could enter the city walls.
Vedana Resort offers a tranquil space for meditative practices, including free yoga and tai chi classes. The spa offers a wide range of services, as well as elaborate wellness packages. Help yourself to the Jacuzzi, sauna, and spa. The spa uses products grown in its own gardens.
Order Vietnamese or Western specialties from the resort's restaurant. You can arrange to dine by the light of lanterns at twilight or have an afternoon tea party next to the lake. Unwind and a have an adult beverage at the piano bar, where you'll find an extensive wine list. Common areas have exposed wooden beams and offer lots of space for socializing and relaxing. Business travelers can reserve the hotel's handy meeting room. Wi-Fi is available throughout Vedana.
There is a workout room and a tennis court on the grounds, as well as an outdoor pool in the midst of the beautiful landscaping. If you're traveling with children, you'll be glad to know that there is a children's spa, as well as babysitting services. You can ask the staff if you'd like to use their dry cleaning and laundry service.
There are accommodations with views of the lagoon and the mountain. Villas and bungalows have thatched roofs and wooden floors, designed to make visitors feel like their rooms are both rustic and opulent. All of the rooms have private bathrooms with upscale amenities. Rooms have air conditioning and well-stocked minibars. If you want a calm evening in, check out the room service menu.
More Property Amenities
Air Conditioning
Cable TV
Lake View
Laundry Service
Accommodations
Pool Honeymoon Villa
Sleeps 2
Water Front Deluxe
Sleeps 2
Lagoon View Bungalow
Sleeps 2
Similar Hotels