Vietnam is an adventure traveler's playground and also one of the best places in South East Asia to dip your toe into a whole range of adventure travel activities. With activities for every ability level and age group, Vietnam adventure travel has something for everyone.
Especially memorable adventures in Vietnam include trekking through the mountain villages of Sapa, kayaking between the jungle-clad islands of Halong Bay, and caving in some of the deepest, longest and largest caves in the world. There's also rock-climbing in Mai Chau, windsurfing in Mui Ne, and waterfalls in just about every destination you'll come across.
Adventure novices and adrenaline junkies alike will both be blown away by what's on offer in Vietnam. And, with experienced guides and professional tour companies, you know you'll be in good hands.
#1:

 Sapa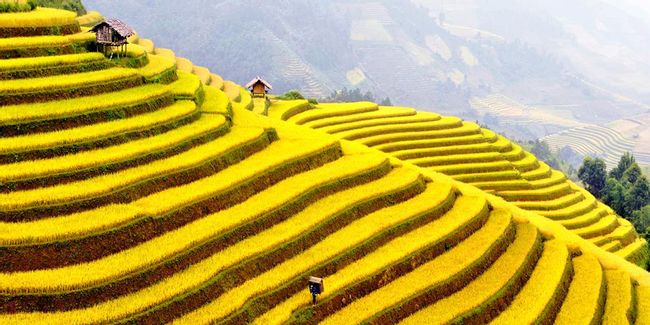 Sapa , Vietnam →
The stunning Sapa Valley is surrounded by some of the tallest peaks in Vietnam and is ripe for adventure. From the center of Sapa town — a bustling tourist hub — it doesn't take long to find a local guide willing to teach you about local culture on a trek through the mountains. Sapa excursions are a special blend of back to basics adventures and heart-warming cultural exchange.
Multi-day hikes take you along simple farming trails, up steep mountainsides, and through intricately terraced rice fields. Hike Sapa in the summer for vibrant green vistas; in fall for the golden harvest, and in spring to learn all about rice cultivation.
For lunch, tea, chats, and overnight stays, you'll stop by the remote mountain villages of a number of Vietnam's ethnic minorities. The H'Mong, Red Dao, and Giay communities are just a few of the cultures you'll be introduced to in Sapa.