Walk in the shadow of Ecuador's volcanoes when you book your stay at Chuquiragua Lodge and Spa. This lodge is the perfect place to acclimatize to the area's incredibly high altitude, and is an excellent location for exploring part of Ecuador's "Avenue of the Volcanoes." Leave from here on adventures to see the Cotopaxi and Chimborazo Volcanoes; then, return to enjoy Ecuadorian cuisine and a cocktail at the bar. Chuquiragua Lodge & Spa offers you access to everything you want and need.
Featured in:
Eco Lodges, Cabins and Villas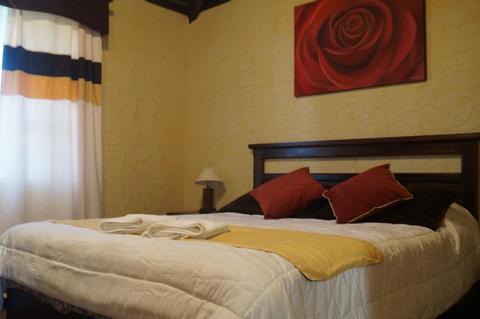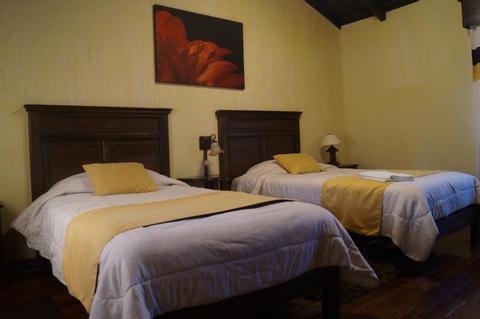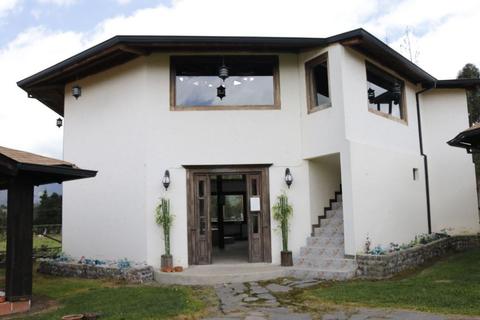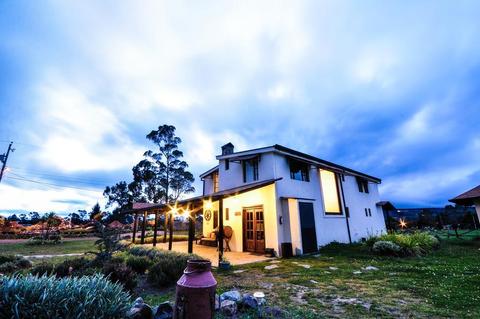 3:00 p.m. check in
12:00 p.m. check out
Wireless Internet
Spa Services
Restaurant in Hotel
27 miles (43 km) outside of Quito, Ecuador you'll find Chuquiragua Lodge and Spa. Latacunga, Ecuador is a simple but pleasant city with Spanish-colonial architecture, garden plazas, and colorful markets. It is also the gateway to outdoor adventures such as horseback riding, mountain biking, birdwatching, and more. The local cuisine is hearty and delicious — full of potatoes, corn, and plaintains — foods that will provide fuel for your excursions.
It takes a little over an hour to reach the lodge from Quito, making it an easy getaway from the busy city and a good base camp for avid hikers. When you're ready for a challenge (and some of the most thrilling views in Ecuador), you'll set out for guided hikes through the nearby national parks. You can find fascinating treks that take you both to Cotopaxi and Chimborazo. The Chimborazo Volcano peak is the highest point in the world, and you can access it with the help of a guide. Visit Cotopaxi National Park for a beautifully austere alpine landscape.
Looking to relax in a more traditional manner? Then youll enjoy Chuquiragua's 'Wet Zones,' which include a steam room and Jacuzzi. This Feng Shui-inspired spa is especially inviting after many hours of hiking.
The lodge offers a wide range of accommodations suitable for every traveler:
Shared Dorms - Are an excellent choice for backpackers and travelers who just need a place to shower and sleep between excursions. This option comes with bunk beds in a shared room, a shared bathroom, and storage locker.
Standard Rooms - Are a private room in a shared main house.
Premium Rooms - Offer additional privacy. You'll have a shared chalet, but will enjoy the luxuries of a complete house, and even a fireplace.
VIP - Your own private chalet. Indulge in thoughtful and luxurious touches such as the glossy, dark wood of a well-crafted writing des, and the coziness of your fireplace.
Though the lodge's remote nature is a part of indulging in a true getaway, you will have access to Wi-Fi. However, to keep you from staying indoors, it is only accessible in the on-site restaurant, which serves traditional Ecuadorian cuisine. At the end of the day, you can enjoy a nice beer or cocktail at the bar whilst you trade stories with your fellow travelers. Finally, take advantage of laundry service to keep your hiking gear fresh, clean, and dry.
Chuquiragua Lodge and Spa offers you the best of both worlds — enjoy Ecuador's rugged natural beauty, and pamper yourself after your outdoor adventures.
More Property Amenities
Hiking Trails
Internet Access
Jacuzzi
Volcano View
Private Parking
Telephone
Bar
Breakfast Available