The Grand Hotel Lobo de Mar is set on Santa Cruz Island in the Galápagos Islands. The hotel has a good location and lovely views of the bay.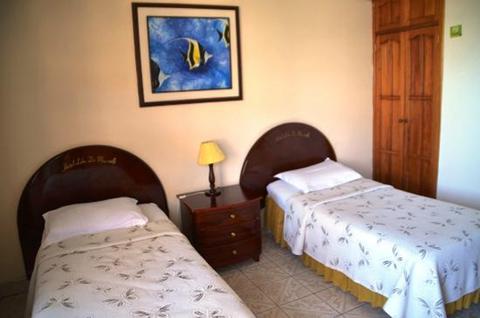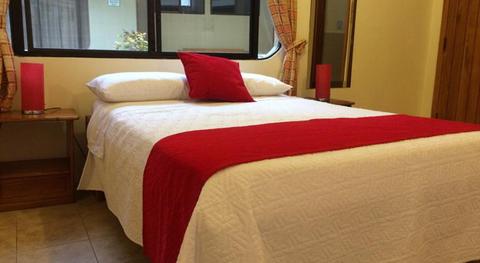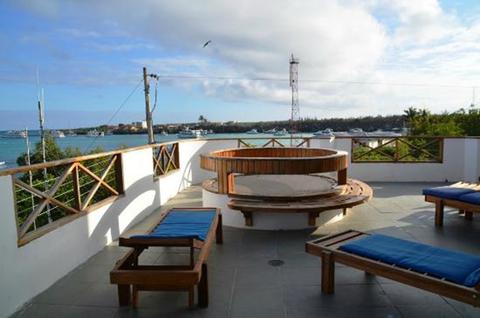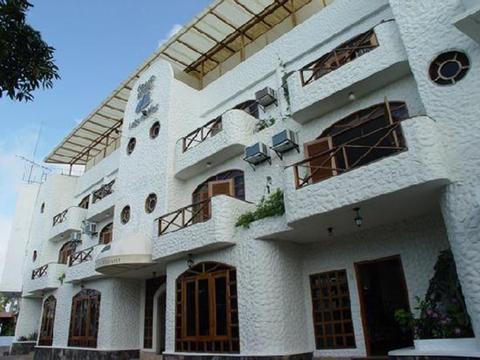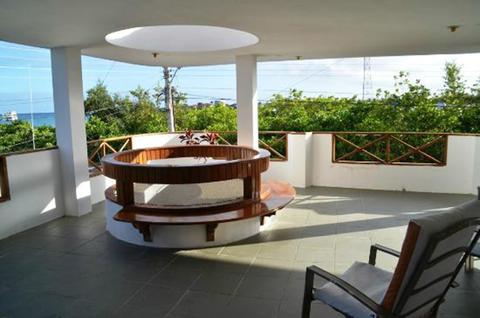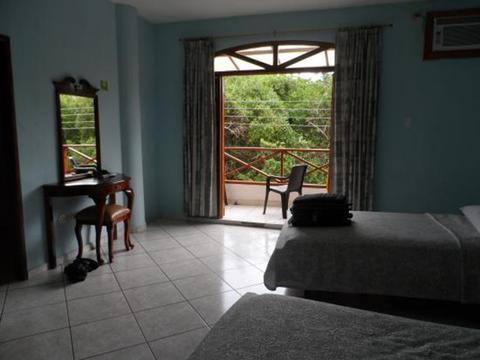 12:00 p.m. check in
10:00 a.m. check out
Free Breakfast
Restaurant in Hotel
Swimming Pool
Wireless Internet
If you're coming to the Galápagos Islands, there's a good chance that you'll spend at least a little time on Santa Cruz Island. This is the second-largest island in the archipelago, and is home to the bustling town of Puerto Ayora. While many travelers use it as a base for visiting other islands and attractions, there's no shortage of things to do on Santa Cruz. You can visit the Charles Darwin Research Station and see giant tortoises being bred, or lounge along a white-sand beach at Tortuga Bay. If you're in the mood for exploration, tour underground lava tubes and or going hiking in highland forests.
The Grand Hotel Lobo de Mar is centrally located in Puerto Ayora, which allows guests to easily walk to the restaurants and shops in town. The hotel staff is friendly and helpful.
The rooms here are clean and comfortable, and some have spectacular ocean views. All rooms have a spacious private bathroom and hot water shower—it's hard to downplay the importance of this amenity, given the luxury of returning to a hot shower after a long day spent exploring the island. During the warmer times of year, guests will appreciate the air conditioning unit, which keeps rooms cool and pleasant. What's more, all rooms have a cable TV, so if you're stuck with a little downtime you can flip on the TV and watch a show. Free Wi-Fi offers an opportunity to connect with friends and family back home.
Guests can eat breakfast at the hotel. This typically includes eggs, fruit, granola, cheese, meat, yogurt, juice, and coffee. Purified water and tea is offered throughout the day in the lobby. Make sure to fill up your water bottle at the hotel before heading out on tours and other excursions.
If you're feeling inclined to lounge around the hotel, you can head to the small swimming pool, which is located near the lobby and dining area. The rooftop terrace provides guests with a nice place to soak up sun and enjoy views of the coast. There are also common areas with comfy chairs, and there's even a pool table, which provides guests with welcome diversion in the evening.
Do note that this hotel does not have an elevator.
More Property Amenities
Air Conditioning
Balcony
Bar
Cable TV
Hot Water
Laundry Service
Ocean View
Safe Deposit Box
Telephone
Accommodations
Air Conditioning
Cable TV
Hot Water
Safe Deposit Box
Telephone
Air Conditioning
Cable TV
Hot Water
Safe Deposit Box
Telephone
Air Conditioning
Cable TV
Hot Water
Safe Deposit Box
Telephone
Air Conditioning
Cable TV
Hot Water
Safe Deposit Box
Telephone
Similar Hotels