A boutique hotel that doesn't skimp on luxuries, Iguana Crossing balances state-of-the-art accommodations with an eco-friendly mission in harmony with the island it calls home.
Featured in:
Beachfront, Boutique, Best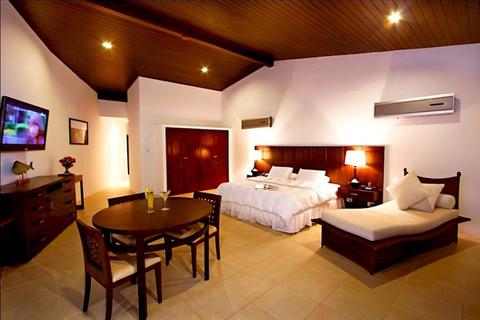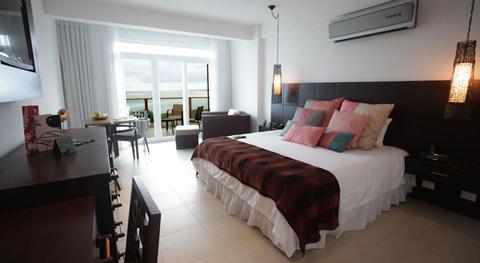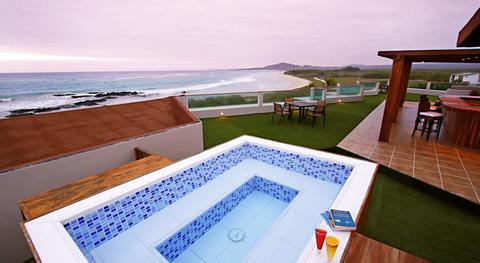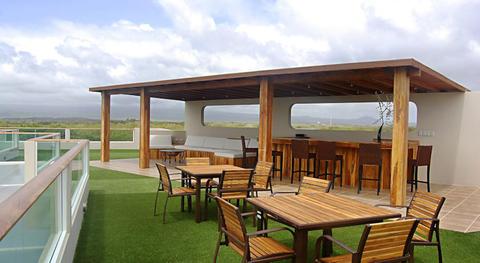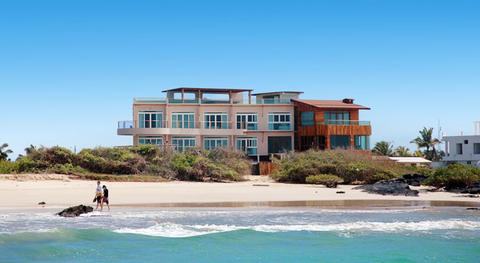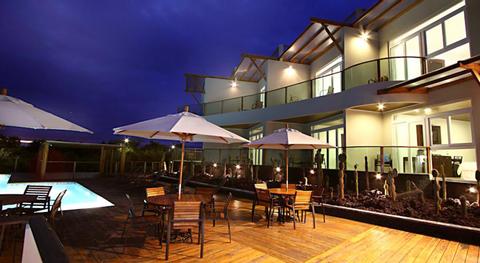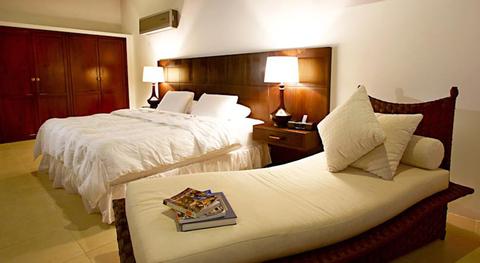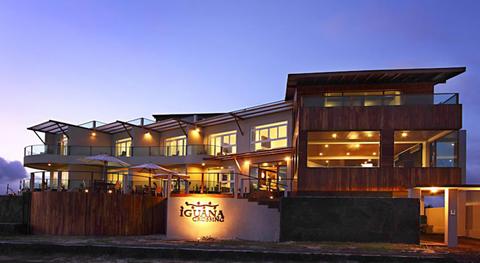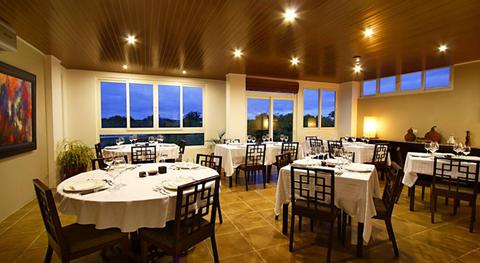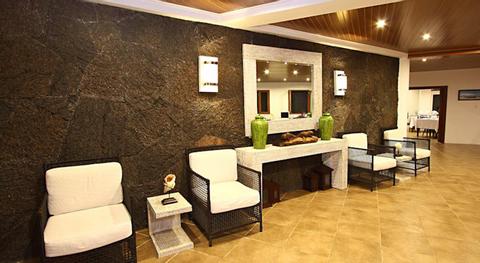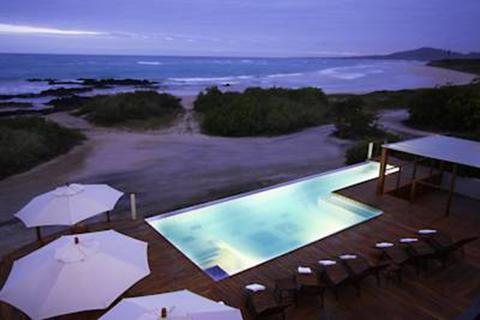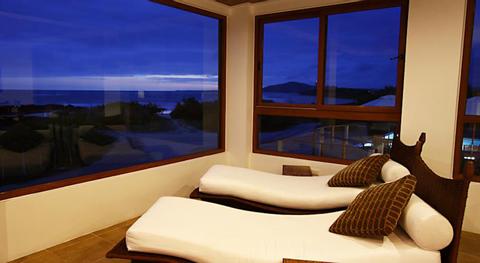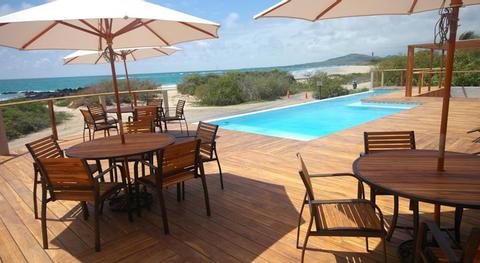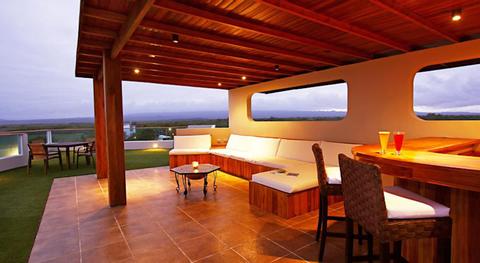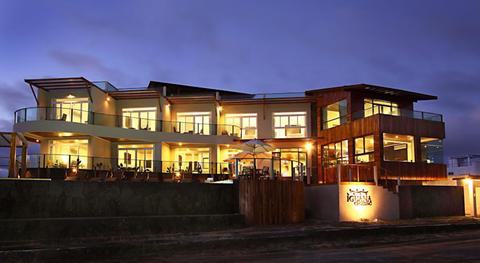 1:00 p.m. check in
11:00 a.m. check out
Restaurant in Hotel
Swimming Pool
Wireless Internet
Free Breakfast
In the archipelago of the Galápagos, famed for their unique and abundant ecosystem, Isabela is the largest island and one of the most untouched. Travelers are awestruck by its isolated beaches, where there are always far more animals than people. Secret paths over lava rocks, lagoons full of mangrove trees, volcanoes, and highland forests create this magical place that is as peaceful as it is wild. Accessible to the public only by boat, Isabel is a safe habitat for its amazing animal population, including the giant tortoises that breed and hatch on its beaches, and the pink flamingos that can be seen along the boardwalk.
But even an island without traffic lights needs one rule: break for iguanas. Puerto Villamil, Isabela's largest city, is home to so many iguanas that even the police stop for them as they amble across the island's only controlled intersection, Iguana Crossing. Named for this special spot, the Iguana Crossing Boutique Hotel is truly in harmony with this island: it is constructed entirely of native materials by local craftsmen, and the hotel's staff are almost all native islanders. Architecturally beautiful, the building seems to blend in with the surrounding wetlands and beach. The interior décor is open and tropical, with wall-to-wall windows that allow for continual views.
It is hard not to be in an optimal location in Puerto Villamil, and Iguana Crossing is no exception: situated on a gorgeous beach, the palm-treed property is immediately next to the boardwalk. Just follow this half-mile (.80 km) long promenade to the Giant Tortoise Breeding Center, where baby turtles are nurtured before they're returned to the wild. Just three miles (4.75 km) west, down Avenue Antonio Gil, is a famous hiking spot called El Muro de las Lágrimas, Wall of Tears. The name refers to the wall at the top of this volcanic mountain trail, which a penal colony was forced to build, stone by stone, in 1945. Though a sobering and eerie sight, the trail up to the wall will have travelers meeting huge iguanas along the way. From the vista points, beaches full of sea lions can be seen.
Snorkeling on the island is excellent and easy to do when staying at Iguana Crossing. Eagle rays and sea turtles tend to be swimming in droves at the nearby beaches. The small pool Concha de Perla, a pleasant 18-minute walk from the hotel, welcomes swimmers and snorkelers who are eager to see sea lions up close. Just don't snorkel at Las Tintoreras lagoon: it is often full of sharks. While dangerous to swim near, these sharks can be seen from the trail, which is only a five-minute walk from the hotel.
Rooms at Iguana Crossing are well appointed, comfortable, and spacious. Many rooms face the ocean and feature private balconies, and non-oceanfront rooms remain lovely with views of the Sierra Negra Volcano. Television sets, telephones, and air-conditioning units are in every room, as are minibars, refrigerators, and eco-friendly showers. Some rooms have safety deposit boxes. Internet can be accessed from a small business center.
After a picnic (with champagne and beach towels provided by the hotel) on Playa del Amor, a wonderful day can continue at Iguana Crossing: a panoramic whirlpool on the top terrace and a bar/lounge with an equally stunning view provide a romantic and relaxed setting. Dinner can be enjoyed at the hotel's own restaurant. Featuring fruit and vegetables from farms on the island, the cuisine here mixes traditional recipes with a new, local and eco-conscious flair. Between ceviche, plantain delicacies, and barbecue done on a flat lava stone, guests may hardly know what to choose first. Fortunately, with Isabela's tranquil pace, there might be time to try it all.
More Property Amenities
Air Conditioning
Bar
Cable TV
DVD player in Room
Hot Water
Jacuzzi
Mini Bar
Ocean View
Safe Deposit Box
Telephone
Volcano View
Accommodations
Standard Room - Ocean Front
Sleeps 3
Air Conditioning
Alarm Clock
Cable TV
Hair Dryer
Hot Water
Mini Bar
Safe Deposit Box
Telephone
Wireless Internet
DVD Player
Standard Room - Volcano View
Sleeps 2
Air Conditioning
Alarm Clock
Cable TV
Fan
Hair Dryer
Hot Water
Mini Bar
Safe Deposit Box
Telephone
Wireless Internet
DVD Player
Air Conditioning
Alarm Clock
Cable TV
Hair Dryer
Hot Water
Mini Bar
Safe Deposit Box
Telephone
Wireless Internet
DVD Player
Air Conditioning
Alarm Clock
Cable TV
Hair Dryer
Hot Water
Mini Bar
Safe Deposit Box
Telephone
Wireless Internet
DVD Player
Similar Hotels