The Anahí Boutique Hotel is a lovely hotel in Quito, Ecuador. This small hotel has pleasant rooms and a helpful staff.
Featured in:
Honeymoon, Boutique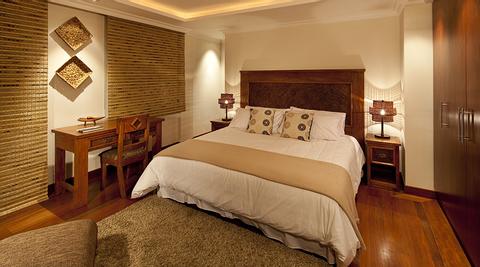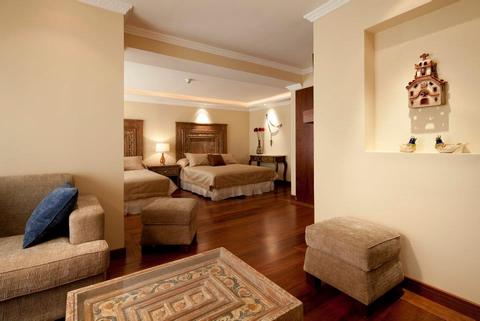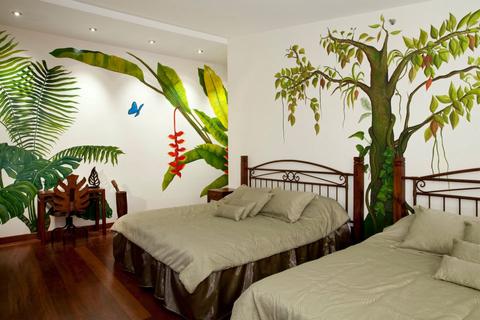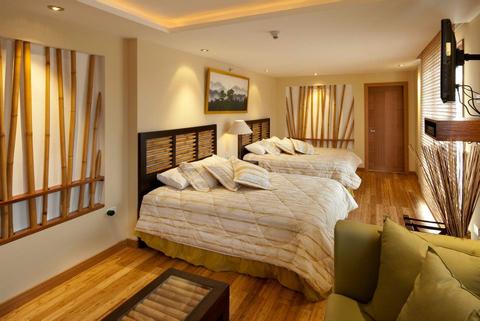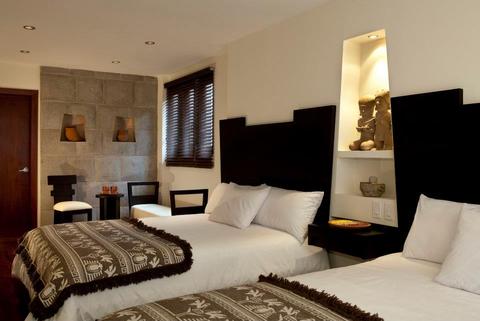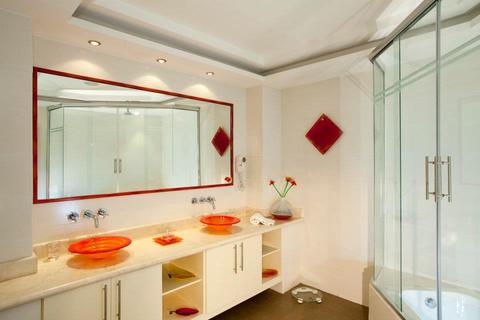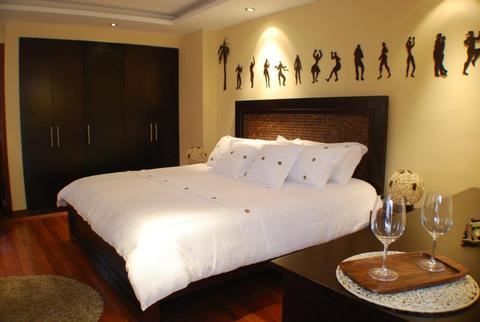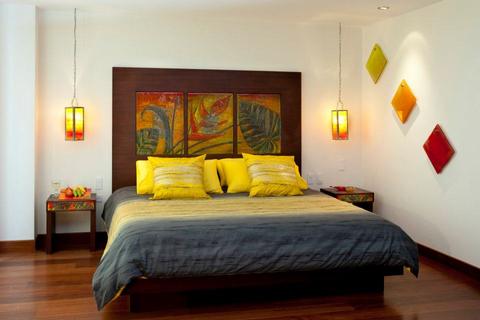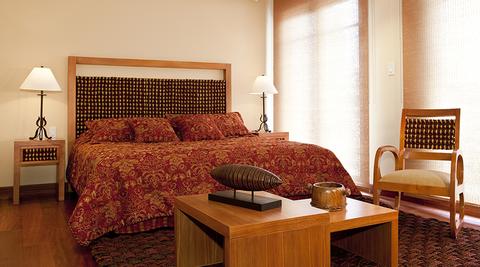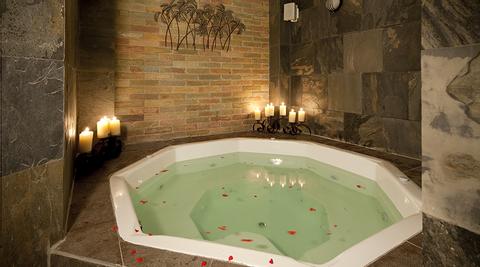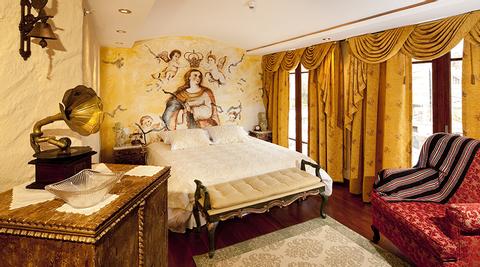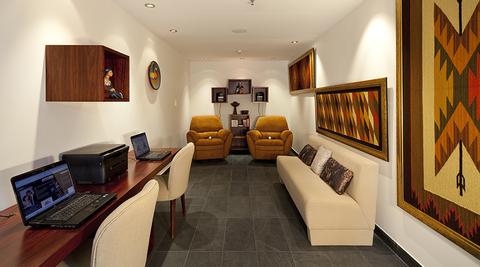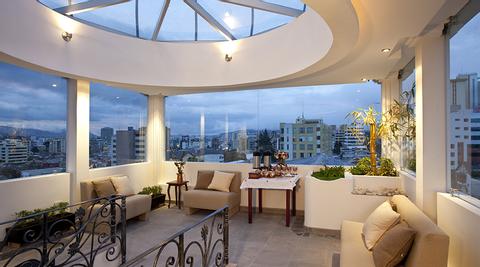 2:00 p.m. check in
12:00 p.m. check out
Free Breakfast
Wireless Internet
Restaurant in Hotel
There are many ways to spend your time in Quito. If you're interested in learning more about the history, culture, and traditions of Ecuador, make your way to the historic district known as Old Town. Here you will find pleasant plazas, interesting museums, and old churches. If you're ready for some food and drink, head to Avenida Amazonas, a popular street lined with restaurants and bars. There are several good shopping centers in this area too.
The Anahí Boutique Hotel has a great location. It's within walking distance of many of the attractions in La Mariscal, but is set on a quiet street that isn't bombarded with noise at night. There are plenty of coffee shops, supermarkets, and restaurants nearby.
The hotel's design echoes the architectural style of old Quito. It's decorated in a colonial style, with emphasis on the use of carved wood, stone, and modern touches. When you're traveling, it's necessary to have a place where you can come to rest and recharge—these spacious suites offer guests an ideal place to relax after a long day in the city. They are decorated with traditional fabrics and sophisticated artwork based on themes such as the history and regions of Ecuador.
The suites are large and have a modern decor. They have private bathrooms with hot water showers and a hair dryer, and there's a digital safety deposit box where you can store valuable items. Additionally, there's a plasma-screen cable TV and Wi-Fi access for guests with laptops, tablets, or smart phones. All suites are non-smoking and include magnetic card entry.
The hotel's Orquídea Restaurant is open for breakfast and dinner. It offers a delicious selection of tapas, and the bar serves fine wines and cocktails. In fact, there's a happy hour every night where the drinks are 2 for 1. Furthermore, you can get great views of the city from the floor on the top floor of the hotel. Enjoy a cup of coffee here first thing in the morning as you prepare for your day.
Are you looking for a way to really unwind during your time in Quito? If so, consider booking a massage through the hotel. There are a variety of options – including Swedish and deep tissue massage – that will really help you relax.
More Property Amenities
Cable TV
Hair Dryer
Hot Water
Mini Bar
Safe Deposit Box
Telephone
Jacuzzi
Laundry Service
Accommodations
Cable TV
Hair Dryer
Hot Water
Mini Bar
Safe Deposit Box
Telephone
Wireless Internet
Balcony
Cable TV
Hair Dryer
Hot Water
Mini Bar
Safe Deposit Box
Telephone
Wireless Internet
Balcony
Cable TV
Hair Dryer
Hot Water
Mini Bar
Safe Deposit Box
Telephone
Wireless Internet
Balcony
Cable TV
Hair Dryer
Hot Water
Mini Bar
Safe Deposit Box
Telephone
Wireless Internet
Cable TV
Hair Dryer
Hot Water
Mini Bar
Safe Deposit Box
Telephone
Wireless Internet
Balcony
Cable TV
Hair Dryer
Hot Water
Mini Bar
Safe Deposit Box
Telephone
Wireless Internet
Balcony
Cable TV
Hair Dryer
Hot Water
Mini Bar
Safe Deposit Box
Telephone
Wireless Internet
Balcony
Cable TV
Hair Dryer
Hot Water
Mini Bar
Safe Deposit Box
Telephone
Wireless Internet
Cable TV
Hair Dryer
Hot Water
Mini Bar
Safe Deposit Box
Telephone
Wireless Internet
Balcony
Cable TV
Hair Dryer
Hot Water
Mini Bar
Safe Deposit Box
Telephone
Wireless Internet
Cable TV
Hair Dryer
Hot Water
Mini Bar
Safe Deposit Box
Telephone
Wireless Internet
Balcony
Cable TV
Hair Dryer
Hot Water
Mini Bar
Safe Deposit Box
Telephone
Wireless Internet
Balcony
Cable TV
Hair Dryer
Hot Water
Mini Bar
Safe Deposit Box
Telephone
Wireless Internet
Balcony
Cable TV
Hair Dryer
Hot Water
Mini Bar
Safe Deposit Box
Telephone
Wireless Internet
Balcony
Cable TV
Hair Dryer
Hot Water
Mini Bar
Safe Deposit Box
Telephone
Wireless Internet
Balcony
Cable TV
Hair Dryer
Hot Water
Mini Bar
Safe Deposit Box
Telephone
Wireless Internet
Similar Hotels