Casa Santo Domingo is truly a unique hotel. Set within the center of La Antigua, this hotel is built around the ruins of a 16th-century Dominican monastery and has several museums for guests to explore. The accommodations here are charming and comfortable.
Featured in:
Luxury, Sustainable, Great for Families, Best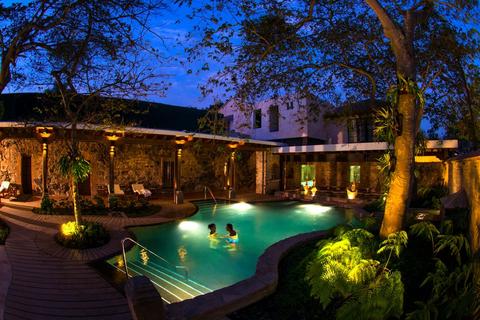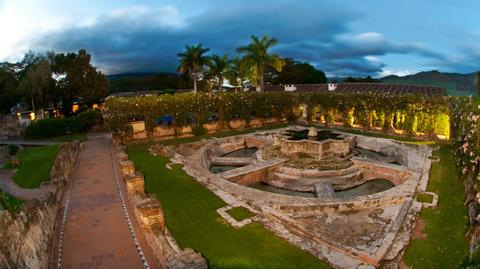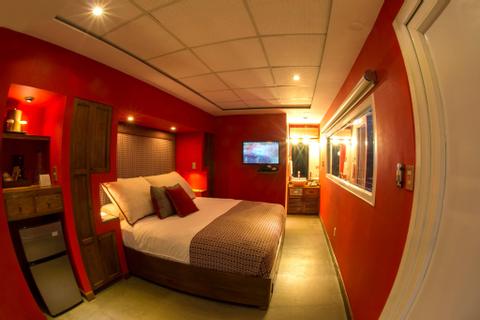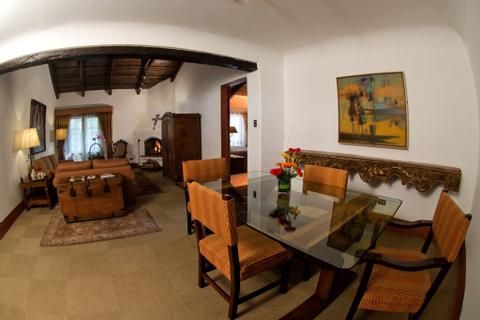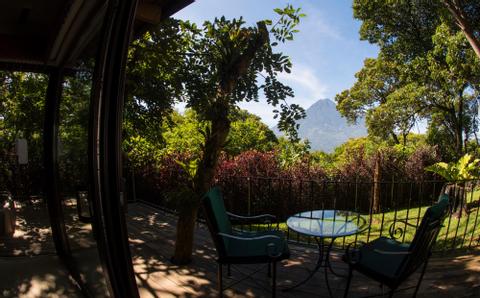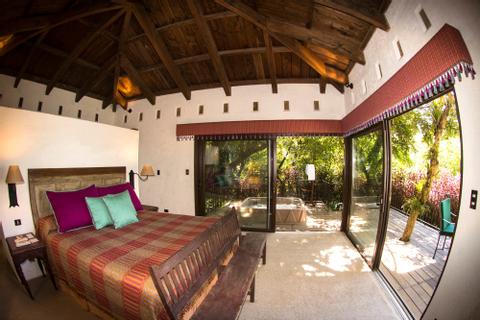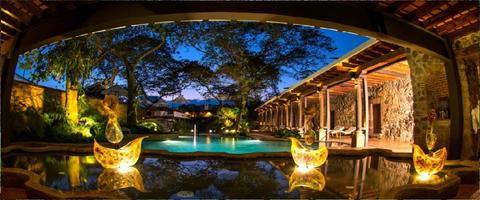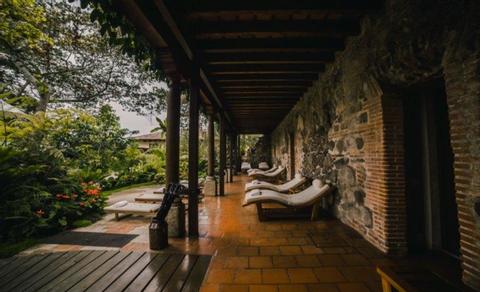 3:00 p.m. check in
12:00 p.m. check out
Spa Services
Swimming Pool
Wireless Internet
Restaurant in Hotel
Attractions & Sites
15 km
La Antigua was the capital of Guatemala until an earthquake destroyed much of the city in 1773. The capital was moved, but many people and buildings remained, and Antigua was named a UNESCO World Heritage Site in 1979. These days, Antigua is a fun place to explore. You can cruise the central park and watch the colorful parade of people, or go on cultural excursions to churches and museums. It's also got some of the country's best Spanish schools, as well as ample shopping, eating, and drinking opportunities.
Casa Santo Domingo is probably unlike any hotel you've ever stayed in. Built in the ruins of a Dominican monastery, this hotel sensitively incorporates modern amenities into a well-maintained historical site. Its 128 rooms are charming and comfortable, and the array of amenities includes museums, a swimming pool, spa, restaurants, and bar.
The guest rooms are attractive and individually decorated with Guatemalan art, handmade textiles, and hardwood features. Some rooms have fireplaces and a sitting area that offers up an incredible place to relax in the morning or evening. All accommodations come equipped with a private hot water bathroom, hair dryer, vanity mirror, and bathtub; some rooms also have a Jacuzzi or sauna. Other amenities include a cable TV, minibar, wireless Internet, safety deposit box, and private balcony. The beds are cozy and have hypoallergenic pillows.
In terms of dining, Casa Santo Domingo has two restaurants where guests can eat. Many of the menu items fuse traditional cuisine and international fare. Breakfast, lunch and dinner are served daily. The hotel's bar, Bar El Cabildo, is open all day and is a great place to enjoy a favorite drink in an elegant setting.
A profound respect for history and culture prevails throughout the hotel. In addition to the original ruins present on the site, there are a number of museums that guests are invited to explore. There's the Colonial Museum, which contains artwork produced from the sixteenth till nineteenth century, and the Archeology Museum, which has exhibits that mostly correspond to the Classical Mayan period (200–900 AD). Other museums are dedicated to pre-Columbian artifacts, indigenous handicrafts, or contemporary artwork. It's all very impressive.
Other offerings at Casa Santo Domingo include a swimming pool, Jacuzzi, gym, and spa. Whether you're looking for a way to work up a sweat or cool down from one, you'll find what you're looking for at this hotel.
More Property Amenities
Currency Exchange
Coffee Service
Cable TV
Breakfast Available
Balcony
Alarm Clock
Handicap Accessible
Hair Dryer
Mini Bar
Mini Gym
Room Service
Telephone
Volcano View
Gardens
Massage
Laundry Service
Jacuzzi
Iron & Ironing board
Internet Access
Hot Water
Mini Refrigerator
Safe Deposit Box
Bar
Full Size Gym
Private Parking
Air Conditioning
Accommodations
Executive Room 223
Sleeps 2
Alarm Clock
Cable TV
Hair Dryer
Hot Water
Iron & Ironing board
Jacuzzi
Mini Bar
Safe Deposit Box
Telephone
Wireless Internet
Living Room
Standard room with spa
Sleeps 3
Standard Deluxe Room
Sleeps 3
Alarm Clock
Cable TV
Hair Dryer
Hot Water
Iron & Ironing board
Mini Bar
Safe Deposit Box
Telephone
Wireless Internet
Living Room
Fireplace
Alarm Clock
Balcony
Cable TV
Hair Dryer
Hot Water
Iron & Ironing board
Mini Bar
Safe Deposit Box
Telephone
Wireless Internet
Living Room
Alarm Clock
Cable TV
Hair Dryer
Hot Water
Iron & Ironing board
Mini Bar
Safe Deposit Box
Telephone
Wireless Internet
Suites Prehispanic
Sleeps 5
Alarm Clock
Balcony
Cable TV
Hair Dryer
Hot Water
Iron & Ironing board
Jacuzzi
Mini Bar
Safe Deposit Box
Telephone
Wireless Internet
Living Room
Executive Room 267-165
Sleeps 2
Alarm Clock
Cable TV
Hair Dryer
Hot Water
Iron & Ironing board
Mini Bar
Safe Deposit Box
Telephone
Wireless Internet
Living Room
Alarm Clock
Balcony
Cable TV
Hair Dryer
Hot Water
Iron & Ironing board
Mini Bar
Safe Deposit Box
Telephone
Wireless Internet
Living Room
Porch
Standard Deluxe w/Jacuzzi
Sleeps 3
Alarm Clock
Cable TV
Hair Dryer
Hot Water
Iron & Ironing board
Jacuzzi
Mini Bar
Safe Deposit Box
Telephone
Wireless Internet