One of the amazing things about travel is not only what you see, but what you learn. For example, did you know that 'Guatemala' means "land of the trees" in the Mayan-Toltec language? You won't wonder how this country got its ancient name after you're done exploring Guatemala's rainforests. Of the many types of forest present in Guatemala, tropical rainforests are some of the most biologically diverse. This makes them an excellent option if you're hoping to catch a glimpse of wildlife in their natural habitat, or get some references for your botanical illustrations. Guatemala's rainforest tours are especially enjoyable when you go with a naturalist guide who can help you identify the amazing things you're seeing.
Imagine emerging from the jungle into the shadow of Tikal's Mayan ruins, or enjoying a picnic near the shore of Lake Petén Itzá after making your way through the trees. Many of Guatemala's rainforest destinations are spread along the shores of lakes, rivers, or coasts. As such, they allow you to not only explore some densely forested areas, but also enjoy some of Guatemala's beautiful watery environments. This vacation, treat yourself to knowledge and adventure when you go on an exciting and informative Guatemala rainforest tour.
Bonus? Stay in one of Guatemala's rainforest lodges and let the sounds of nature lull you to sleep and awaken you in the morning.
#1:

 Lake Peten Itza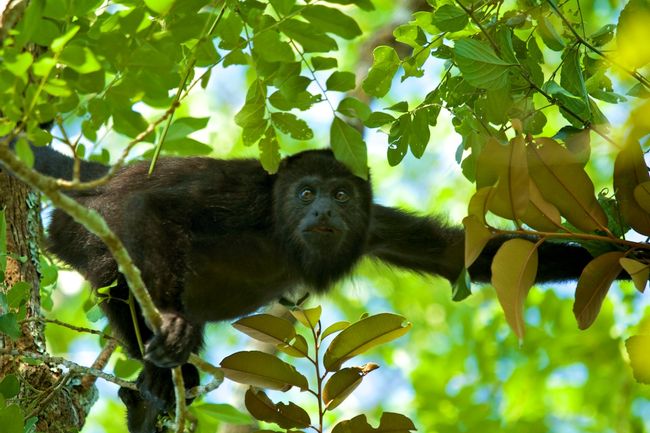 Lake Peten Itza, Guatemala →
The banks of the Lake Petén Itza are surrounded by rainforests and wildlife. Go here for birdwatching and adventures through the jungle. Among the greenery, you'll also get to see Mayan ruins.
Biotopo Cerro Cahuí has incredible bird watching. Take a tour with a guide to see toucans, woodpeckers, and ocellated turkeys. Ixpanpajul Nature Park offers guests the chance to take canopy tours and go on zip lining adventures.
#2:

 Rio Dulce
Rio Dulce Fronteras, Izabal, Guatemala →
Rainforest grows in abundance near the banks of the Río Dulce, protected by the boundaries of the Río Dulce National Park. Ecolodges put you right in the midst of the wildlife.
Around the Chocón Machacas Biotope, you'll get the chance to see manatees. You can get a fascinating glimpse at indigenous culture at the Ak' Tenamit development, a village that helps out Mayan locals. Going deep into the jungle to see the gorge called La Cueva de la Vaca, one of the most breathtaking natural wonders in the Guatemalan rainforest.