Guatemala's colonial history is present in the architecture that still stands today. Guatemala's colonization occurred in the 16th century, when Spanish conquistadors first arrived; the nation remained under Spanish control for several hundred years. Thankfully, this disturbance in the country's timeline did not lead to the destruction of all of its indigenous ruins. Instead, the country has an interesting mix of ancient, colonial, and modern structures.
During Guatemala's colonial period, the Spanish built many long-lasting structures, including cathedrals, convents, and houses — many of them still stand today. In Guatemala's colonial cities, you will enjoy a tranquil and almost genteel atmosphere. Charming streets are often paved with cobblestones and lined with cute cafés. Guatemala's colonial destinations are good places for cultural enthusiasts, history buffs, and aficionados of architecture and design.
#1:

 Antigua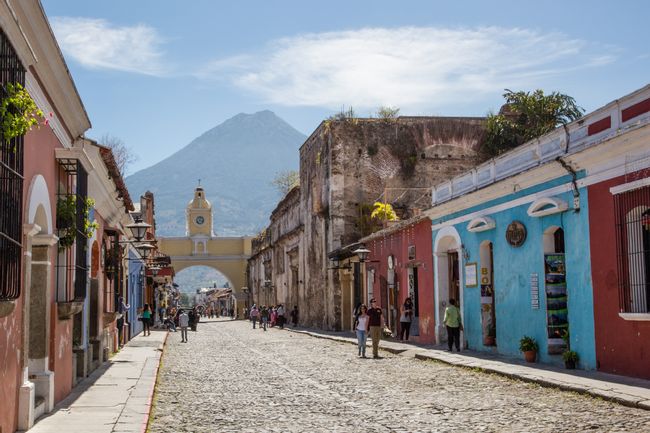 Antigua, Guatemala →
Antigua is one of Guatemala's most beautiful colonial towns. Founded in 1543, quite a bit of colonial architecture has survived in spite of the many earthquakes in the area. You can find boutique hotels that recreate the ambiance of the city's days as the country's capital.
Historical tours invariably lead to the Santa Catalina Arch, which dates back to 1609. Iglesia de La Merced's wide arches, built in 1767, were designed to deal with the frequent earthquakes. Parts of the San Francisco church date back to the 16th century, while other parts have been rebuilt over the years. One of the most beautiful churches is Iglesia y Convento de las Capuchinas, which has served as a cloister for nuns and a women's hospital.
Peer more deeply into the city's past at the museum in the Casa Santo Domingo Hotel, which showcases several centuries of religious artifacts. Get a look at the full expanse of the city from the lookout known as Cerro de la Cruz.
#2:

 Quetzaltenango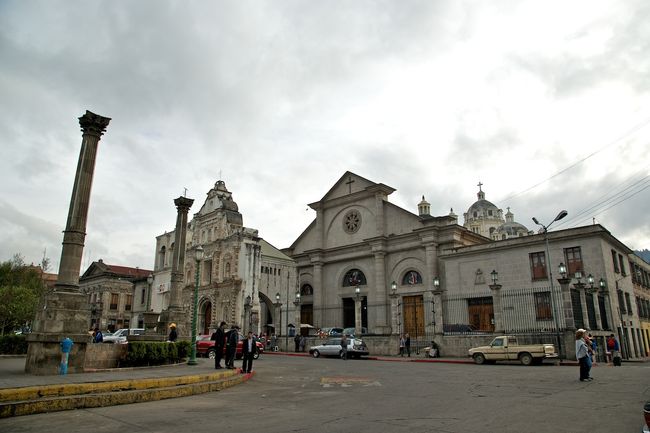 Quetzaltenango, Guatemala →
Culturally, Quetzaltenango is a Mayan town, but the architecture radiates the area's Spanish heritage. You can see a blend of colonial architecture, as well as buildings built during the belle époque — a period in the early 20th century that popularized neoclassical design. You can take a tour of the city's charming architecture, either on a walking tour or by tram.
Strolling around the city's central park, you'll be surrounded by neoclassical monuments. Templo Minerva is a neoclassical building designed to look like a Greek temple, but it only dates back to the early 20th century. There are also a few memorable examples of colonial architecture, and one of the highlights of a historic tour is the facade of Iglesia Catedral del Espíritu Santo that remains from the original structure, built in 1534.